The funding numbers from Q1 2023 are in and make for grim reading. If you're a frequent reader of tech media this would not come as a surprise. Last month, while discussing the funding data from February 2023, we suggested that startups on the continent may now be feeling the effect of a funding slowdown that began in 2022.
Nigeria has been hard hit by this development as the country ranks fourth on the list of countries that have received the most funding. With $44.1 million raised in Q1, Nigeria ranks well below Egypt ($450.4 million), South Africa ($205 million), and Seychelles ($50 million) in terms of total amounts raised. This represents Nigeria's poorest Q1 showing since 2020 when it raised $55.37 million. In Q1 2021 and Q1 2022, startups in Nigeria raised $219 million and $566 million, respectively.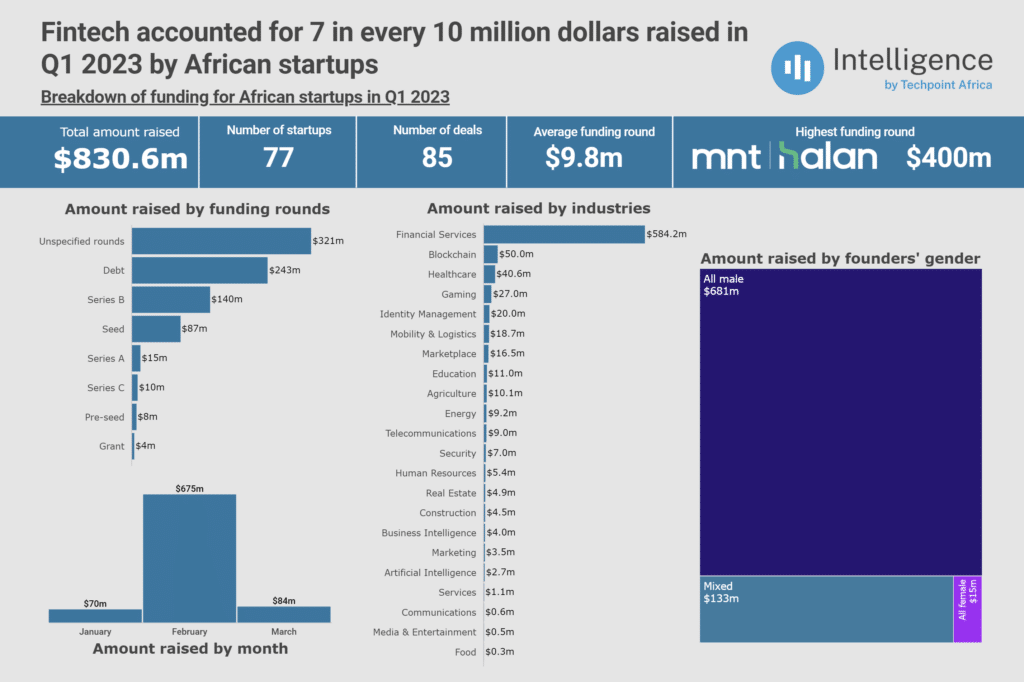 However, it leads the way in deal count, with 18 deals recorded in the first three months of the year, the same number it recorded in Q1 2021. Egypt is second on the list with 11 startups receiving funding. February recorded the highest number of deals (48) and amount raised as startups got $675.5 million. Kenya has also seen funding to startups in the country affected as they raised $36.7 million in the same period.
As usual, fintech startups lead the way in funding raising $584 million. That's more than 10 times the amount raised by the next two sectors, blockchain and healthcare.
In December 2022, we sampled the opinions of five investors to identify what sectors we could expect investors to back in 2023. Healthcare was fingered, and it appears that the prediction is turning out to be correct.
Healthtech startups have raised $40.6 million this quarter. In 2022, startups in the sector raised $181 million, according to Partech Africa's Africa Tech Venture Capital report. Additionally, there has been an acquisition as Evercare Hospital completed the acquisition of Doctoora, an online healthcare delivery platform in March. At this rate, healthtech startups could match and possibly exceed the amount they raised in 2022. Other sectors predicted to receive more interest have not had much luck, with gaming, identity management, and mobility/logistics startups having a good run.
Speaking of acquisitions, there has been an acquisition every month this quarter. Surprisingly, two of the acquisitions have occurred in the gaming industry as Egyptian startup, GBarena acquired Galactech (a Tunisian startup) and Carry1st, a Nigerian startup, acquired Gebeta. The other acquisitions have taken place in the fintech sector as FairMoney, Fin, and Blockfinex acquired CrowdForce, Thuthukani, and Fluidcoins, respectively. Of course, there's the biggest acquisition so far as InstaDeep got acquired by BioNtech.
This wouldn't be a story about funding if we didn't include data about gender. Our data shows that you're more likely to raise money if you're a male founder. All-male founding teams raised a whopping $681.6 million while mixed teams raised $133.4 million. All-female teams, however, raised a paltry $15 million. Similarly, startups with two co-founders received the most funding ($617 million) while startups with three founders received $172 million in funding.