Key Takeaways
According to a 2023 World Health Organization (WHO) report, 55 countries now have fewer than 49 healthcare workers per 10,000 people globally, demonstrating an increase from 47 countries in 2020. The report shows that 37 out of the 55 nations are African countries.
WHO claims the rise in the demand for healthcare workers in high-income countries and COVID-19's unfavourable effects are the reasons for the increase from 47 countries in 2020 to 55 countries worldwide in 2023.
However, African healthtech startups can help reduce the emigration of healthcare professionals from the continent by enhancing access to high-quality healthcare services and expanding job opportunities for healthcare workers.
Healthcare worker migration from Africa to developed countries is becoming more common.
A 2023 World Health Organization (WHO) report (PDF) titled "Health workforce support and safeguards list" indicates that 55 nations, including 37 in Africa, currently fall below the global median for the number of physicians, nurses, and midwives per capita.
For context, countries with low health workforce densities have less than 49 healthcare workers for every 10,000 people, according to the report.
In contrast, WHO reported in January 2020 that there were 47 countries — 33 of which were African — with low healthcare workforce densities worldwide.
The 2023 study examines rankings of countries based on a Universal Health Service coverage index and the percentage of people with access to qualified medical personnel.
The report claims that the COVID-19 pandemic's unfavourable effects and a rise in the demand for healthcare workers in high-income nations have sped up the movement of medical professionals from low-density countries.
Moreover, WHO reported that over the last decade, migrant physicians and nurses working in Organization for Economic Co-operation and Development (OECD) nations have increased by 60%.
In the past 50 years, wealthy nations, including the United States, the United Kingdom, France, and Canada, have seen an increasing demand for skilled healthcare workers.
There is no denying that Africa has a high emigration rate for healthcare professionals.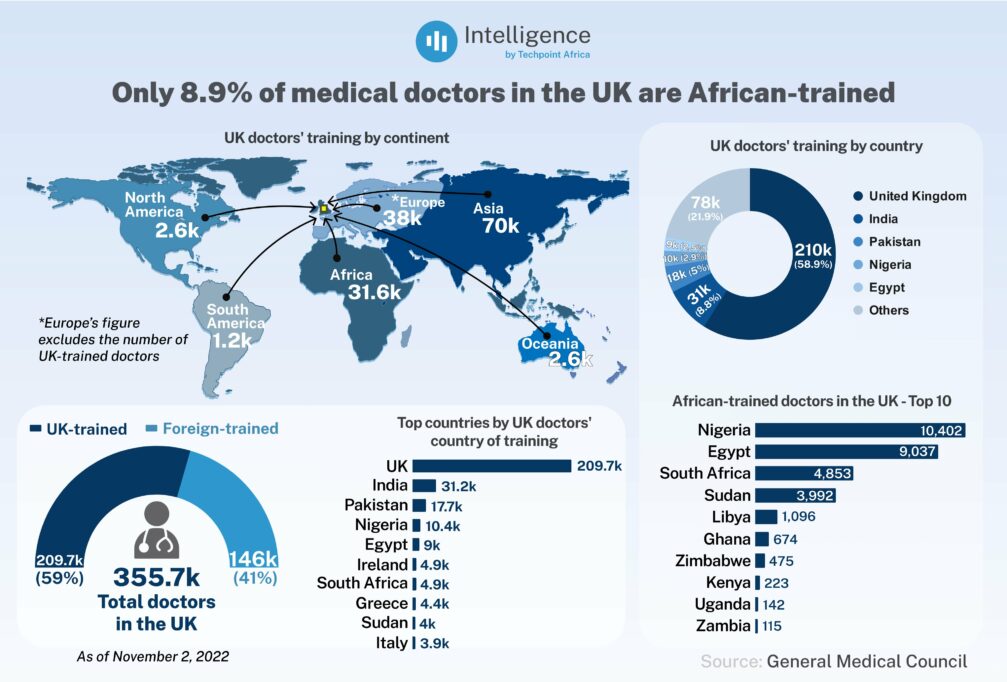 But in some countries like South Africa, there has been a general decline in skilled health workers leaving the country since the early 2000s.
Why is healthcare worker emigration a problem?
When healthcare professionals leave, hospitals in developing countries face a shortage of skilled workers. Because of their low healthcare staff-to-patient ratio, low-income countries are likely to bear a higher share of the global disease burden.
For instance, while it accounts for 25% of the world's disease burden, sub-Saharan Africa only has 3% of the world's total healthcare workers.
"There are push and pull factors that affect migration. Poor working environment and poor remuneration are the leading cause. It's a problem as African countries spend a lot of resources training these professionals only for them to leave.
"The gaps left behind are not filled, and the delivery of healthcare lags, causing death and suffering," Ikpeme Neto, WellaHealth Founder, explains.
For instance, many African countries with high healthcare worker emigration, including Nigeria and Uganda, have overcrowded hospitals. Because of a shortage of qualified healthcare professionals, hospitals can't treat everyone as they should.
In countries with high healthcare worker emigration, this impacts the standard of care patients receive and maternal, newborn, and child health outcomes.
Deficits in the local delivery of services in developing nations may result from the migration of health professionals.
Additionally, the de-skilling of professionals, challenges reintegrating returning health workers into the domestic health sector, and the social costs of migration — children and families left behind — are some of the direct effects of international migration.
Can African healthtech startups reduce emigration on the continent?  
African healthtech startups are tackling issues like infant and maternal mortality, access to healthcare, quick rapid diagnoses, and convenient, consistent monitoring of urgent medical needs.
These startups are competing for concepts that will make it easier for patients to receive care, including scheduling appointments, paying for telemedicine consultations, and exchanging information with professionals.
Along with improving the standard of care while lowering costs, they are also working on solutions to public health issues like epidemics and disease outbreaks.
However, they continue to face challenges in obtaining funding, working around constraints, gaining access to lab space, and finding qualified employees.
Regardless, Neto says that African healthtech startups can slow down the emigration rate of healthcare workers.
So, how are they mitigating the problem?
Per a study, health professionals emigrate for several reasons in emerging market economies, including a lack of employment opportunities, appropriate work environments and wages, and favourable country policies for financial remittances by migrant workers.
African healthtech startups can help to improve these conditions by creating more job opportunities and providing better training and development programmes, allowing them to recruit and retain more healthcare professionals on the continent.
The possibility of earning higher wages elsewhere is a main factor in emigration. But healthcare workers may also relocate to countries with higher incomes in search of political stability and a better standard of living.
Nonetheless, these startups can improve healthcare delivery in underserved areas via technology. It is critical, particularly in rural areas where medical personnel are scarce, leading to a lack of access to basic healthcare services.
African healthtech startups can use telemedicine, mobile health applications, and other digital tools to offer virtual consultations, remote patient monitoring, and other healthcare services to patients in these areas.
To corroborate that, Neto states that telemedicine, allied health professional upskilling, providing health information and funding, and other measures could aid in addressing the emigration problem.
Further, healthtech startups in Africa are educating and training medical personnel, reducing the quality of care patients receive and the need for medical personnel to migrate to other countries.
In addition, by hiring skilled healthcare professionals for positions in fields like data analysis, software development, and digital marketing, healthtech startups can open up new career opportunities.
Nonetheless, it is critical to recognise that healthtech startups cannot eradicate the issue of healthcare workers leaving Africa. Consequently, the country and other stakeholders must address these challenges, including a lack of career development opportunities.