If you're looking to invest in cryptocurrencies, you've probably realized that doing your research is crucial. With so many options available, it can be tough to know where to start.
Luckily, we've got you covered. In this article, we'll take a closer look at three cryptocurrencies that have been making waves in the crypto world recently. From Big Eyes Coin's impressive presale to Monero's focus on privacy and Dell's involvement in the Hedera council, there's plenty to explore. So, let's dive in and see what these coins have to offer!
Big Eyes Coin - Cute Wealth Generator
Loot Boxes, Vault Pins, and $5000% returns - the hype Around Big Eyes is no joke.
Big Eyes is an Ethereum-based, eco-friendly coin committed to improving the ocean ecosystem. The coin provides 5% of its total supply to saving oceans and offers top-notch security and high transaction speeds compared to other crypto giants. Currently, in stage 12, the coin has raised over 31mn and hands out huge rewards.
In February, the cat decided to offer huge benefits to its cute community through BIG Loot Boxes that come in different shapes. The Saver Tin, The Cute Box, Kitty Vault, Super Saiyan Box, and Excali-Paw Chest all contain $BIG tokens. Up to 1 million worth of BIG might be won by a lucky BIG community member.
The Super Saiyan Box may cost $1,000 but might earn users up to $100,000. And for those who are genuinely passionate about cats and choose to spend $100,000 on an Excali-Paw Chest, they may win — a million dollars in $BIG.
Big Eyes is committed to making the cat community rich. Recently the coin launched a Vault Pin. Cat lovers can now win 'Free Loot boxes' on purchases of Loot boxes worth $100 or more by using the vault pin "819". Unlock cuteness, richness, and friends in this fantastic cat community.
Monero Coin - God of Privacy Has Arrived
Monero (XMR) is a distinctive coin that takes a novel approach to the cryptocurrency industry. The confidentiality needed in the modern financial environment is provided by Monero (XMR).
The privacy-enhancing characteristics of Monero (XMR) are used to guarantee transaction anonymity. Users of the Monero (XMR) platform can conduct business on it with confidence, knowing that their information is secure. The steady increase in the price of Monero is due to this emphasis on anonymity.
The confidentiality of the coin has led to its widespread ban in many countries, like the UAE and Japan. According to a source, the European Union may also prohibit privacy-focused tokens like Monero.
Hedera Teams Up with Dell
Leading supplier of IT consulting and support services Dell Technologies, has joined the Hedera Hashgraph Global Governing Council, the company has announced. The council is in charge of preserving the Hedera network's reliability and security and managing its long-term expansion.
In joining the Hedera Hashgraph Global Governing Council, Dell Technologies is demonstrating its dedication to researching cutting-edge innovations in the area of distributed ledgers and decentralized applications. Customers should benefit from new prospects as a result of the relationship between Dell Technologies and Hedera Hashgraph, which is also intended to improve the network's stability and security. Read rally in Hedera (HBAR) coin.
Takeaway
One quick takeaway - Invest in all three for huge returns. But for others, who are still not convinced. Read up on the whitepaper of all three and witness the potential in these three yourselves. However, the vault key is a limited-time offer and may end with the presale. So maybe hurry up on BIG.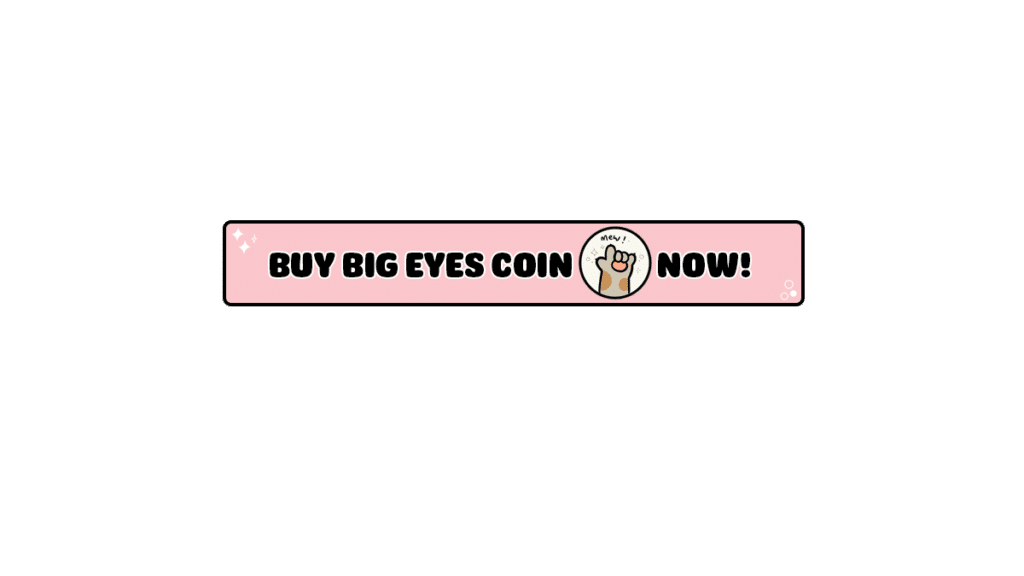 Find out more about Big Eyes Coin (BIG):
Presale: https://buy.bigeyes.space/
Website: https://bigeyes.space/
Telegram: https://t.me/BIGEYESOFFICIAL