Date: Friday, February 10, 2023 (4 pm)
Register to attend: bit.ly/3jpoWUe
To pitch your startup, click here
If you live in any part of Nigeria and have an entrepreneurial mind, you probably see many problems you'd like to solve. But how do you know which issues will yield the most commercial value? Of course, you can always build a social enterprise, but that's a topic for another day.
Because you have limited resources, you can't solve all these problems, and you must know how to evaluate startup ideas.
At Pitch Friday, we'll explore how entrepreneurs can evaluate startup ideas. The facilitator for the session is Zion Thompson, Managing Director of Startup Launchcode.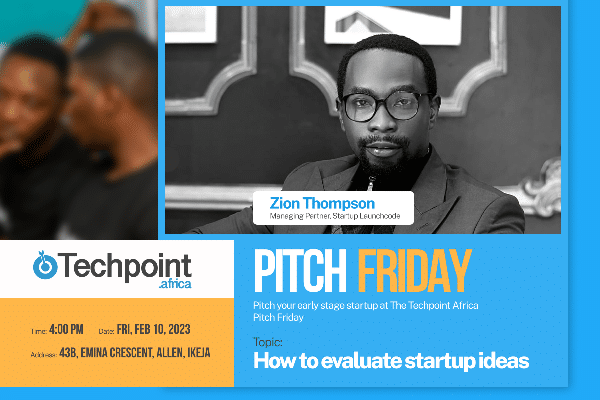 He'll provide detailed tips that any person can use to determine whether a startup idea should be pursued or abandoned, so if you're just starting out or want to learn more about the topic, you should not miss Pitch Friday. As always, select startup founders get to pitch their ideas and receive feedback from the audience.
The date for Pitch Friday is Friday, February 10, 2023, and the time is 4 pm. You can register to attend by following this link. By filling out this form, entrepreneurs can also indicate their interest in pitching their startups. Registration is free and helps us with planning.
See you there!