Most Nigerians are priced out of the real estate market because affordability is the biggest obstacle to real estate investment. Typically, it costs millions of Naira
and is out of reach. This is where FinEstate steps in to make real estate investment a reality for everyone. Through investments in properties in the US, Canada, and the rest of North America, FinEstate enables Nigerians to build sustainable wealth.
FinEstate is investing in North America's hottest real estate markets by purchasing properties and letting people own a share for as little as $10 or its equivalent in Naira, and they earn returns after a specified period.
This is called fractional real estate investing.
FinEstate offers a great opportunity to invest in Naira and receive returns in Dollars. Your investments are held in dollars, and returns are paid out in either dollars or your local currency. You can successfully hedge against currency devaluation in this way, so your money does not lose value. Investors benefit returns generated from rent revenue and capital appreciation.
According to Chidinma Nwaorgu, Business Strategy and Customer Relations Lead of FinEstate, "Real estate is a strong asset class and one of the safest investments in the world. That's why we decided to bring the accessible investment experience closer to Nigerians with a straightforward approach to begin securing their financial future through real estate. Our team is located in North America ensuring easy access, vetting, and management of investment properties to ensure maximum returns on  your investment."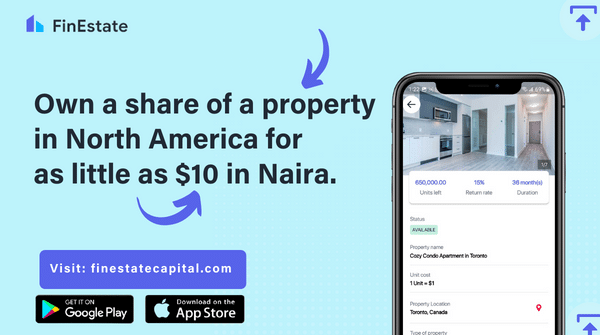 About FinEstate
FinEstate is a real estate investment startup made up of licensed realtors with vast experience in property management, development, and real estate appraisal across North America. Our experts carefully curate beneficial property listings and help you manage your investments.
How FinEstate Works
Step 1
FinEstate identifies potential real estate investment opportunities. Due diligence procedures and appraisals are performed on prospective properties by our acquisitions team, investment committee, and board of directors, all of whom have experience investing in and managing real estate.
Step 2
FinEstate divides the total investment into equal pieces. The real estate investment opportunity is broken down into $1 chunks. For example, a $100,000 property would be broken into 100,000 units.
Step 3
FinEstate charges $1 for each unit. In our property section of the app, you can browse through and buy some units to own a share of the properties.
What is the minimum amount needed to get started?
With as little as $10 in Naira, anyone can register and fund their accounts to invest.
You can visit https://finestatecapital.com/ to start investing.
Get fresh updates and connect with FinEstate on social media.
Facebook - facebook.com/FinEstateCapital-106479675299734
Instagram - instagram.com/finestatecapital/?hl=en
Twitter - twitter.com/finestateou
LinkedIn - linkedin.com/company/finestate-capital/
For questions on how to get started, you can read our FAQs or contact our support team at [email protected]