Key takeaways:
In 2019, Nigeria generated ₦64.2 billion ($151 million) worth of electronic waste (e-waste), known to cause DNA damage, cancer, and cardiovascular disease. Every month, 500 thousand containers of e-waste enter the country from the US, China, and Europe.
As recently as March 2022, a Bill to control e-waste got its first reading. Interestingly, there have been failed legislative attempts to control e-waste in Nigeria.
With Computer Village Lagos, Nigeria, alone generating $2 billion (₦864 billion) annually and known for supplying refurbished electronic products in Africa, there is little economic incentive to stop the influx of e-waste into Nigeria. However, its health risks remain a threat to Nigerians.
On March 29, 2022, the Hazardous and Electronic Waste Control and Management Bill, sponsored by Ibikunle Amosun, Chairman Senate Committee on Capital Market, got its first reading. The Bill is an attempt by the Nigerian government to control electronic waste (e-waste), which threatens human health.
In 2019, Nigeria generated ₦64.2 billion worth of electronic waste, ranking second in Africa after Egypt.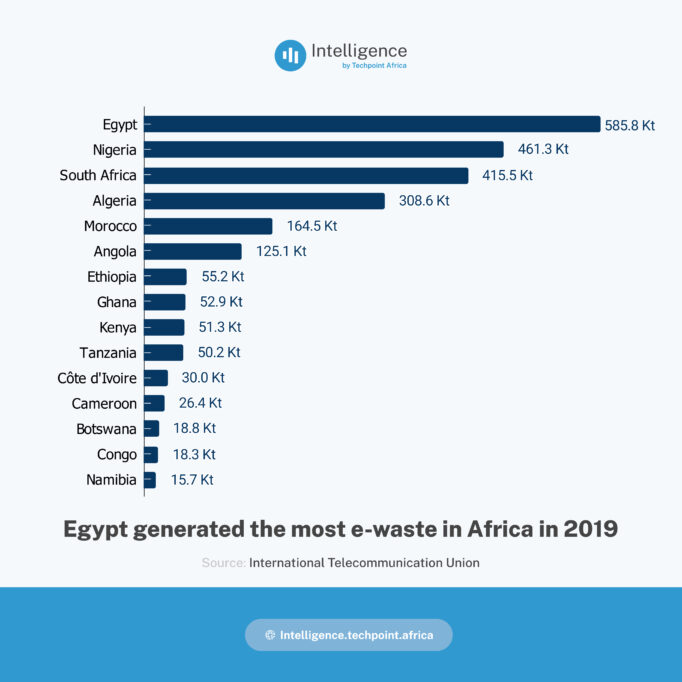 What is e-waste?
E-waste refers to electrical products that people don't need anymore because they have stopped working or have reached the end of their useful life. From burnt phone chargers to damaged television sets, any discarded electronic appliance is e-waste, and it has become the fastest-growing waste stream in the world.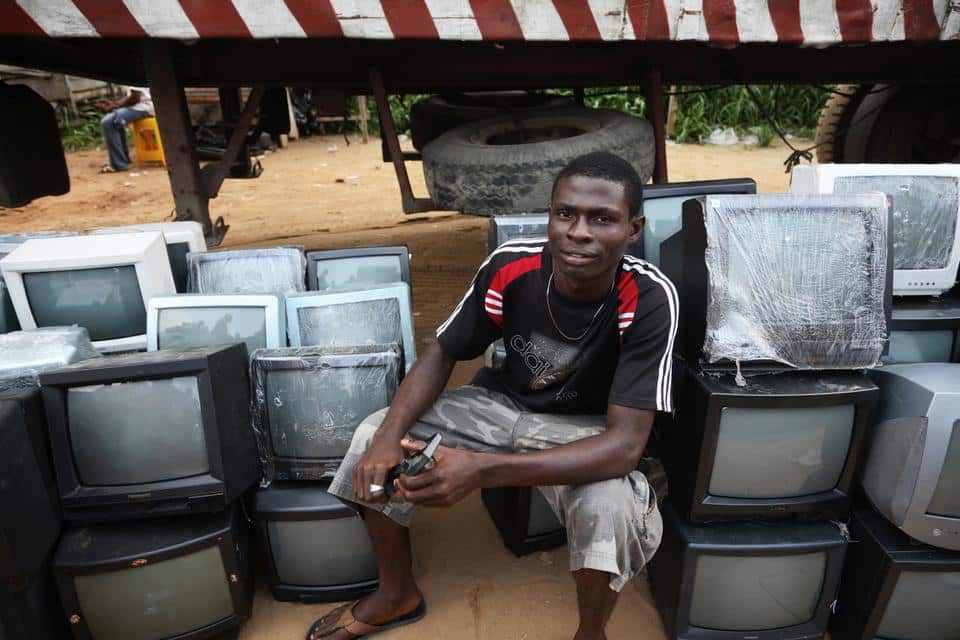 In 2019, 56.3 million metric tons of e-waste were generated worldwide. For context, this is equivalent to 4,500 Eiffel Towers.
E-waste grows with the invention of more tech gadgets. And while most of these gadgets are not made in Africa, they usually find their way to the continent, which is the dumping site for the e-waste generated in developed countries such as the US and China.
According to TRT World, 500 thousand containers of e-waste enter Nigeria every month, opening people up to devastating health challenges.
Exposure to e-waste has various life-threatening consequences, such as DNA damage, cancer, and cardiovascular disease. Research on e-waste by Okunola Alabi, Yetunde Adeoluwa, and Adekunle Bakare shows that it also causes spontaneous abortion and cancer because 40% of people who work with this waste are women.
Nigeria's crude way of recycling or salvaging e-waste — they're usually set ablaze in an uncontrolled furnace that releases toxic fumes into the atmosphere — also compounds the health risks associated with e-waste.
Regulations for e-waste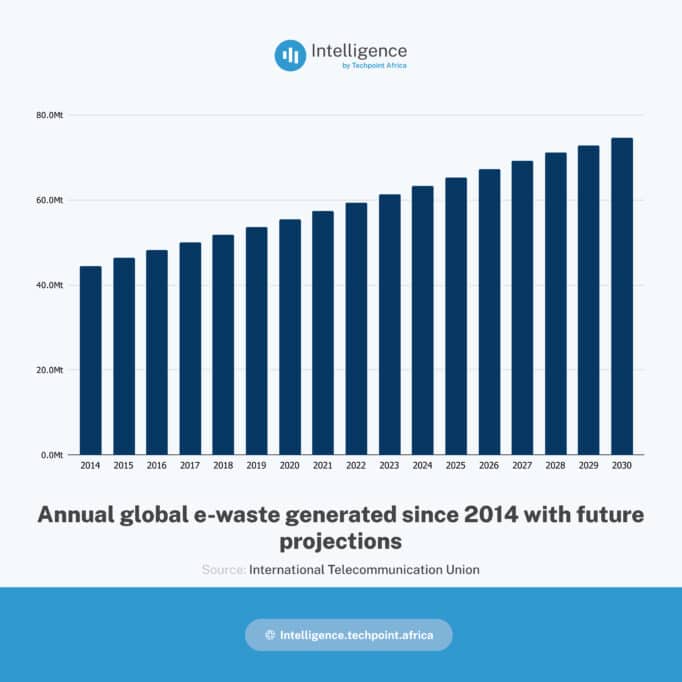 The Hazardous and Electronic Waste Control and Management Bill is not Nigeria's first attempt at controlling the dumping of harmful waste. In 2004, The Harmful Waste Act (HWA) was enacted to prohibit the purchase, sale, importation, transit, and transportation of harmful waste without lawful authority.
While the Act was created to prevent the dumping of all harmful waste in the country, it paid more attention to oil, nuclear, and other forms of industrial pollutants.
According to a 2019 Brill article, e-waste was added to the Act in 2011 after news of a massive e-waste shipment heading for Nigeria broke. Rather than refer to only industrial waste as harmful, the Act added 'End-of-Life electrical and electronic appliances' as toxic waste.
E-waste regulations have not been working
According to TRT World, 80% of the 11 million metric tons of e-waste generated annually in the US are headed for developing countries. Nigeria remains one of the prefered destinations for this waste, despite regulatory measures.
These regulations have had no effect because they do not carry stiffer penalties for e-waste importers. And the economic viability of e-waste is perhaps one of the primary reasons Nigeria remains a dumping ground.
Used electronic appliances are more affordable than new ones that one can use for longer. According to Urbanet, less than 20% of Nigerians can afford new electronic devices and rely on used ones. This increases the importation of used electrical appliances that people can't use for too long after they are purchased.
While a new Bill focused squarely on reducing e-waste in Nigeria could curb this problem, enforcing laws against large commercial interests is difficult.
This Brill article revealed that Ikeja Computer Village in Lagos, Nigeria, and Alaba International Market have gained high-level professionalism in the supply of refurbished electronic products not just in Nigeria but in other West African countries.
As of 2013, per a Vanguard news article, Computer Village was generating an annual revenue of $2 billion (₦318 billion at the time). And today, with the naira weakening considerably against the dollar, these figures are likely to have changed drastically.
Enforcing a bill that removes the commercial advantages of e-waste might not solve Nigeria's e-waste problem.
Interestingly, Nigeria is not the only country with difficulty setting up laws to control e-waste. The US, one of the countries that generates the largest amount — 11 million metric tons in 2019 — of e-waste globally, lacks comprehensive e-waste regulation.
The Global E-waste Monitor said in 2020 that 13 African countries, including Nigeria, Ghana, and South Africa, are leading the way in dealing with e-waste control by having a clear e-waste policy. However, it was not stated how these policies have contributed to reducing e-waste in Nigeria.
Is there a solution?
Recycling e-waste properly could be a solution to Nigeria's e-waste problem. E-waste is rich in valuable metals such as copper and gold.
However, recycling and even repairing electric gadgets has become increasingly complex because of technological advances; electrical appliance parts are now smaller.
Smartphones, for example, have gone through massive changes. Smartphones were once made up of fewer components: a battery that could be removed easily, a circuit board, a simple liquid crystal display (LCD) screen, and plastic parts.
Today, batteries are embedded with smartphones, so separating them takes longer. The designs are so complex and intricate that Apple, the iPhone manufacturer, built a robot that helps recycle different iPhone models. It's the first time rare-earth materials like cobalt are being recovered from smartphones.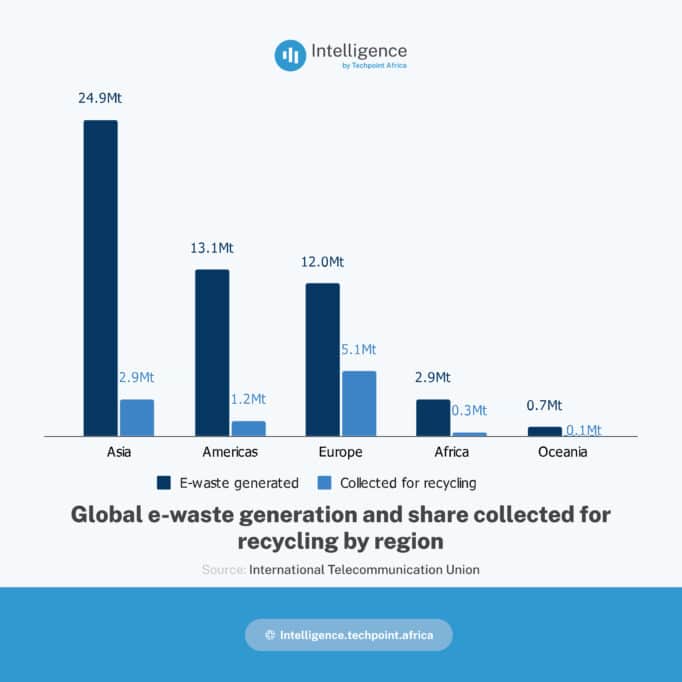 A solution will be to build robots capable of recycling smartphones, smart TVs, smartwatches, and other high-tech gadgets; however, building it would require a lot of expertise, years of research, and money.
While the US lacks federal regulations for e-waste, some states like Illinois have e-waste policies requiring manufacturers of electrical products to be responsible for recycling the e-waste they generate while manufacturing their products.
But in Nigeria, where manufacturers of electrical products are scarce, solving the e-waste problem might depend on tech evolution that'd make recycling cheaper and easier.