On May 21, 2022, the biggest blockchain and Web3 focused event — Techpoint Africa Blockchain Summit (TABS 2022), will be held at Four Points by Sheraton, Victoria Island Lagos.
Some of the biggest minds and experts in the Web3 space will be revealing how Africa can harness the opportunities the new Internet age presents.
From how to make it big with NFTs to building a career in the blockchain industry, we're creating breakout sessions that will be held simultaneously to foster more speaker-audience interaction.
In no particular order, here are the speakers for TABS 2022.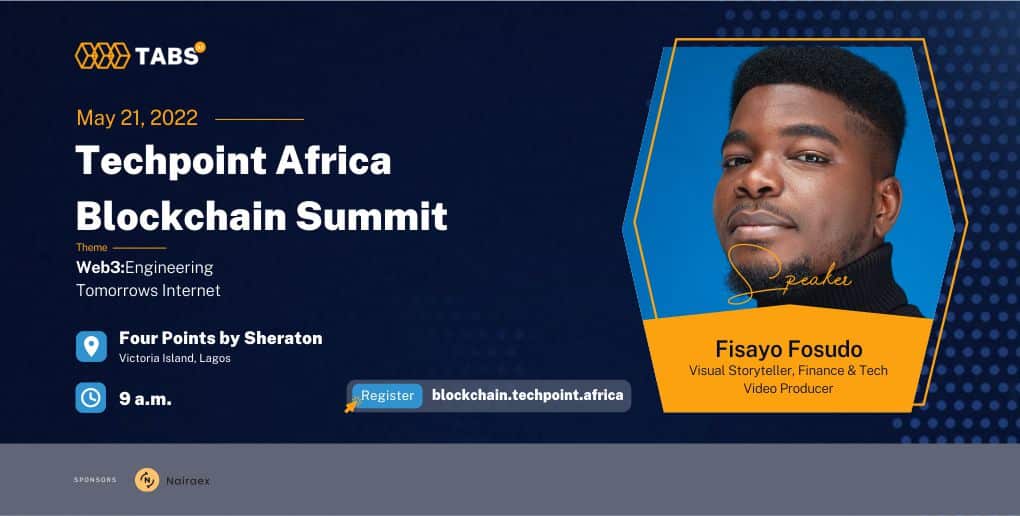 Fisayo Fosudo is a visual storyteller, finance and technology video producer with over 250,000 subscribers. He has a background in economic analysis, and brand communication and specializes in mobile technology, personal finance and the Nigerian economy.
He is one of the 26 Africans featured on the YouTube Black Voices Class of 2022 and won Tech Influencer of the Year at the Techpoint Awards 2021.
Fosudo was the youngest nominee for The Future Africa Awards for New Media and has been featured on YNaija's Establishment List of Top 50 Nigerians to look out for 4 years consecutively.
He has an audience of over 350,000 followers across social media and over 15 million video views from making unique weekly technology & finance videos for the African space and globally for over 4 years.
Fosudo will be moderating the panel session, NFTs, DAOs, DeFi and the era of decentralised opportunities. To listen to Fosudo discuss NFTs and DAOs with world-renowned digital artist, Anthony Azekwoh and other panellists, grab your tickets here.
Anthony Azekwoh is a digital artist and author whose paintings possess a stunning depth in their appearance; inviting viewers from across the world.
His distinctive art style creates captivating mystical worlds where his characters are brought to life and given different meanings by the many eyes that gaze upon them.
Azekwoh is also a brilliant writer, his first artistic interest since age 13. He was the recipient of the Awele Trust Prize in 2017 and the Loose Convo $1000 grant in 2018. He has written five books, the third released through a publishing deal with an American publisher, Inkwell Publishing.
His artistic brilliance has graced album covers of notable artistes such as Show Dem Camp, Masego, Adekunle Gold, and Blaqbonez.
Azekwoh has also been covered in publications like Yahoo Finance, Culture Custodian, Techpoint Africa and Olongo Africa, etc. With 100% sold-out NFT collections, he has set up The Rosemary Fund, a grant that has supported over 10 Nigerian artists so far.
Dahunsi Akinleye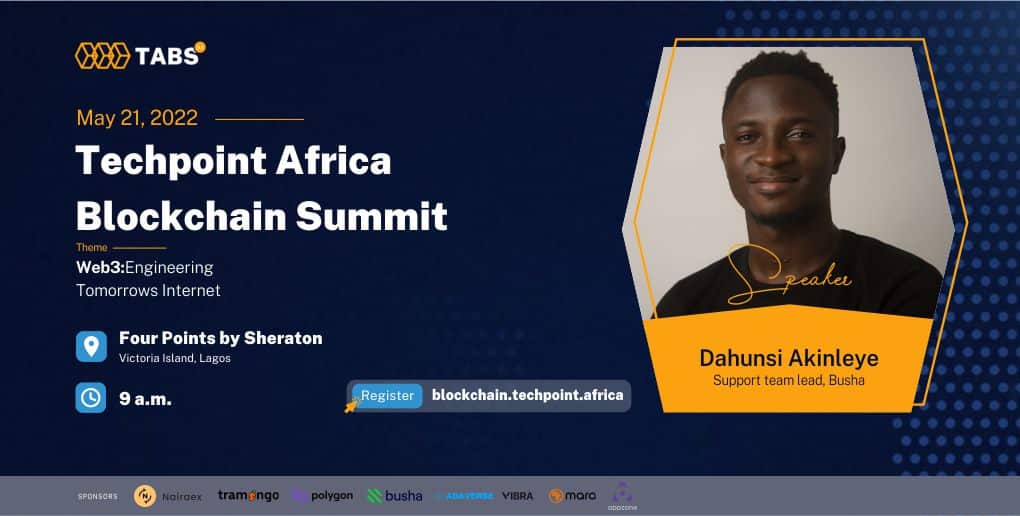 Dahunsi Akinleye is the Product Support Lead at Nigerian crypto exchange, Busha, where he started out as a content strategist.
He is quite passionate about using technology as a tool to provide functional solutions to everyday issues and is an ardent believer that crypto is the future of the fintech industry.
Njoku Emmanuel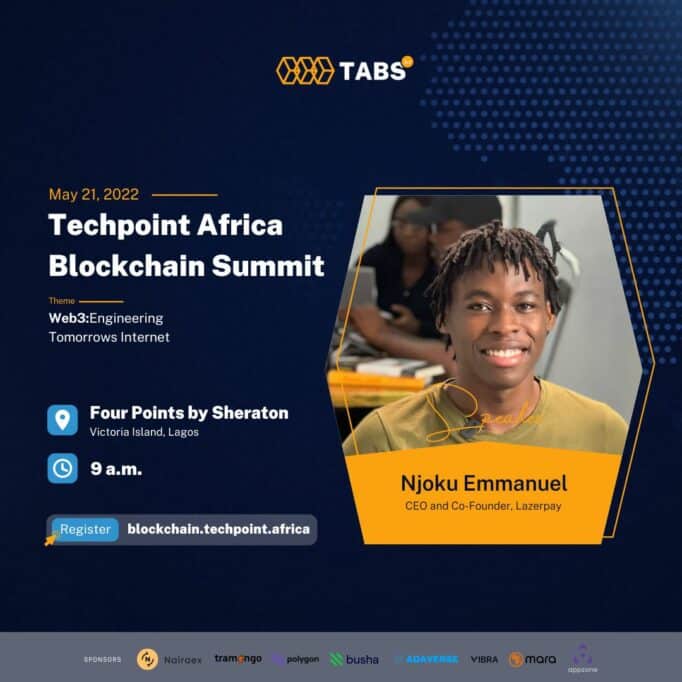 Njoku Emmanuel is a blockchain engineer, CEO and Co-Founder of Lazerpay, a payment service that provides creators and businesses in Africa with simplified payment processes using crypto. He is motivated by his desire for a more connected Africa through financial inclusion. Emmanuel is currently on a mission to leverage blockchain in creating solutions that will transform the existing financial systems in Africa.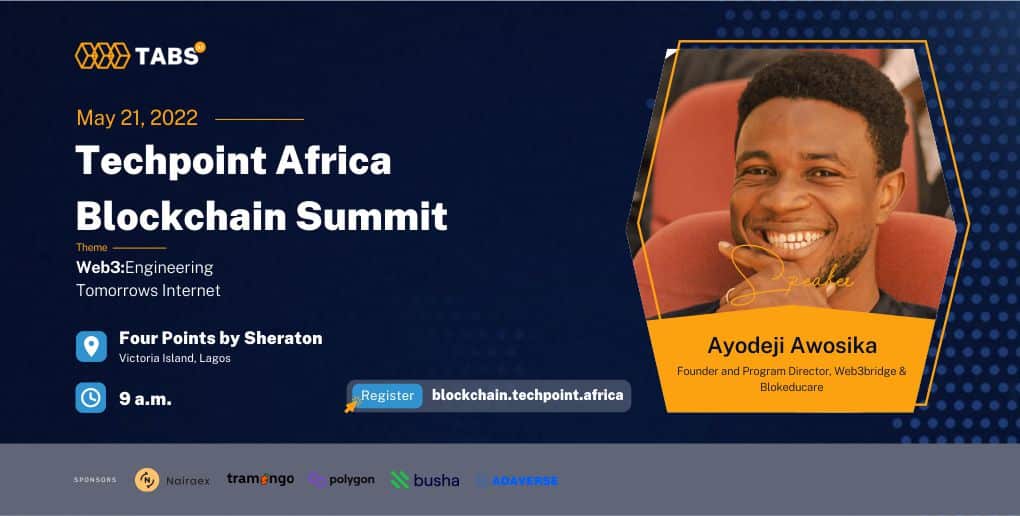 Ayodeji Awosika is the founder and Program Director of Web3bridge & Blokeducare a program fully focused on training blockchain developers in Nigeria and Africa. Awosika believes that developer and user education is critical to the growth of Web3 and its development in Africa.
He is a passionate blockchain evangelist who remains committed to driving the adoption of blockchain technology in Africa.
He and his team have within two years introduced over 700 Nigerians and Africans to Blockchain Technology with more than 50 devs actively working and contributing to projects in Nigeria and Abroad.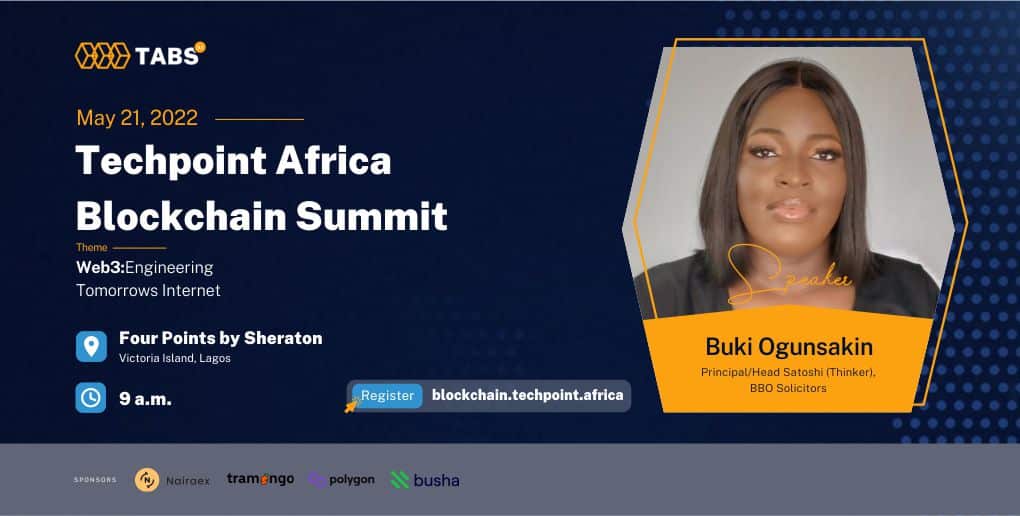 Buki Ogunsakin is the Principal and Head, Satoshi (Thinker) at BBO Solicitors. She is an Emerging Tech Lawyer primarily working with clients in emerging technology areas such as NFTs, Metaverse, Crypto/Blockchain, AI; as well as Cybersecurity, and Data Privacy.
Ogunsakin is also currently a Consultant with InterStellar Inc; and the Director of Strategy at E4E. She is a Smart Contract Research Fellow, and a Kleros Decentralized Justice Fellow. She is also a Certified NFT Expert from the Blockchain Council and a member of the International Association of Privacy Professionals (IAPP).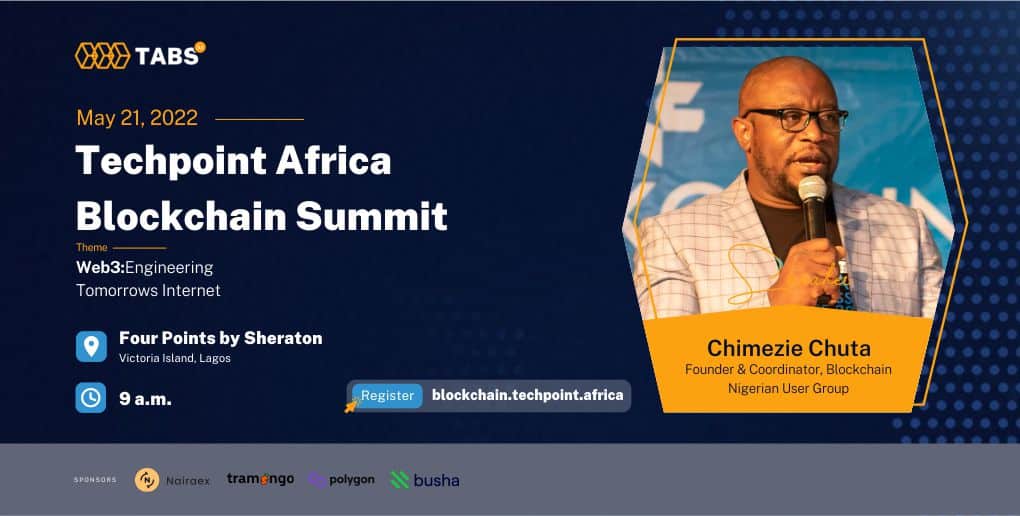 Chimezie Chuta is the founder of Blockchain Nigeria User Group. He is also an advisor WA, Kinesis Money, and Bantu Blockchain.
He is a Partner at Adaverse and FinTech Connector Community Partner for Nigeria.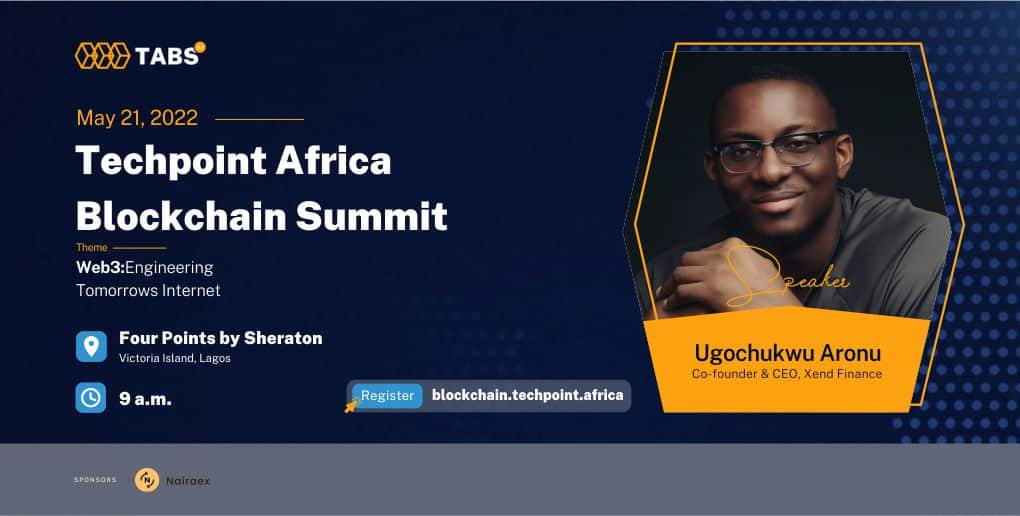 Ugochukwu Aronu is the Co-Founder & CEO, Xend Finance. A blockchain startup that uses decentralised finance (DeFi) to help credit unions hedge against currency devaluations when they save.
As a First Principles engineer, Aronu is also the brains behind Wicrypt, a service that allows people to share their mobile Internet and earn money. Aronu is devoted to building and solving complex problems that can move the human race forward.
In his words, "I strongly believe in R&D and I feel there is so much information locked in nature and by looking closely at nature we can unlock great opportunities."
Building an entire startup around the DeFi sector, Aronu will be sharing opportunities present in it, and the best ways to harness them. To listen to Aronu give the best tips on getting started with DeFi, grab a seat here.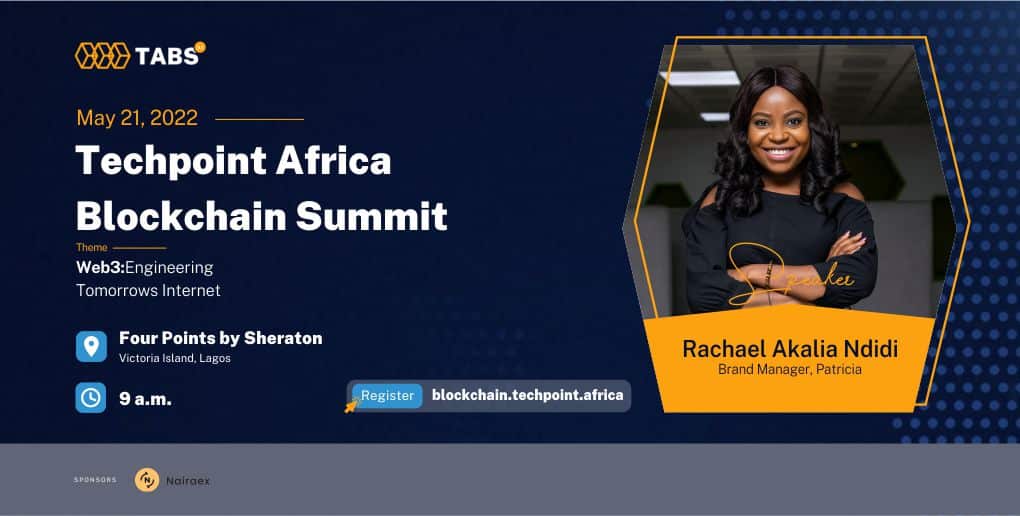 Rachael Akalia is the Brand Manager at Patricia Technologies. She helps Fintech startups build an audience by bridging the gap between user experience and brand perception using data-informed marketing practices.
Before becoming a Brand Manager, Rachael had a successful career in Customer Experience Management, Sales, Operations & Content Management.
In her free time, Rachael enjoys volunteering, learning, and mentoring new startups within the blockchain ecosystem.
Rachael will be moderating the session, Creating and building a career in blockchain. To be a part of it, sign up here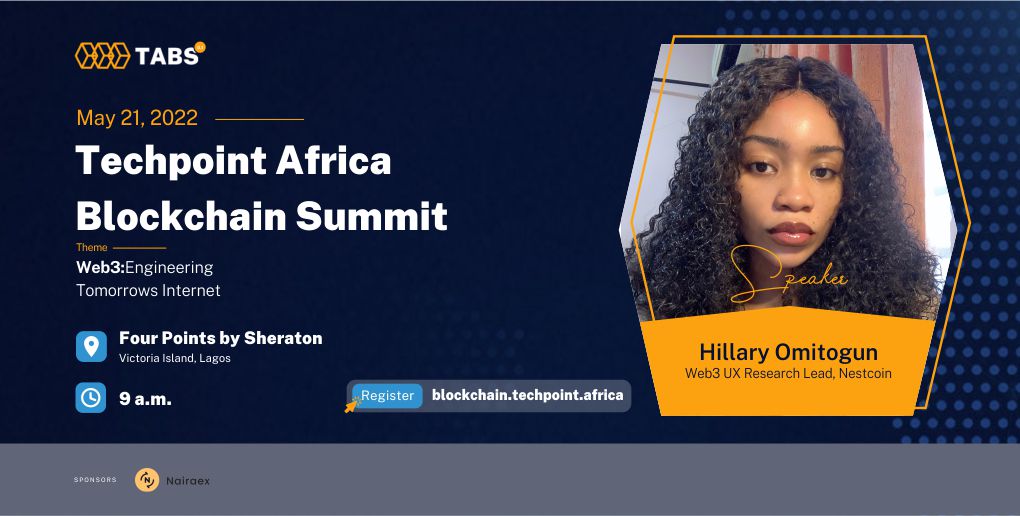 Hillary Omitogun is a Web3 UX research lead at Nestcoin. She ensures that the entire team is keeping every possible type of user in mind while building. She also enforces a user-centred culture by identifying stakeholder goals and gathering findings that directly or indirectly support these goals.
Omitogun will be sharing her remarkable journey so far in the Web3 world and how to plug into the nascent industry.
Senator Ihenyen is the current President of Stakeholders in Blockchain Technology Association of Nigeria (SiBAN), a self-regulatory body in Nigeria's emerging blockchain industry. He is also currently the General Secretary of the Blockchain Industry Coordinating Committee of Nigeria (BICCoN) and General Secretary of the Fintech Alliance Coordinating Team (FACT).
Ihenyen is also the Lead Partner at Infusion Lawyers where he heads the Blockchain & Virtual Assets Practice and advises both local and foreign companies in emerging technologies, including blockchain.
He is the current 1st Vice Chairman, the Intellectual Property Committee and a member of the Information Technology Committee, both of the Nigerian Bar Association (NBA) Section on Business Law (SBL).
Ihenyen will be helping us make sense of the regulation side of things when it comes to Web3.
Ruth Iselema
Ruth Iselema is the CEO of Bitmama Inc, a pan-African blockchain startup offering crypto products across payments, trading, loans, and investments, with footprints across Africa, Europe, and the US. Prior to founding Bitmama, Iselema consulted for other leading global exchanges and blockchain protocols on their product strategy and market entry into Africa.
With years of blockchain experience, she leads a global team at Bitmama spread across Nigeria, Ghana, and Kenya. She has also been recognized as one top 20 individuals shaping Africa's blockchain space by leading media such as CryptoAssetBuyer and received other recognition from the German and Austrian Missions in Africa.
Chris Izu Okafor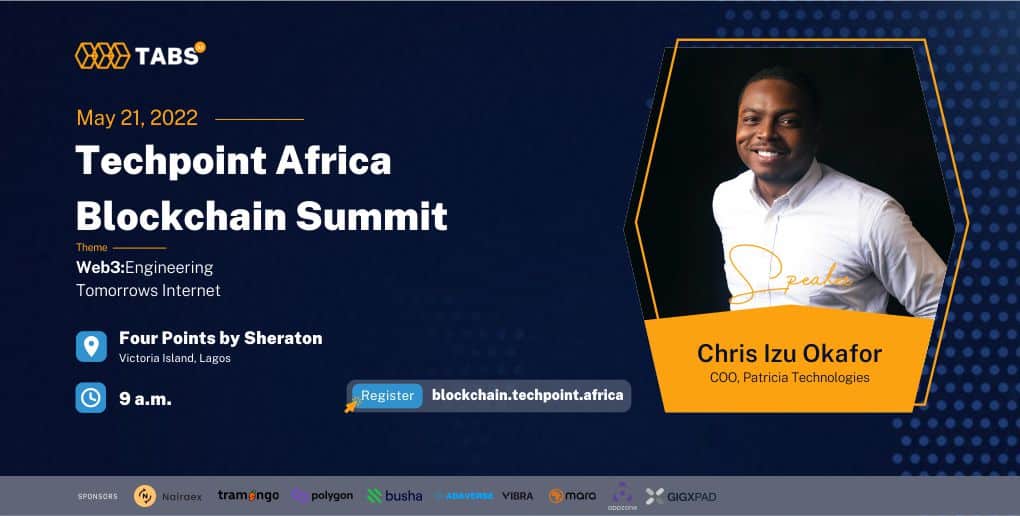 Chris Okafor is the current Chief Operating Officer at Patricia Technologies. He has years of experience in establishing policies that promote the culture and vision at Patricia. His bias is for business evolution and enlarging a strong sense of leadership, ownership, and responsibility with the cross-functional teams led by him.