How much does it cost to educate a girl child? This is one of the questions that come to mind when trying to make sense of why there are more out-of-school girls than there are in school globally. 
Confirmed in findings by the United Nations, it is prominent in sub-Saharan Africa, where many people expect girl children to sacrifice their education to get married early.
With such expectations, girls are almost always deprived of opportunities for higher education, much less a career. However, the United Nations Educational, Scientific and Cultural Organization (UNESCO) says the situation is getting better, although the pace is slow.
But for a father willing to go against the norm in the 1990s, Nigerian-founded Patricia Technologies would not have the amazing brand manager it currently has.
In the three years and six months since Rachael Akalia joined Patricia Technologies, she has taken on seven roles at the company, something she considers challenging but worth it.
"I've come to a point where I've realised what I love, that I want to grow where I'm at. I'm someone that always wants to fix a problem and being a brand manager helps me do that. But I don't fix the problem when it's a problem, I prevent it from becoming a problem. It's more of being proactive," Rachael revealed during a recent conversation at Patricia Technologies' HQ in Lekki, Lagos.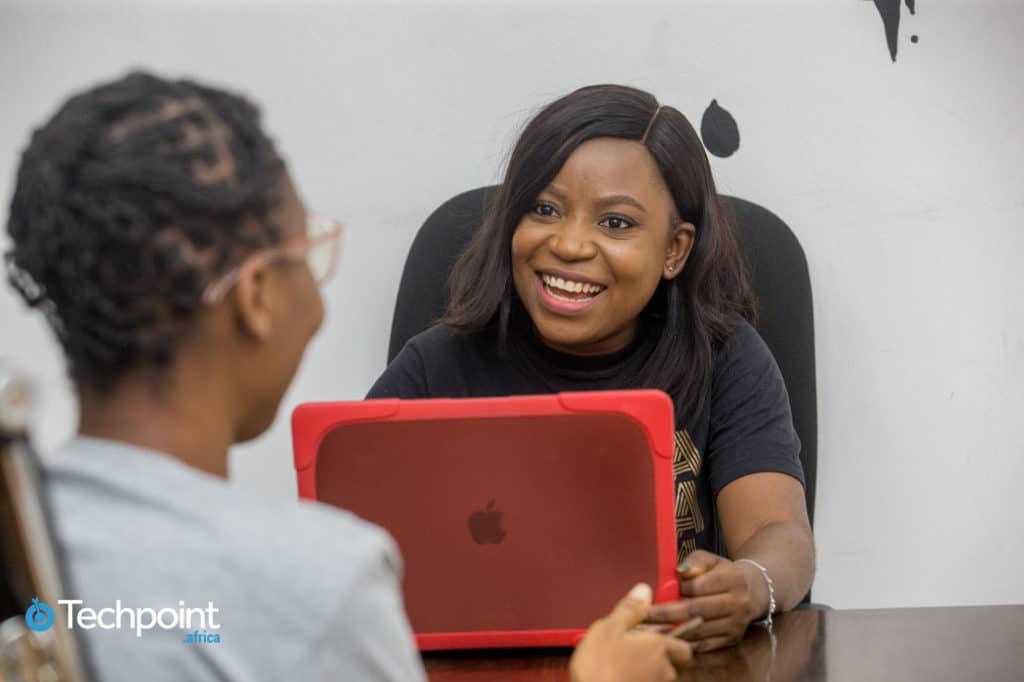 Living across the river, aiming for the skies
One of nine children from Anambra State, Nigeria, Rachael spent her primary and secondary school years in Ikom, Cross River State with her mom and late dad. Before heading for the university, she spent her post-secondary school years with her older brother in Port Harcourt, Rivers State, Nigeria.
But, she almost missed out on a tertiary education.
Being the eighth child at a time when younger siblings were not permitted to be ahead of their older ones in school — and in some cases, marriage — Rachael had to wait two years before going to the university. And it didn't come easy.
"In 2011, I told them, 'just register me for the exam, I promise, I won't pass it.' But I knew I was tricking them because there was no way I would not pass it. While I was home, I was studying and solving JAMB past questions. I also did a six-month training in basic computer knowledge and got a certificate."
She faced another hurdle when she got admitted to study economics at the Nnamdi Azikiwe University, Awka, and her older sister, who took the same exams, didn't. The family decided that Rachael would go to school five months after school resumed.
But that didn't slow her down; she caught up on five months of work. Such was her resolve that she set a first-class honours target for herself.
All the while, she had a nudge.
"I had this quote, 'Aim for the moon, and if you miss it, you land among the stars.' So, in my head, if I missed First Class, I'd get a Second Class Upper. But I wasn't going home with anything less than that because I needed to show them that the investment was worth it."
Seizing opportunities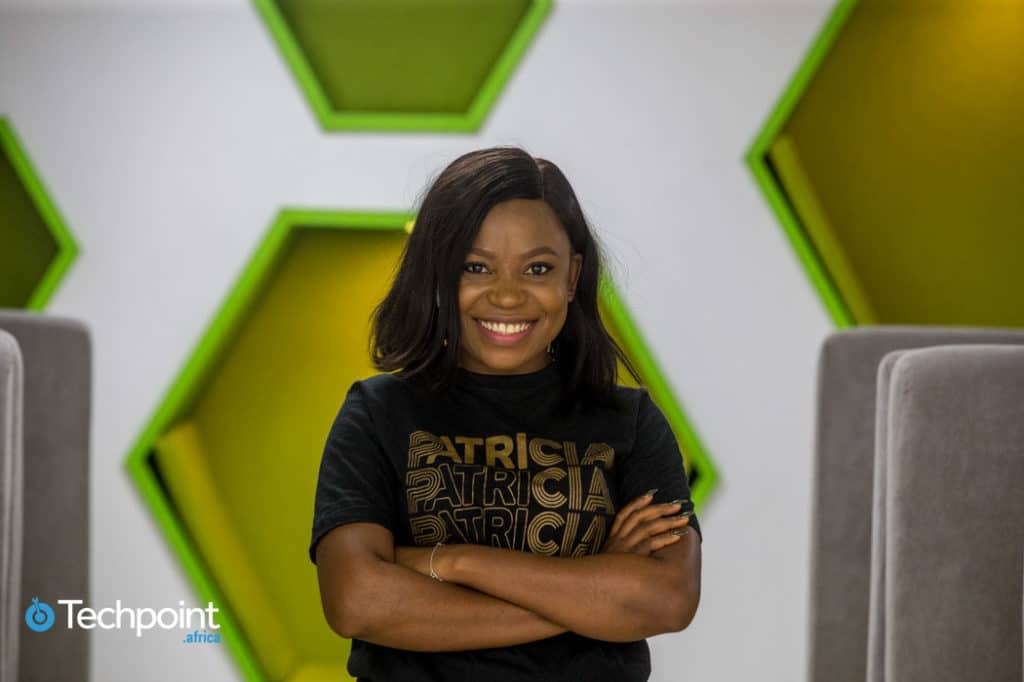 Rachael knew that an education would open doors for her. And it did.
The entrepreneur in her was awakened when she took on the responsibility for some of her financial needs during her four years at the university.
"For other dues, apart from my school fees which my brother took up, I taught tutorial classes. In my department, they knew me as the 'Summary girl.' I would summarise big textbooks into five pages without missing out on any important details. This was all thanks to my English teacher in secondary school whose summary and comprehension lessons came in handy."
With time, she became the go-to person for detailed study and exam prep materials. Rachael, who says her handwriting is hard to miss, kept this up for a long time.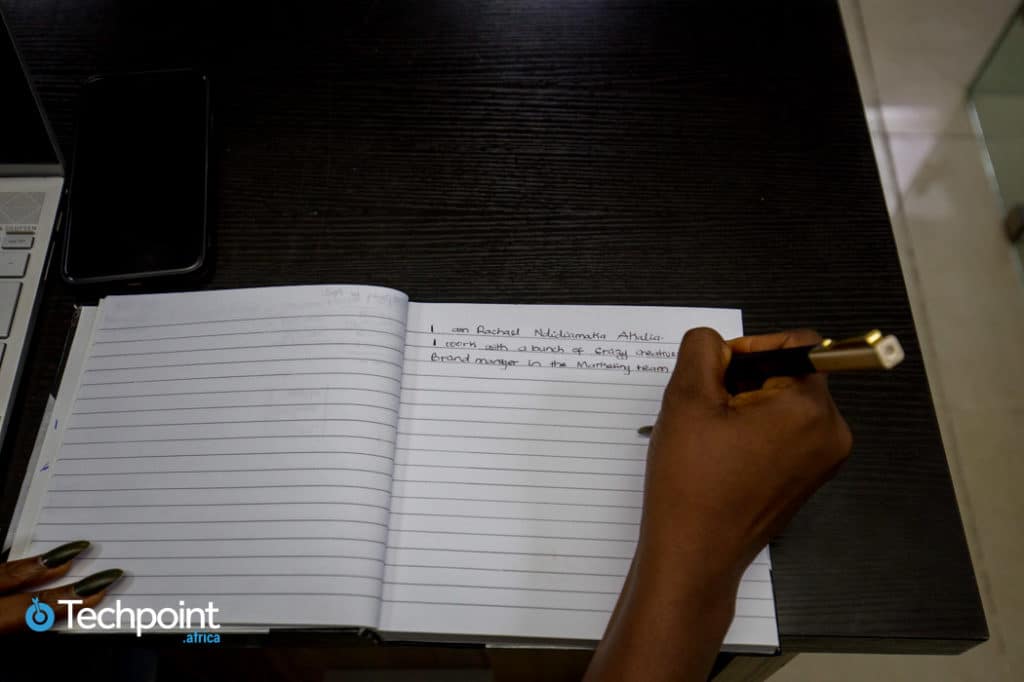 But that wasn't her only shot at entrepreneurship.
During her mandatory National Youth Service Corps (NYSC) year at a secondary school in Enugu State, where she taught accounting, commerce, and economics, she sold pastries and organised classes for the students. Realising that most students didn't understand why they were in school, she says she focused on making an impact, not on money.
"They had this mentality that they didn't need to study. They were actually forced to go to school. The boys wanted to farm, and the girls wanted to get married. But I had to tell them that inasmuch as you want to do all those things, it is really important to get vital knowledge first. I encouraged them with my story, and it was a reorientation for them."
Similar stories of motivation do not always achieve desired results, but her efforts were not futile. The school recorded its first year of excellent West African Examination Council (WAEC) results in the subjects she taught, ending five years of abysmal results. This remains one of the high points of her life.
Moving up at Patricia Technologies
After her NYSC, Rachael got an unsatisfactory sales and marketing job in Port Harcourt. In her quest for a new challenge, she moved to Lagos after being invited for an interview following numerous applications.
"I was writing nothing less than 25 applications daily. I was following job sites, and whether I was qualified or not, I applied immediately I got a job notification. And I did this on my phone because I didn't have a laptop."
With seven interview invites in her inbox, she made her way to Lagos. She got three offers, the first of which she took. Rachael eventually discovered that the marketing job came with a lot of pressure and unrealistic targets.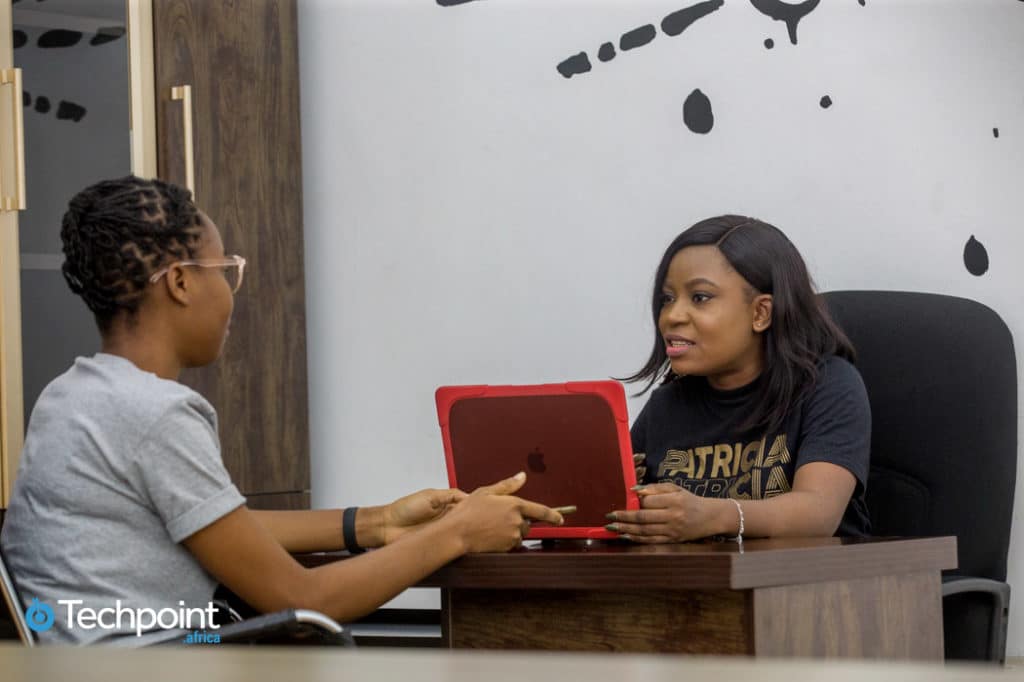 Interestingly, she had turned down an offer from Patricia Technologies in February 2018 because the startup was only a few months old, and she didn't understand its operations.
Just when she decided to begin her search for a new job, Patricia reached out, asking why she turned down the offer. Hiding her excitement after a contract review, she accepted a role in the operations team and resumed on February 5, 2018.
"I knew that I would be excellent wherever I worked, but the only factor that might hold me back was a lack of experience. I just wanted to get experience. So, I was willing to take any role to start, figure out what I wanted to do, and start getting skills in that area. I believed that I would figure out a career path to follow within one year."
After a few months in the operations team, she moved to the gifts department. That was where CEO, Hanu Fejiro Agbodje, discovered she had skills in complaint resolution, customer handling, and digital marketing. She was better suited for relationship-based tasks with such a skillset, so Agbodje asked her to become the startup's customer service representative and social media manager.
Shortly after, the media department was created to handle graphics designing, content creation, and digital marketing. And after 11 months at the startup, Rachael became the head of the media team, but she knew there were more responsibilities ahead; Agbodje thought so too.
"There's this thing my boss does at the beginning of the year; he weighs people's strengths and puts them in positions where they can magnify these strengths and better work on their skills. He said, 'Rachael, I have watched you for a while, and I think you have great customer service skills. I want to start a proper customer service team, which you will head.'"
Leading a team of ten was a new challenge that came with greater responsibility which prompted her to take customer service courses on Udemy. She also read widely and followed successful companies. And this is her modus operandi for every new role she finds herself occupying.
By June 2019, the growth of the Patricia team necessitated the expansion of the customer service team to 35 people. Rachael promptly stepped into the role of supervisor, and a professional customer service lead came in.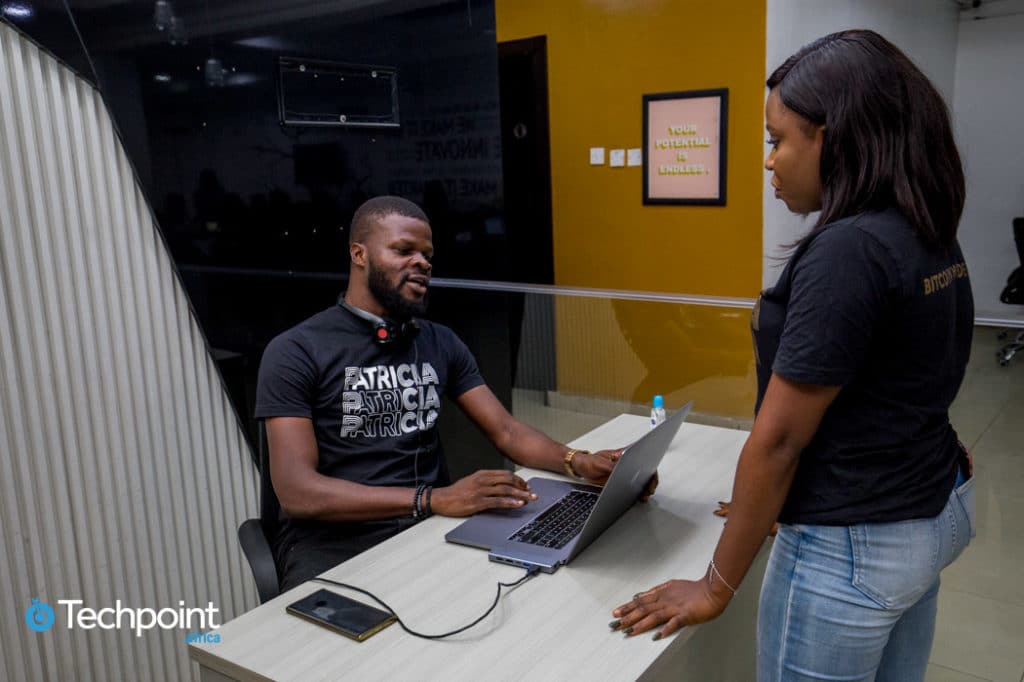 During a reshuffle in January 2020, Rachael chose to be on the marketing team.
For Rachael, a recurrent theme with these changes in roles was how well they aligned with her life goals and how she often leaves a role more knowledgeable than she came in. But the management saw beyond that.
"I had a conversation with Chika, the Chief People Officer, about why I was moved to the marketing team. She said I was a growth facilitator and that I build whatever team I'm in. And they needed to build the marketing team."
Rachael had a month to put creatives in the startup together under a team in preparation for a head of marketing who would soon come in. As a marketing executive, she worked directly with Ogunwede Rotimi, who she reveals also played an integral role in her growth.
This path led her to become the brand manager in June 2020.
"And this was more challenging because I have to embody the brand. I have to know what is good for the brand whenever I speak for the brand. I have to be the brand and make decisions that will affect the brand. So, I can't falter."
Rachael acknowledges how important bringing in experienced hires is in a business, and holding her current role for over a year, she has exceeded her growth expectations. She attributes this to being in an environment that facilitates growth.
Life hacks and aspirations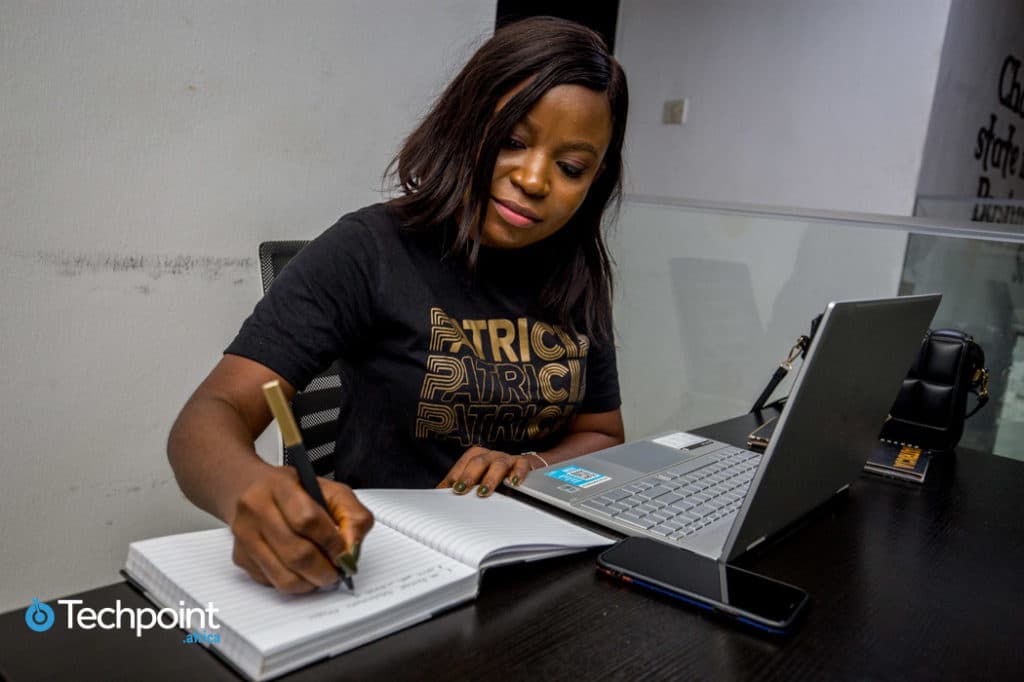 Rachael believes building habits takes consistency, and she constantly makes an effort to replace unhealthy habits with good ones. One way she does this is by setting alarms due to the management and organisational skills she picked up at a young age.
"I get to remind myself to do things. I have a reminder that tells me to sleep, drink water, call my friends, see a movie, call my mom, pay my tithe, take a stroll, and every other thing."
A typical workday sees her responding to internal and external emails, setting up tasks to achieve weekly goals, liaising with other team leads to carry out their tasks, and having meetings. Essentially, she works with every team in the company depending on the startup's needs per time.
Outside work, Rachael likes reading — or doing anything that increases her knowledge — travelling, eating, and writing.
While she continues to embody the Patricia brand, Rachael ultimately plans to go back to school, something she has put on hold for a few years.