Entrepreneurial stories are told using various narratives, which all have two things in common: It's not a walk in the park. It's not for the faint-hearted. While some founders have a clearly defined path that segues into a completely different trajectory, bearing with it the tide for a business idea, others stumble upon entrepreneurship.
For Oluwatobi Odukoya, CDcare Co-founder/CEO, and Ayodeji Farohun, Co-founder/COO, the journey to building CDcare was a combination of the influence of a father who ran a local credit platform in their community, an academic environment that fostered entrepreneurial spirits, and his knack for solving problems.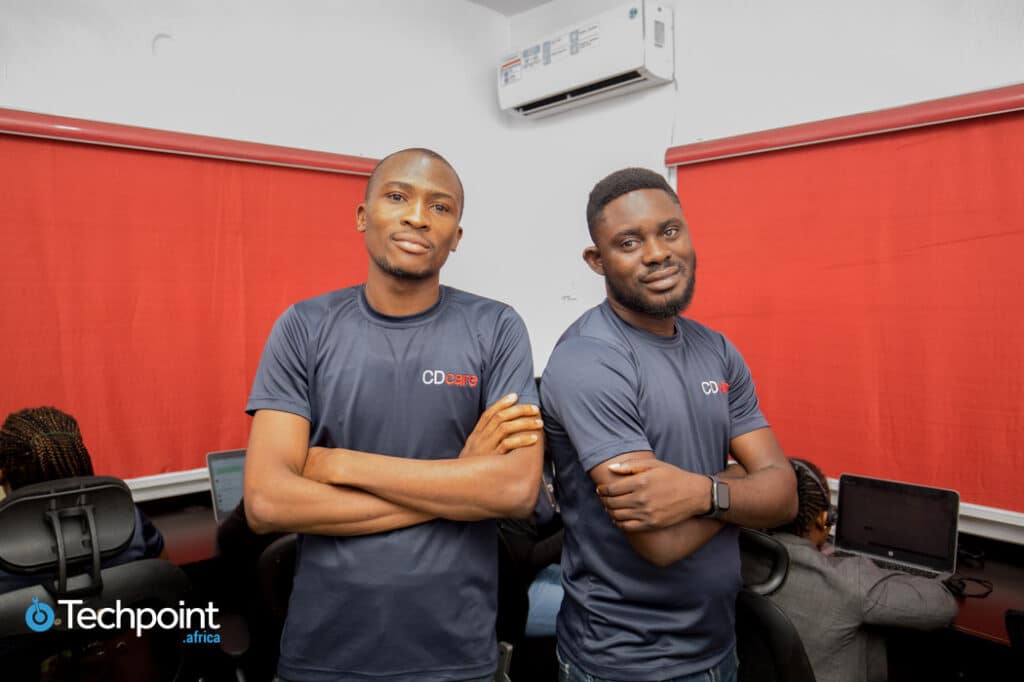 CDcare is an online marketplace that lets users shop for gadgets, home appliances, and electronics at regular market prices with the option of paying in instalments at no interest rate. It all began when Odukoya was a 100 level chemical engineering student at the Obafemi Awolowo University (OAU), Ilé-ifẹ̀, Southwest Nigeria.
The seed for the idea was planted as he watched his mom save up for months to get him his first laptop. He decided to start a Loan-a-Laptop scheme in the university's environs.
"My mom saved for roughly over eight months to get me my first laptop. In school, I saw that this was something most parents did too. And having assisted my father while he managed a microfinance society back home, I sort of had early exposure to credit systems. So I started with laptops. I'd help students buy laptops, and they'd pay little by little."
But his entrepreneurial sprint began a year after getting into the university. He pioneered a small business that helped fellow students secure important files even after formatting their computers.
"Before getting into OAU, I had never sat down in front of a computer. Upon coming in contact with one, I started learning to fix small hardware faults. This was the discovery of my knack for solving problems. In year one, I discovered that final year students lost their projects to small viruses. So I decided to research and come up with a way to fix this. With the help of my brother's Internet connection and computer, I found a way to format computers without people losing their files."
Odukoya shares that the OAU environment encouraged entrepreneurial pursuits, which significantly contributed to the growth of the computer repair business.
"OAU has a very supportive community. There were students in school who survived selling pure water and groundnuts to fellow students. When you start a business, everyone would suddenly begin to patronise you rather than an outsider."
Graduates who left the boundaries of Ilé-Ifẹ́ for the job market recommended him to the companies they worked in to fix their computers. They opened a Lagos branch to cut out the challenge of transporting these computers from Ilé-Ifẹ̀ to Lagos.
"As my business grew, I started training other indigenes so that I could focus on school. Recently, I sold off the OAU arm of that business. The Lagos arm is still known as Computer Doctor today. Our clients include top fintechs like Paystack and Flutterwave. We were able to land these clients thanks to people who patronised us in school and then recommended us to their companies after graduating," he adds.
Running CDcare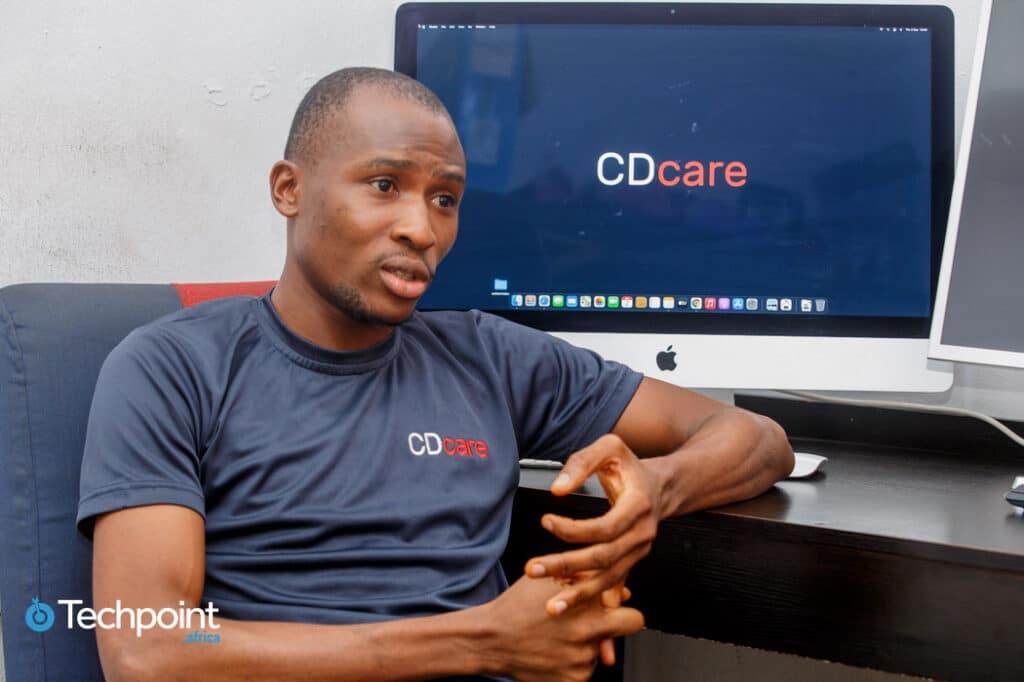 Although the Loan-a-Laptop scheme started as a stint at school, it was already a full-fledged business affiliated with his Computer Doctor operations by 2013, around Odukoya's final year in the university. Landing a partnership with a big distribution company was his big break.
"I had been going about my regular computer business dealings with the Loan a Laptop scheme when I met Adedeji, who currently is my co-founder. We were classmates and became friends after he purchased a laptop from me, and we began co-running the scheme. A few years into this, we got a partnership with Fouani. We'd been dealing with them for the scheme because we delved into electronics and appliances and had gotten enough units to be partners. So we decided to start CDcare."
Because he couldn't afford a developer, Odukoya had to learn to use Flutter, a software design kit with ready-to-use codes and tools to build websites and apps developed by Google.
Fouani Nigeria Ltd is a subsidiary of Fouani Group, licensed distributors of electronic appliances made by LG and Hisense. This partnership meant Odukoya and his partner could make bulk purchases at a discount. Today, they partner with other companies, including Apple Nigeria, Scanfrost, Vitafoam, and Haier Thermocool.
How CDcare works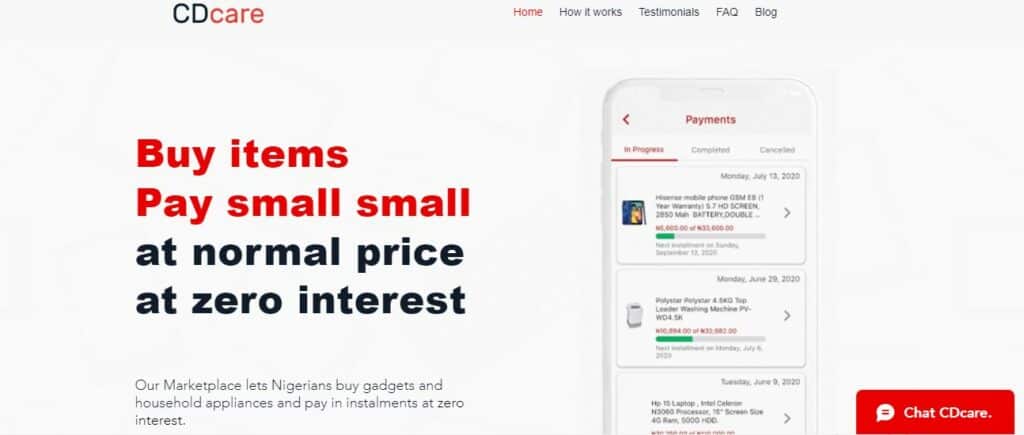 Although not as mainstream today, given the presence of established financial institutions, the concept of community-based savings schemes in Nigeria dates back to the country's pre-colonial era. Individuals came together to make daily/weekly monetary contributions with a reputable person in charge of recording the funds and providing credit financing when needed.
Odukoya emphasises that CDcare is not a fintech platform but rather an online marketplace that allows people to buy goods by paying in small chunks for up to 12 months and receive the goods after the first half has been paid at zero interest rate.
"It's simple; we offer a 'pay small small for gadgets and appliances with zero interest', and at normal market price. Our users collect their items in the middle of the instalment period. Depending on your income frequency, we have between two months and 12-month instalments. CDcare can be seen as a better way to save up and buy something. And because we have our marketplace, it is easy to ensure quality."
For context, a user gets their item shipped after the first instalment for a two-month plan. As a perk for consistent users, the platform also offers a feature where buyers can get their items shipped and delivered after the first payment for a three-month plan. This added feature is called CDcare3. The CDcare app is available on Google Play Store and Apple App Store, and also as a web application.
It will not be out of place to wonder why CDcare runs a zero-interest and normal market price model, unlike other Buy Now, Pay Later (BNPL) schemes with varying business models like QuickBucks, Carbon Zero, Specta, AltMall, etc., but Odukoya reveals the reasoning behind this.
"Loan companies in Nigeria are missing out on a nuance in the Nigerian populace. It might not be a big factor, but it is something. Nigeria has a lot of Muslims, and interest schemes are like a taboo in Islam.
"So, one reason we have a lot of northern customers is the zero interest rate. Another factor is the African aversion to credit. Owing is seen as a shameful thing in most Nigerian communities, so this model makes the buyers feel like they're saving to buy rather than the feeling of taking a loan."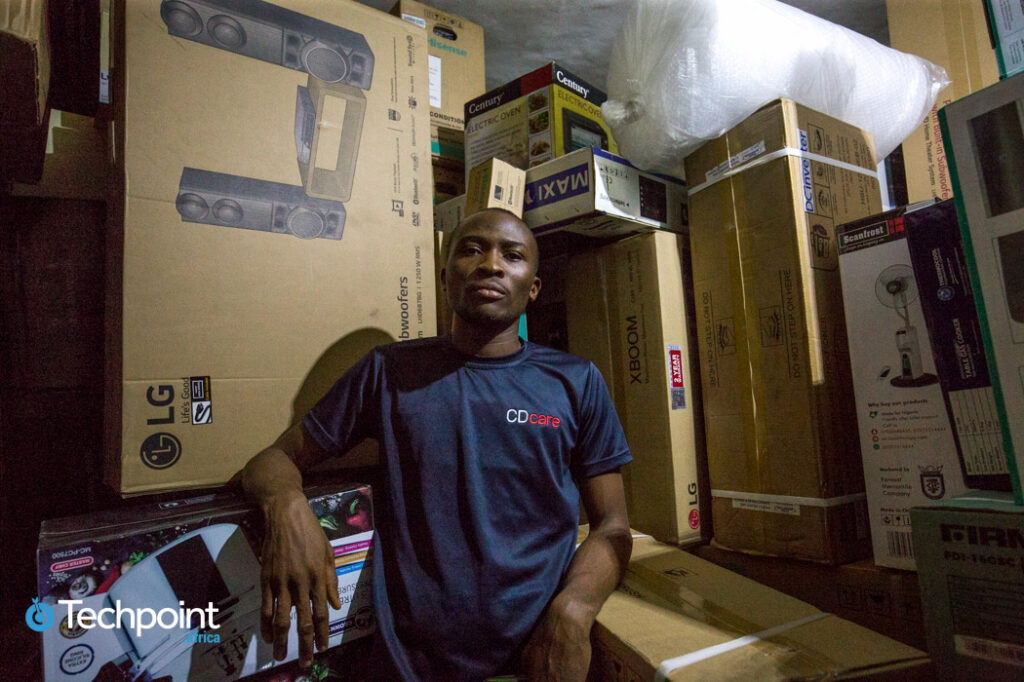 At the time of writing, CDcare had sold over 15,000 products to over 7,000 people across Nigeria. For many of its customers, the question is always how does the platform make money given the model it operates. 
"A lot of people wonder how we make money. We're leveraging the fact that most people would rather save up and buy at a normal market price than take out a loan and pay interest. Also, our partnerships with companies help us control the quality of goods, which boosts our user base. We get goods at very discounted prices, so we can sell at a reasonable price without tampering with the market price," Odukoya says.
He also adds that aside from an angel investment of $10,000, they have neither started an investment round nor received any financing from external sources. Although, he acknowledges that investments will speed up their current 20% month-on-month growth.
"We are open to investments because there are a lot of plans in place that only adequate funding can help us carry out. We are currently speaking to investors and trying to raise funds. However, I believe that the amount of time spent trying to convince an investor can be spent sitting down to convince a customer. The success we have achieved so far is due to a relentless and dedicated team and word-of-mouth from our customers. Our focus right now is on getting more customers."
Challenges so far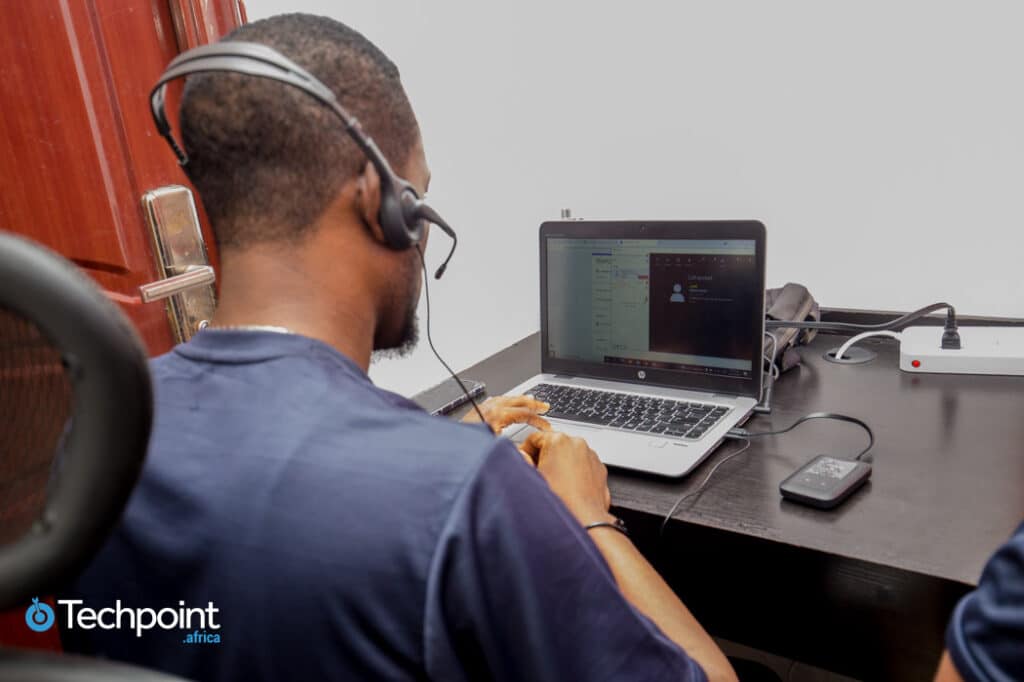 In the online retail business, the issue of trust on the part of both sellers and buyers cannot be over flogged. This was a significant challenge when CDcare started, and Odukoya believes that trust is a two-way thing in eCommerce.
"When we started, getting people to trust us was quite a challenge, and to solve this, we started posting products like kettles and other cheap items after users purchased them, and it got to them as they ordered, they would then come back to buy products like MacBooks, deep freezers, and more expensive gadgets.
"On the other hand, there are times that we have had to go to people's homes to retrieve products due to defaults in payments. We also issue a loan receipt that signifies payment deficit when the items are sent at the middle of their payment plan."
He also shares that solving the logistics was an issue, and at some point, all the company's profit was going into shipping products. They have solved this by partnering with logistics companies and charging delivery fees on goods.
A familiar saying among Nigerians goes thus: problem no dey finish. This can be loosely translated as 'tough times are an inevitable part of life.' Odukoya shares that there have been challenges at several phases in CDcare's life, challenges he believes are bound to come up as the business grows.
"At the beginning, it was the issue of building the app as we couldn't afford to pay a developer; I leant Flutter, and we solved that. Then there were some payment issues, which a partnership with Flutterwave helped us sort out. And as we expand, it is expected that challenges like the speed of our response time, managing logistics, and many more, most unforeseen. But as we get to these points, we will figure out a way to sort them out."
Looking at the future; growth plans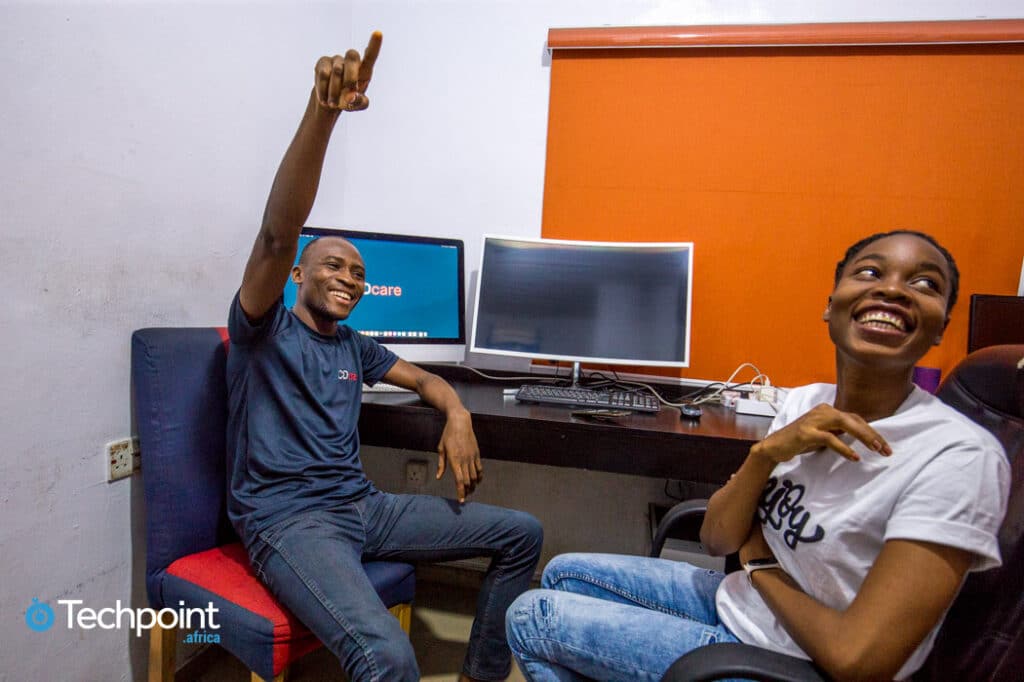 Traction is to startups what wind is to ship sails. It is one of the most vital phases in a startup's life cycle, and for Odukoya and his team, one near growth plan is product expansion, with the closest being vehicles and home purchases.
"By 2022, we intend to start selling cars on CDcare, and I would like to put it out that we would love to partner with brands like Innoson Motors and Toyota to make this happen. Most Nigerians settle for Tokunbo because there's really no way to 'buy and pay small small' for cars. We also want to partner with real estate companies such that you can start making payments for a house at say age 25 and save up with us to own it at, say, 35."
For geographical expansion, he shares that a foray to other African countries is in sight, and advancement into Ghana is in the works. However, the big picture is getting the CDcare marketplace to the doorstep of the average African, online and offline.
"Our big vision is getting CDcare to a point where that mechanic on the road can get a small Nokia phone from us, that welder can get a small generator to make his work easier, and the mom/dad can get a blender to make grinding the tomatoes easier. As we speak, we have begun building the framework for this, and it is being experimented."

Fun fact: I got my current cell phone on CDcare, and I must say, the service is seamless!