The food delivery industry in Nigeria and Africa in general is about to witness a rave of excellent user experience with Foodr Eats launching their product in Abuja by the 10th of January 2022. Foodr is promising to bring an experience that has never been felt in the industry with its excellent user app and an open delivery system.
Foodr Eats is a logistics and supply Chain Company that allows users to order food and drinks from various restaurants close to them on their mobile application and have it delivered to their doorstep using a well scrutinized open delivery system.
SOLVING A PROBLEM
Mayowa Oladipo (Co-Founder and CEO of Foodr Eats) says "Despite the many challenges facing Nigeria economy, the food and restaurant segment has remained growing rapidly. Like many areas of the economy, its long term potential stands out in a global context because of Nigeria's sizable population, currently standing at around 200 million. But one will still wonder, why do some restaurants close up or go bankrupt even though everyone eats daily and why do users still find it hard, time wasting and expensive to order a meal online and have it delivered to them in the shortest period of time?
We have learnt so far that the two major factor that helps a restaurant grow aside having a lovely meal is "visibility" and "accessibility" and with the explosion and increase of internet users in Nigeria, it has become a case of urgency to allow a lot of people have access to infinite scrolls of various dishes through their mobile app and have someone deliver it to them within a short period
A lot of restaurants close up in their first year because customers could not find them or they don't have the service to get their food over to their customers. In the current degraded Nigeria economy, it is quite difficult to rent a luxury and an open seeing space for a restaurant business or delivery system to get your food over. You can be in an environment and not know the restaurant around you which subjects you to go as far as taking a ride to get a meal to eat and this is where we come in."
BUILDING A FOOD CONCENTRIC ECOSYSTEM
The development team which includes Ifeoluwa Alao Ojo (CTO and Co-founder) and Ikechukwu Nwankwo (CPO and co-founder) says "We are trying to build a whole tech ecosystem around a food delivery app to create an experience that can't be easily forgotten by our users. A lot of great and life changing features will be gradually added to the app as our MVP is ready for launch. We would build an ecosystem around our user's meals, with a machine learning algorithm aimed at studying the user's interactions with the meals and then serve and recommend more and more meals for users, giving them that experience that will last a long time.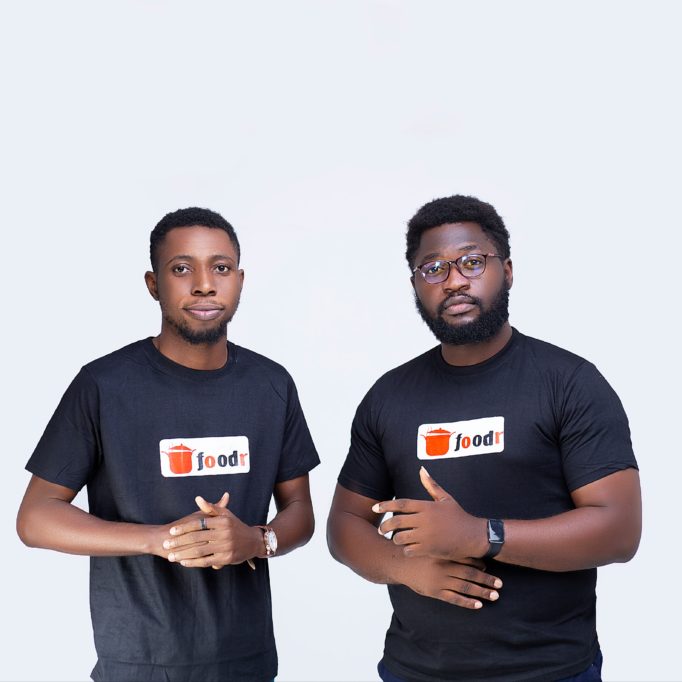 TEAM, FUNDING AND LAUNCH
"We have a team of highly motivated individuals to help achieve our milestones till we get accurate funding to scale all around the country. We are solely focused on creating that perfect user experience either by using the app, customer support, interaction with delivery merchants and quick refund if need be. Our team is fully dedicated to satisfy the users and create a cash inflow for our delivery merchant".
Mayowa Oladipo (CEO and Co-founder) made it known that "Foodr Eats build up process was solely finance by the company founders but recently raised $20,000 to propel their launch in January" on if they were open to more funding "Our dream is to be able to reach the nooks and crannie of Africa and if more funding, partnership or mentorship will the catalyst to speed this dream up, we are definitely open to that."
In preparation of the big launch in Abuja, the Foodr Eats team are working on getting more food on their platform and scrutinizing the drivers and riders that are willing to be on the platform. When asked about the choice of location of the companies launch, Mayowa said "Abuja is a fast rising state in Nigeria with high spending power and easy access to move around and deliver product with a reasonable amount of internet users, it will be reasonable for us to launch our MVP in a controlled environment such as Abuja and gradually spread our wings throughout the nation and Africa in general".
Our website: Foodreats.com
IG handles @foodreats @tunejee_ @laozofficial