By Ferdinand Adimefe, CEO of Imaginarium Group | Photo Credit: HTSABO
---
Living in Nigeria comes with many costs including - but not limited to - filling a form everywhere you turn and giving biometric information to government each time.
To obtain a driver's license, you fill a form at the Federal Road Safety Commission (FRSC). To use my SIM cards, I had to fill a form whose details are domiciled with the Nigerian Communications Commission (NCC) THREE times. Then there's the Bank Verification Number (BVN) exercise by the Central Bank of Nigeria (CBN) to help us citizens keep our bank accounts.
And these are just a few examples because I have lost count of the number of times different agencies of government have asked for my biodata. Even more interestingly, despite the repeated collection of the quantum of data, we are still miles away from leveraging it to solve crime or improve security or formulate policies.
This strips the processes of their importance which is bad for business because there is an emerging data revolution unveiling in Africa. Analysis has shown that we are not just in the early stages of the big data age, but we are at an inflection point. Data is slowly becoming the strand of life running through different sectors and industries; connecting and uniting these formerly isolated hubs into one community; one cloud of information, insight and opportunities.
Petabytes of data are generated across the continent daily, but this is only part of the story. The untold chapters of this story lie in the possibilities buried within this horizon of data clouds. Africa is known to time and again leapfrog developmental challenges through the clever use of disruptive technologies; and the question before today's generation is will data drive our next phase of development? Will Big Data become the tipping point that will usher in a generation of Africans that will revolutionise the African economy in the most profound and outstanding way?
At the maiden edition of the two-day Digitech Conference, one of the most exciting events of the year which begins today, these questions get to be answered by the individuals birthing our very own data frontiers. Themed 'Towards A Data Driven Economy', it is our attempt to spark off discussions on how best to leverage data-driven strategies to innovate, compete, and capture value across Africa.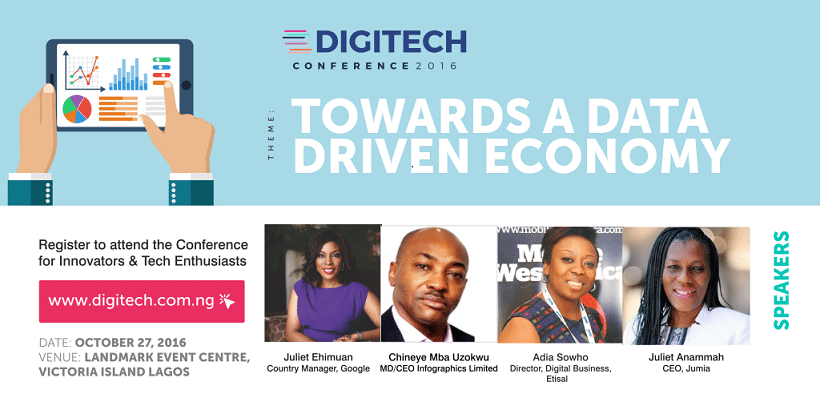 Harnessing and analysing data to discern patterns and make better decisions, gain competitive advantage, understand ourselves better, enhance product development and create targeted marketing, remain unexplored angles. Industry experts and pioneers of the African digital revolution like Juliet Ehimaun (Country Manager, Google), Chineye Mba Uzokwu (CEO Infographics Limited), Adia Sowho (Director, Digital Business, Etisalat), Juliet Anammah (CEO Jumia) and Techpoint's Adewale Yusuf, converge today at the Landmark Event Centre, Victoria Island, Lagos to explore major opportunities and forge lasting relationships within the African tech community.
In the midst of all the thriving start-up stories springing up within the African digital landscape, there are still more questions than answers. How can we leverage big data to create new growth opportunities and entirely new categories of companies, such as those that aggregate and analyse industry data? How can forward-thinking leaders across sectors aggressively build their organisations using big data capabilities? How do we leverage data driven insights to develop the next generation of start-ups, products and services?
Companies need to enhance the potential of 'Big Data' and 'data- driven innovation, which is the future. 'Technologies building on 'Big Data' are 'important enablers for productivity and better services'. Companies can create value by using data to solve problems and stay competitive in today's data driven economy. To be successful, companies will have to identify challenges preventing innovation based on data insights and act on it, all in a way that is intuitive for the customer.
There are data in stories we tweet, share, like or ignore, how do we mime and extract the data behind every emotion and drive it constructively.  Understanding how this provides contextual thinking and how we can weave messages of meaning remains a rare skill. Excellent data storytellers combine data and analytics with a point of view along with examples that reveal the meaningful story hidden within the data.
These sessions explore strategies for delivering personalised customer experiences through data activation, cultural transformation, contextual mobility, rich media content, and cross-channel experiences.
The intersection of media, entertainment and technology is helping unlocking news streams of revenue for content creators. How can leverage on data help with strategic content creation. Experts in the industry will share their thoughts on the power of content leveraging on data and discuss key issues. the intersection of entertainment and technology. It will be will gathering of some of the most inventive designers, makers, artists, entrepreneurs, futurists, storytellers and thinkers. Attracting and retaining audiences across every channel and every device has become more and more difficult with the tectonic shifts taking place across the media and entertainment industry. get the insight on how digital channels can create revenue streams for today's fast-moving content.
Big Data is Big Money, but how do we accelerate the conversion? The 2016 Digitech Conference 2016 will provide the answers through incredible insight into the minds of the new breed of African Digital Natives.