On the 1st of December, Roqqu, the largest indigenous exchange platform in Africa, unveiled its celebrity ambassadors for the first time!!
For several months, we have been deliberating on the Faces of Roqqu. We do not just want a celebrity; we were seeking people who would represent what Roqqu stands for
These celebrities needed to share the values of our brand: the weight of excellence, hard work, and progress.
We were looking for something extra, something special—the E Factor. Our unveiled celebrities Dr. Chinonso Egemba, also known as Aproko Doctor & Miss Chinonso Ibinabo, also known as Kim Oprah, were just the right fit we were looking for. They are young, entrepreneurial, and possess that special extra.
The event began with the official signing up of the Ambassadors as the official faces of roqqu. All the official management of Roqqu were present to witness the star moment. Both parties went through the contract, agreed on the terms, and officially became a family!!
It was all smiles and excitement for these star individuals who are now part of the Roqqu Family. Temitope Macaulay, a team player Roqqu and our host for the event, had a session with the ambassadors to hear what they felt about this new phase of their careers.
Video: embed video link of an interview with celebrities
The unveiling party began officially at 2:00 pm with an opening remark by the CEO of Roqqu, Mr. Eseoghene Onomor, who shared the journey so far with Roqqu. According to him, when Roqqu was founded in 2018, it created an exchange platform for Nigerians. 
"When we started Roqqu, we wanted to build an app that had in its fabrics what it means to be a Nigerian"
Roqqu has led other platforms in exciting product offerings with its free deposit and withdrawal policy. Roqqu was the first crypto exchange with no charge on deposits and withdrawals; this, along with our 0.5% referral bonus on every transaction, has made us become the first crypto platform, giving 25% of its turnover back to its user's community.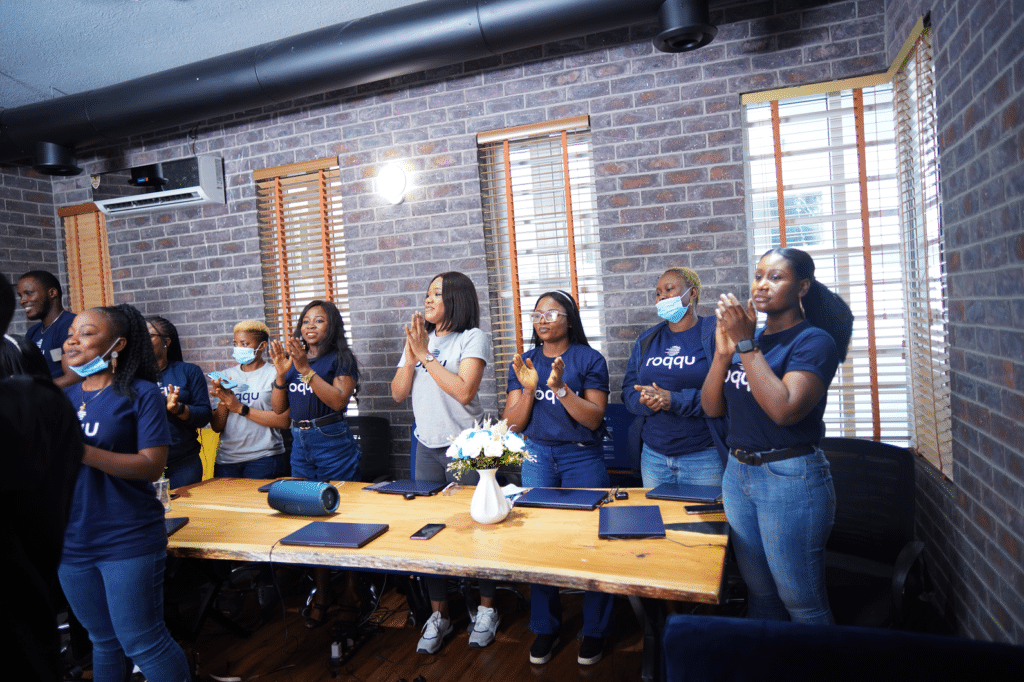 After his speech, the celebrities were welcomed into the Party the Roqqu Way, with a standing ovation. The team at Roqqu received Kim Oprah and Aproko Doctor. It would be the first time the duo would share their Roqqu journey with the entire team.
The ambassadors were put in the spotlight when they were asked, "what do you think of when you hear Roqqu" but nothing fazed them as they gave their reply. For Kim Oprah, an ex-Ex Beauty Queen and former housemate of Big Brother Naija Show. Roqqu to her was a place of "Consistency, Excellence, and Ease."
For Aproko Doctor, Roqqu is a platform that made his crypto journey easy when he began trading. It is also a favorite app for getting top insights and updates on his crypto portfolio.
The program ended with the official cutting of the unveiling cake and a vote of thanks by the Head of Technical Resolution, Mr. Silvester Eyhegele.
Then came the part we were all waiting for, picture taking and a bit of rendezvous with the celebrities. The event was one to go down in history as Roqqu's best so far, and you can visit our platform here to see a snapshot of what went down at Roqqu's Unveiling party.
What are you waiting for to join the family? Join Roqqu today by signing up today!!