Good day,
Today I'm discussing:
Spanking new licences for MTN and Airtel
Building collapses in Nigeria
MTN Nigeria's first public share sales
Some cheery news for MTN and Airtel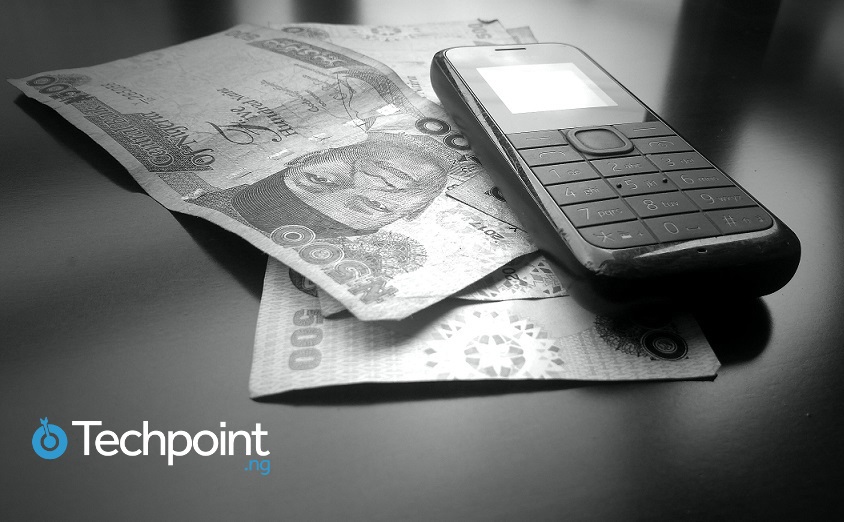 Cheery, you say? Yes, indeed. Two of Nigeria's biggest telecommunication companies MTN and Airtel, have been granted Approval-in-Principle for their proposed payment service banks (PSBs), Momo Payment Service Bank Limited and Smartcash Payment Service Bank Limited, respectively.
The pair announced this in regulatory filings on the Nigerian Exchange Limited (NGX) on Friday, November 5, 2021.
While this is a provisional licence, both companies can apply for final approval in six months.
A long time coming: the Central Bank of Nigeria (CBN) first introduced the PSB licence in 2018 and has since given final approval to three PSBs — Hope PSB, Money Master PSB, and 9PSB.
While all four Nigerian telcos — MTN, Airtel, Glo, and 9mobile — applied for PSB licences in 2018, only Glo (Money Master PSB) and 9mobile (9PSB) were successful on their first try.
But, what's a PSB? A payment service bank is a bank licenced by the CBN to operate in mostly rural areas, targeted at financially excluded persons. While they may accept deposits and can issue debit cards, in contrast with deposit money banks, PSBs cannot provide loans, mortgages, insurance, among other things.
According to Enhancing Financial Innovation Access' (EFInA), Nigeria's financial exclusion rate is 35.9%. After failing to attain its 20% goal in 2020, the CBN revised its plans to a 95% inclusion rate by 2024.
But what does this move mean for financial inclusion in Nigeria? With a combined strength of over 100 million customers, how would the entry of MTN and Airtel affect the market? Is there any truth to a possible MTN dominance? There's quite a bit to unpack.
Well, Chimgozirim, Bolu, and I will be talking about all this and more in the coming week. Please, keep your eyes peeled for our stories.
Building collapses in Nigeria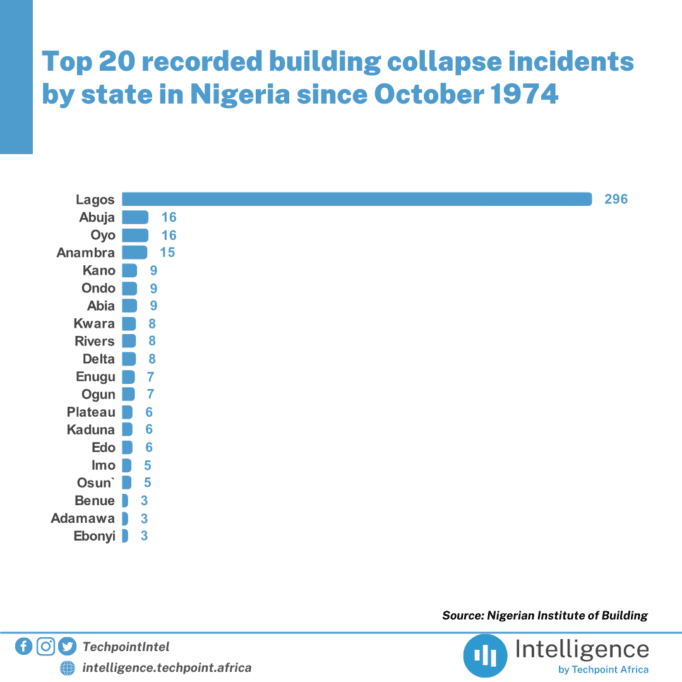 Lagos State has recorded 296 building collapses — 65% of all such incidents in Nigeria — since October 1974.
On Monday, November 1, 2021, a 21-storey building collapsed in Ikoyi, Lagos.
From Intelligence by Techpoint, here are the top 20 recorded building collapse incidents by state in Nigeria since October 1974.
For more insights like this, don't forget to follow @TechpointIntel on Twitter.
MTN Nigeria to sell 14% shareholding
What's the news? MTN Nigeria, on Thursday, November 4, 2021, announced plans to launch its first public shares sale of over 575 million units two years after listing on the Nigerian Exchange Limited (NGX).
Per a statement by Uto Ukpanah, MTN Nigeria Company Secretary, the offer is expected to open in November 2021 and close in December 2021
Institutional investors — fund managers, commercial banks, insurance companies, among others — can purchase the shares through book building. This allows bidders to apply for shares in large quantities to get a price fairer than a predetermined one.
However, individuals can also buy stock using the public offer option but at a fixed price.
At MTN Nigeria's current stock price — ₦175.6 per share — this move could make the company profit upwards of ₦100.9 billion ($245 million).
What's all the fuss about? The move is part of a broader arrangement by the MTN Group to sell parts of its stake in African markets, including Zambia and Uganda.
Interestingly, MTN Nigeria, although one of the group's most significant subsidiaries, has been a considerable source of headache. In 2018, Abubakar Malami, Nigeria's Attorney General, said MTN owed the equivalent of $2 billion in unpaid duties and taxes dating between 2007 and 2017.
Although charges were eventually dropped, in 2020 the company could not repatriate its $280 million Nigerian dividend due to the challenges of securing foreign currency.
Techpoint Africa headlines
What I'm reading/watching
Opportunities
Have a splendid week ahead!