Good day,
Here's what we're discussing today:
MallforAfrica closes shop
Affiong Williams and the ReelFruit story
Chipper Cash raises $150 million
Violence against journalists
MallforAfrica closes shop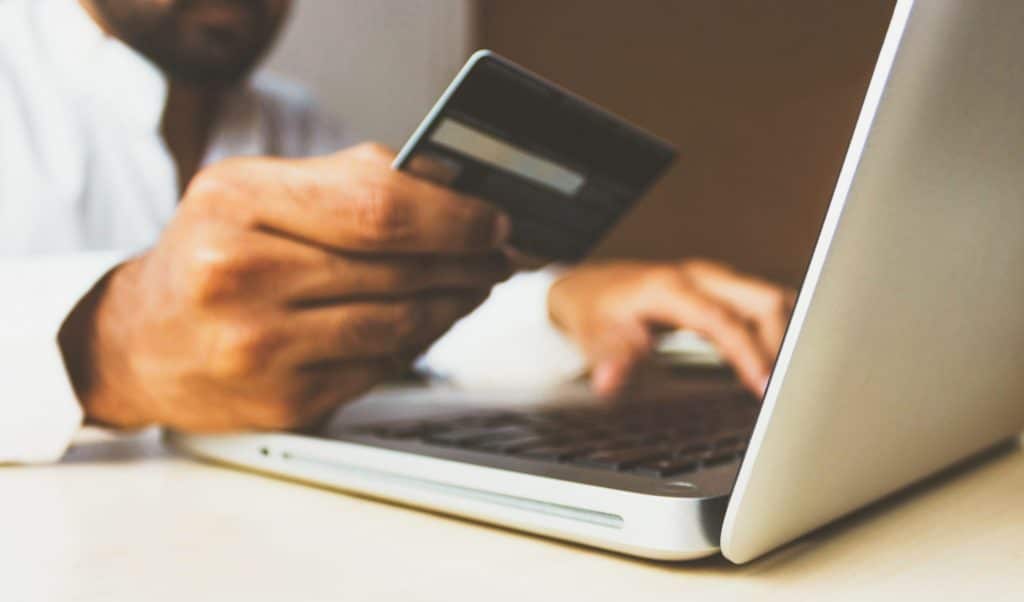 There are indications that MallforAfrica, an Africa-focused eCommerce startup, has closed shop on the continent.
Following a series of complaints by customers, our Senior Reporter, Emmanuel Paul, did some digging to discover the company's current state.
Do you remember Africans not being able to shop on global eCommerce platforms? And no, lack of money was not the reason. Seeing this, Chris Folayan, MallforAfrica's CEO and Founder started the company to bridge the gap between African shoppers and these eCommerce platforms.
Aided by an influx of Africans to the Internet, the startup grew steadily, gaining attention and support from investors and media houses like CNN.
Here are some things to know before you read the article. First, the company has shut down its operations with plans for a rebranding in place. According to Folayan, this is due to the devaluation of the naira and some CBN policies.
Also, while orders are no longer being accepted on the platform, those placed before the shutdown would still be delivered. However, Folayan reveals that owing to a reduction in the number of staff, this could take longer than usual.
Revved up yet? You might want to get a cup of tea as you read this: Nigerian eCommerce platform, MallforAfrica, has shut down operations, possible rebranding could be imminent
Affiong Williams and the ReelFruit story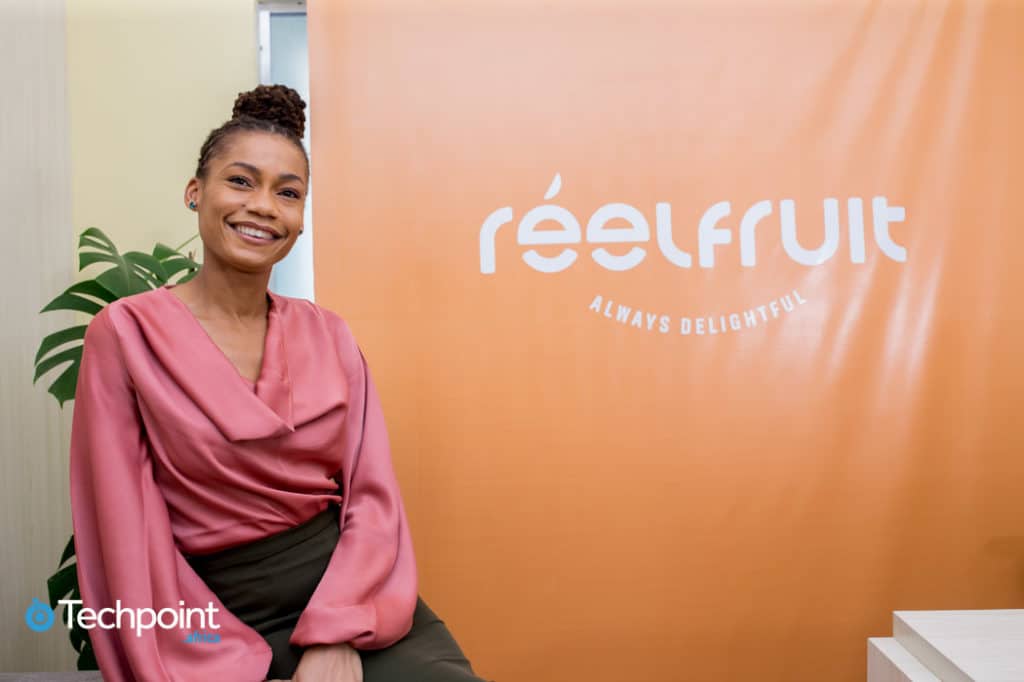 In this age of eight-figure pre-seed rounds by African startups, stories of entrepreneurs who have slowly but steadily built their businesses are rare.
For Affiong Williams, Founder and CEO of agritech startup, ReelFruit, starting a fruit processing business in Nigeria with no template to draw from was a bold move.
For her first degree, Williams studied Physiology and Psychology. Like a lot of Nigerians, the goal was to become a medical doctor. However, those plans flew out the window while in school so to increase her options, she did a post-graduate diploma in Business Administration.
Following this, she started at Endeavour South Africa, where she worked closely with entrepreneurs, supporting them in running their businesses. This was where her interest in entrepreneurship was born. Contrary to the expectations of her immediate family, she left her job and, with her savings, returned to Nigeria to set up ReelFruit.
What you may not know is that she hoped to win a UN grant for her business, but just three days after she returned, she got the rejection letter.
In this episode of Founder's Table, Williams shares from her over eight years of experience running ReelFruit, while revealing the company's plans for global expansion. There are also some fundraising tips for those struggling to get buy-in from investors.
Read more: Nigeria to the world: Why it took Affiong Williams 9 years to raise $3m for ReelFruit
Chipper Cash raises $150 million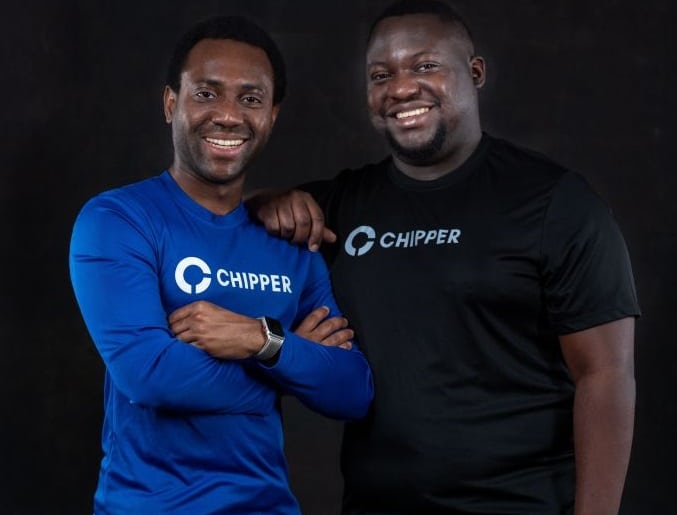 Five months after raising a $100 million Series C round, African fintech startup, Chipper Cash has raised $150 million in a Series C extension round at a valuation of over $2 billion.
The extension round was led by crypto exchange platform, FTX with SVB Capital, Deciens Capital, Ribbit Capital, Bezos Expeditions, One Way Ventures, and Tribe Capital participating.
Currently serving seven African countries, Chipper Cash was founded in 2018 by Sam Serunjogi and Maijid Moujaled to facilitate cross border payment in Africa. This year, it initiated international expansion plans, starting with the UK and the US.
The cost of sending money to and within sub-Saharan Africa is the highest in the world. This is where Chipper Cash has found a sweet spot. Serunjogi reveals that Chipper Cash offers remittances at "considerably cheaper" prices than other competitors. These competitors include long time players like Western Union and World Remit.
Violence against journalists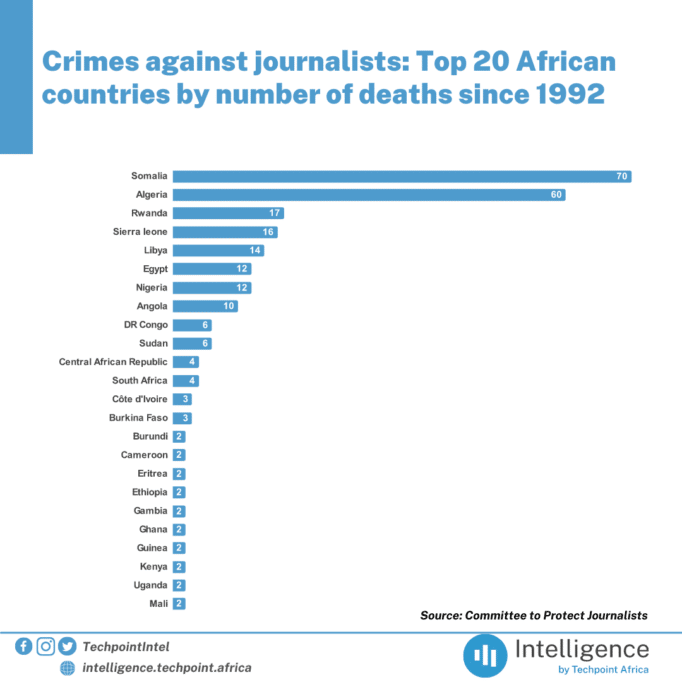 It was the Austrian-American journalist, Henry Grunwald, who said, "Journalism can never be silent: that is its greatest virtue and its greatest fault. It must speak, and speak immediately, while the echoes of wonder, the claims of triumph and the signs of horror are still in the air." Yet, for so many African journalists, speaking could result in their death.
Since 1992, 265 journalists have reportedly been killed in 51 African countries. Somalia and Algeria account for the majority of these murders with 70 and 60 respectively. On this year's International Day to End Impunity for Crimes Against Journalists, here are the top 20 African countries with the most deaths of journalists.
What I'm reading
Have a great day.