Nigeria-based anti-counterfeiting startup, Chekkit Technologies, has announced a $500,000 pre-seed round as it looks to expand its team and technological infrastructure.
As contained in its statement, it aims to "save more lives and further secure the FMCG — fast-moving consumer goods — and pharmaceutical industries."
Pan African VC, Launch Africa, Japan Strategic Capital, Blockchain Founders Fund and two syndicate groups of angel investors participated in this round. The company also received a grant from Netherlands' Orange Corners programme.
Founded in 2018 by Dare Odumade, CEO and Oluwatosin Adelowo, CMO, Chekkit offers product verification and anti-counterfeiting solutions using Blockchain. The company claims to protect manufacturers and consumers against food and drug counterfeits.
In 2020, Chekkit announced a pilot in Afghanistan. This move came after the company finished as the first runner up in a Blockchain pitch competition — sponsored by Fantom, a DAG-based smart contract platform — at the AfricArena Summit in November 2019. 
After the event, Afghanistan's Ministry of Health signed an MoU with Fantom and Chekkit for a 3-month pilot project to track and verify 80,000 pharmaceutical products.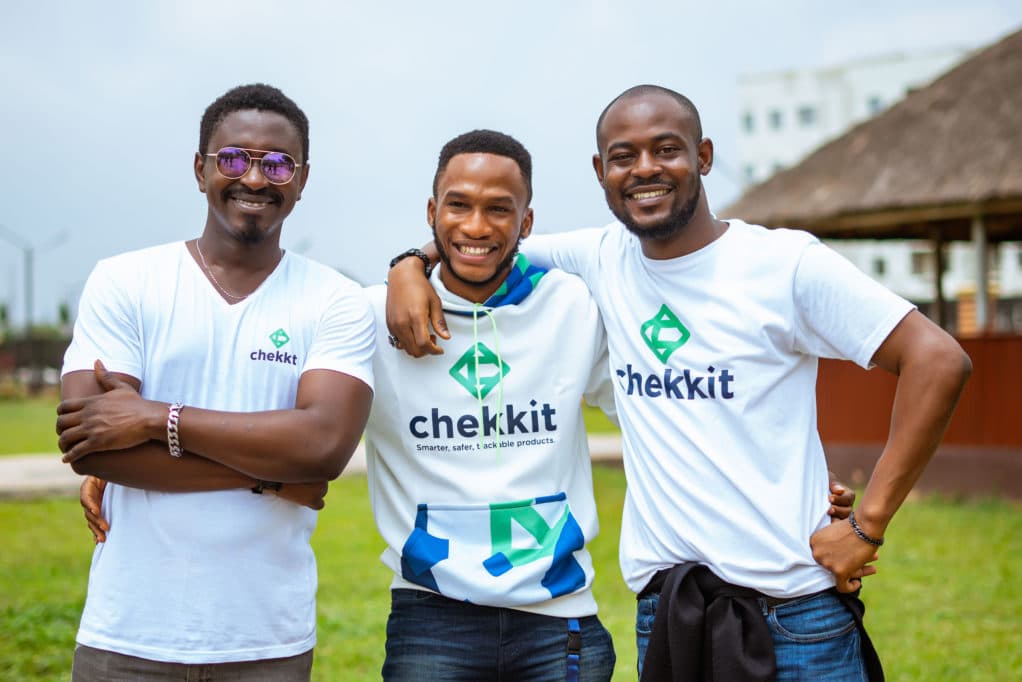 Speaking on why they chose Chekkit as a viable investment, Biola Alabi, a leader of one of the angel syndicate groups, says it was a no-brainer to do so.
"I'm excited that the company is building and using blockchain to build out its solution. Chekkit, with an experienced team, local and global traction, are poised to save more lives, and I'm proud to be an investor and lead a team of other investors to build."
Alabi will join the Chekkit's advisory board, bringing with her years of experience in media and communications. She currently serves as a non-executive director at Unilever Nigeria Plc.
As contained in the company's statement, Chekkit has secured over 7 million pharmaceutical products, protected over 200,000 consumers, and expanded its partnership with the Afghan government to verify and track over 200 million products.
It has worked with pharmaceutical companies like Merck, Royal Star Pharma, and Nabros Pharmaceutical in Afghanistan. Chekkit has also worked with Indomie, Nivea, and Flour Mills of Nigeria Plc.
In 2020, the company deployed its COVID-19 USSD Help & Information Center in partnership with the African Union and the Africa Centre for Disease Control.
Africa suffers significantly from the counterfeit drug menace. According to a 2017 World Health Organization (WHO) study (PDF), an estimated 10% of all medicines in low-to-middle income countries are counterfeited.
Another 2017 report by WHO reveals that 42% of all fake medicines reported to the Organization were from Africa.
A 2018 WHO factsheet on substandard and falsified medical products reveals that between 64,000 and 158,000 people die from counterfeit anti-malarial drugs in sub-Saharan Africa per year.
That number accounted for about 38% of malaria deaths in Africa — 409,000 — in 2019.
Currently, in Africa, startups like Chekkit and deep tech startup RxAll are trying to combat this problem.
In May 2021, Ivory Coast's Ministry of Health announced a partnership with the German Federal Ministry for Economic Cooperation and Development and German anti-counterfeiting company, Deutsche Gesellschaft für Internationale Zusammenarbeit (GIZ) GmbH.
Speaking on the raise, Odumade says, "We are super-pumped about the future as we develop unique technological products to protect the lives of millions and also directly improve the act of doing business for several brands by learning about consumers in the largely informal African markets."
He also reveals plans to launch "the first consumer intelligence software-as-a-service for consumer brands to create end-to-end loyalty campaigns, aggregate engagement data and distribute rewards in-house and with their marketing agencies for the first time ever, enabling consumers to directly interact with brands through QR and USSD shortcodes printed directly on the product package."