Nigeria is currently one of the major hubs for cryptocurrency activities globally, a status it has retained despite a recent government clampdown. According to Paxful, global trading volumes place Nigeria second only to the US. In a deviation from the norm, local crypto exchanges traded at least $500 million in 2020.
The term cryptocurrency is still quite vague to those who don't currently own a crypto wallet, and there's still a huge market untouched by cryptocurrency.
In 2014 when it was difficult to buy crypto, Buchi Okoro, an investment and valuation analyst, decided to try out a vague idea.
"I contacted a guy, he told me his rates, and I sent him money. That was the last I heard of him, and I completely lost my money," he recounts with a smile.
These kinds of deals were pretty much the standard at the time: private negotiations between the buyer and seller and a great deal of trust placed on the other party to hold up their end of the agreement. Sadly, this was how many crypto scams were done back in the day.
Okoro, who was working at M.I. Okoro and Associates, saw the future in cryptocurrency and began to play around ideas with his friends from Covenant University, his alma mater: Uzo Awili, a software developer and member of Andela's earliest cohort; and Morris Ebieroma, Founder and CEO of Hostsleek Technologies.
Uzo cut his teeth in several technical roles before becoming Quidax's Chief Technology Officer (CTO) in 2017.
While in school, he worked as an IT intern for organisations like DN Meyer and the Digital Bridge Institute. He had various stints as a software developer and UI/UX designer before joining Andela in 2015.
"Uzo was the nerd among us. The kind of guy who got 90/90 in exams. I mean, who does that?" Okoro queries with a slight chuckle.
A computer science student between 2008 and 2013, Quidax's Chief Information Officer (CIO), Ebieroma, founded Hostsleek Technologies in 2010 and did an industrial traineeship at Seamfix Nigeria Limited. In 2012, he became technical lead at Syracuse Digital, a role he ended in 2014 to focus on Hostsleek.
"If you paid someone for your computer science project, that person likely gave your project to Ebieroma. He was that good," says Okoro.
The three friends began to test different ideas. Before long, they came up with one that stuck and became one of Nigeria's largest crypto exchanges.
Second, only to Obafemi Awolowo University, Covenant University has produced the most startup founders who have cumulatively raised at least $1 million. Find out more about the breeding grounds for Nigeria's biggest tech entrepreneurs at Intelligence by Techpoint.
From WhatsApp groups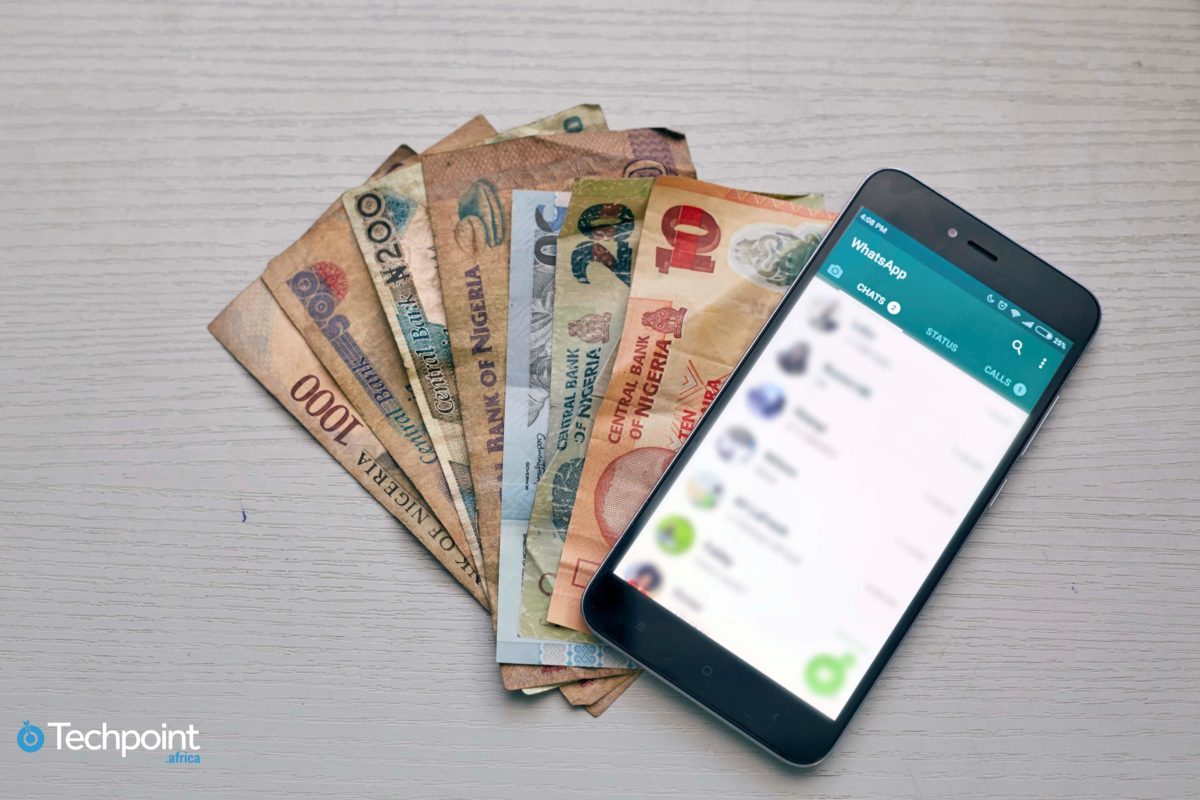 Cryptocurrency exchanges have evolved. The earliest forms of crypto exchanges were peer-to-peer (P2P) platforms that connected buyers directly with sellers.
One such popular platform was LocalBitcoins, a P2P exchange platform that placed a seller's coins in escrow until they confirm that the buyer has paid.
Some analysts believe torrent websites like Napster and BitTorrent inspired these types of exchanges.
Exchanges now offer crypto to fiat money and crypto to crypto. But the exchange evolution was a bit slower in Nigeria, and WhatsApp reigned supreme.
Okoro and his friends chose WhatsApp to build trust for the marketplace they were trying to develop.
"We created a group that fostered buying and selling cryptocurrency, and we were able to build a reputation as a trustworthy platform," Okoro explains.
With his friends' help, the idea for a crypto exchange that would make buying, selling, and withdrawing as seamless as possible began to take shape.
"We realised that for crypto to gain wider popularity, people needed to interpret it in terms of the value it will bring," he says.
What better way to bring value to Nigerians than to help people withdraw crypto directly to their bank accounts.
The challenge of starting out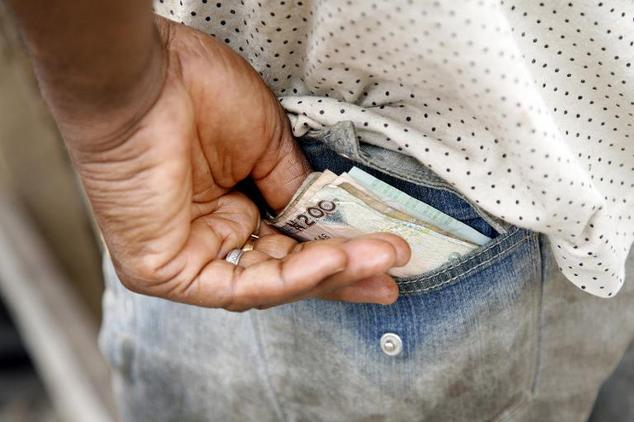 As a relatively unknown exchange, Quidax's primary focus was starting activities in the new exchange. This presented a huge challenge, one they would be better suited to solve for others when the time came.
"When you build a market, you have to find ways to bring both the buyers and the sellers together, and that is tougher than most people think.
"It's just like the chicken and the egg situation. Buyers won't go where there are no sellers, and sellers won't go where there are no buyers."
To solve this challenge, the fledgeling startup had to become both buyer and seller on its marketplace, which presented a serious liquidity problem.
"At this stage, we had to use our own money to buy a lot of crypto from sellers, and we sold to the occasional buyers that came on the platform."
Sometimes the company's staff had to pose as buyers and sellers on the exchange to jumpstart the trading process.
At that time, no investor or company came to their rescue. The money used came from the founders, a few well-meaning benefactors from reputable companies, and eventually, revenue from its marketplace.
The startup made money by charging a commission on P2P trades, fiat deposits, and crypto withdrawals.
Surviving this period was perhaps a critical moment in Quidax's journey, and how it has positioned itself in the three years it has been in business.
Okoro insists that Quidax hasn't received much support from ecosystem players, and the startup has mostly tried to figure things out itself.
"One lesson I learnt in the course of our journey is that no one cares about you until you become big and important."
In comes Techstars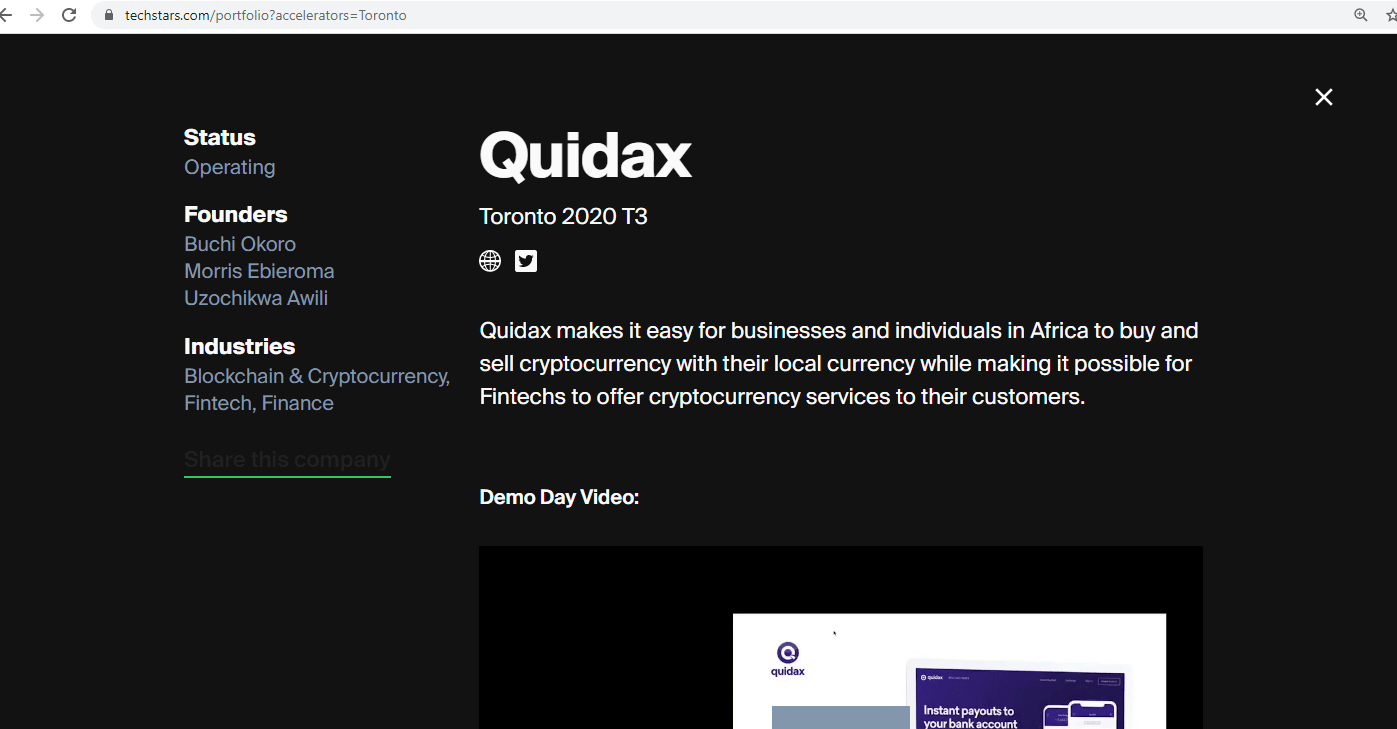 It is important to note that, unlike regular fintech companies, VC funding for Nigerian crypto startups is quite rare.
Interestingly, Quidax secured entry into Techstars' 2021 batch, which would attract $120k in seed funding. It joins TalentQL and Plentywaka on the list of Nigerian startups that got into the Toronto-based accelerator.
Quidax has seemingly shied away from institutional investments and accelerators in previous years, but Okoro believes that there was something different this time.
"We were looking for a programme that would contribute to our growth and embrace the unique and challenging environment we've had to grow in. That was Techstars for us. They have an amazing network that we've been able to leverage, especially as we plan to expand," he says.
Building Africa's crypto infrastructure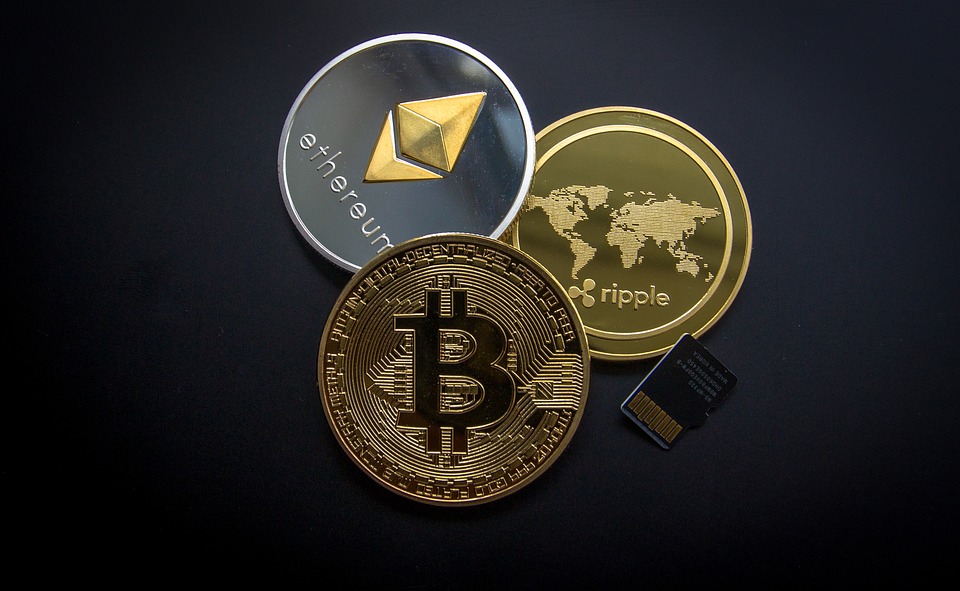 With offerings on its website and easy-to-use Android and iOS apps, Quidax has gained widespread popularity. Its competitive interest rates also make it an attractive option for crypto arbitraging. From a successful marketplace, Quidax is setting out to build the backbone for crypto infrastructure in Africa.
Africa, and Nigeria in particular, might be big on P2P trading activities and speculations. However, it is still a long way off building the blockchain infrastructure that powers all the trading activities. Sadly, the continent lags behind the rest of the world in this regard.
As the company's CIO, Ebieroma is tasked with building the company's blockchain infrastructure that will power other exchanges and investment platforms looking to incorporate crypto as an asset class. All companies need to do is integrate the Quidax API.
"Building and releasing such an API might take potential customers away from our platform, but we are doing this to help take crypto mainstream," Okoro explains.
These companies will remain unknown as Quidax has confidential agreements with them, and if they do not come forward, their identities will remain undisclosed.
Before the CBN's ban on crypto-related transactions, Nigerian investment-tech startup, Trove, added crypto to its asset class, and it revealed Quidax powered the integration.
"We list crypto projects to give them more exposure and allow them to build communities through our exchange."
Another exchange that readily comes to mind with similar features is YC backed Buycoins, which launched in the same year with Quidax.
Besides the API integration and crypto listings, the company has also helped budding startups with their liquidity problem.
Ben Eluan, CEO Blueloop — makers of Flux, a platform that wants to disrupt cross-border payments in Africa with the best of fiat and crypto — revealed that after an extensive search for a solution, Quidax helped solve its liquidity problem.
Okoro reveals that though the company might be exploring more B2B options, it will still retain its marketplace, which has garnered a loyal fan base over the years.
However, he insists that the company is still growing and has a long way to go.
The CBN's crypto ban
In February 2021, the CBN rocked Nigeria's crypto space with a circular ordering banks and other financial institutions to stop facilitating crypto transactions. Before this ban, several Nigerian startups had developed exciting use cases for crypto, but that all came to a grinding halt.
Okoro and his team went back to the drawing board and developed P2P payment solutions. Predictably, like we've pointed out, this came with its own unique set of challenges, but Okoro claims the company is well over those hurdles now.
"Our focus is to make the naira deposit and withdrawal process as seamless as it was before CBN's letter. We understand that this is just how things are in crypto. A challenge can fall out of thin air anytime. It's our responsibility to customers to innovate quickly and look forward. It's part of what makes crypto work," he argues.
Immense growth and expansion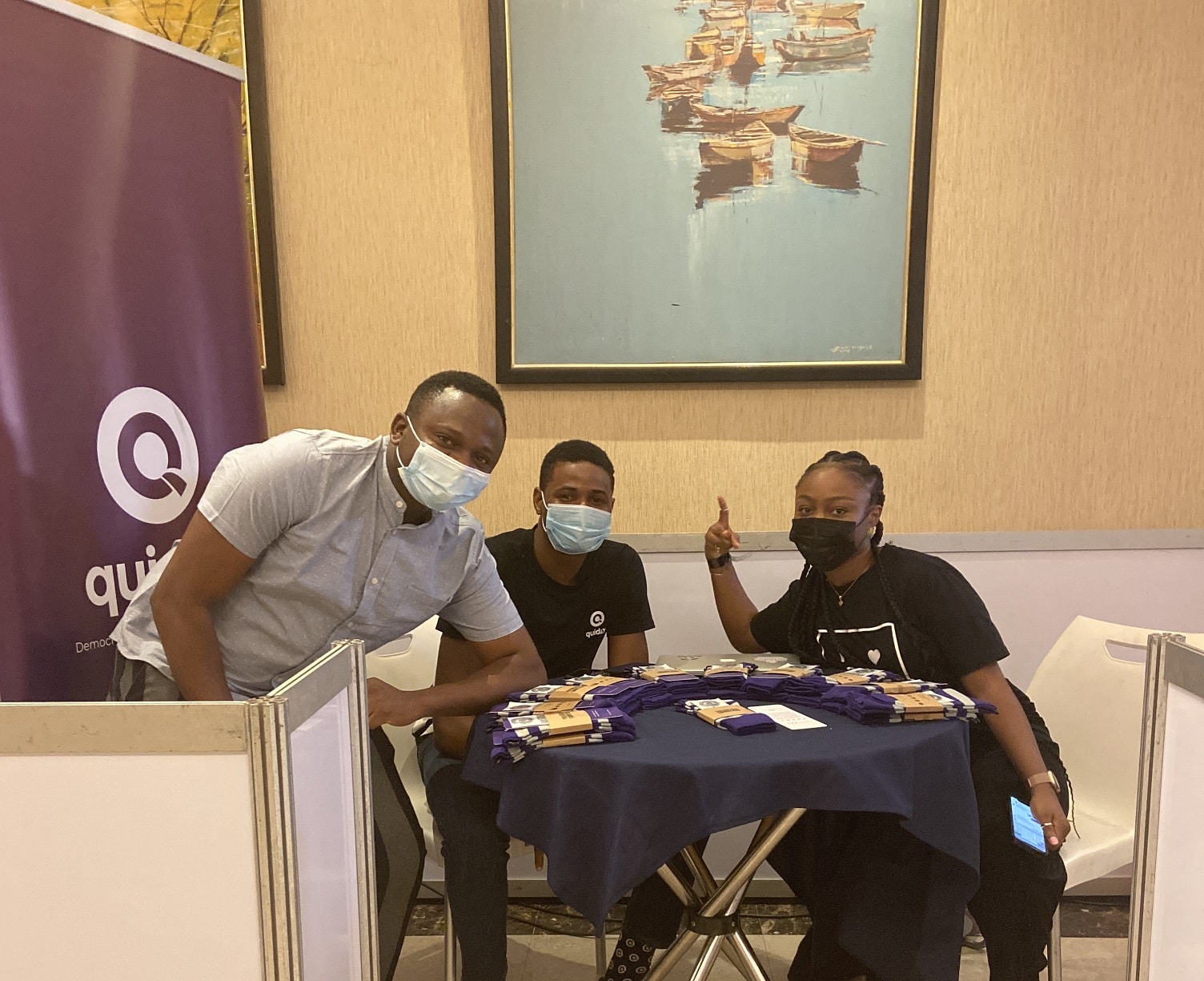 Despite challenges with trust, liquidity, and regulations since its inception, Quidax says it has processed over $3.2 billion in transaction volume and has a customer base of over 400,000 across 72 countries.
This puts Quidax's yearly average transaction volume at $800 million, well over the figures reported by other exchanges in 2020. However, considering the crypto boom Nigeria witnessed in 2020 and 2021, it stands to reason that the bulk of Quidax's transaction volume was recorded in 2020 and the first five months of 2021.
Okoro insists that more people need crypto education and more relatability with platforms offering it. He is constantly surprised by the remote locations that people register from and this, he says, is a testament to the healthy distribution of the company's user base across the globe.
With plans to render the Quidax platform in French and Swahili for Kenya and Francophone Africa in the coming months, Quidax is eyeing a global expansion.
Any company looking to expand is likely going to experience different kinds of challenges in new markets. The company went fully remote in February 2020, and the CEO reveals that productivity has remained stellar, and it is working to improve offerings on its platform.
"We also have plans to launch several CeFi and DeFi products on Quidax. Naturally, we've been working on scaling our platform to accommodate even more coins, so a lot more popular coins will be coming to the exchange soon."
On May 19, 2020, Quidax be launching its token, QDX, which it says will fuel its expansion and other processes on the exchange. The token would also allow for better rewards and discounts to its community and allow them to create more wealth.