On the world map, hostility towards Internet use and infringement on freedom of speech are often concentrated in Africa, Asia, the Middle East, Europe, and some places in South America.
Year after year, citizens living in these regions have to face some levels of restrictions which comes in different ways at least once a year; These range from mild intimidation to placing an outright ban on Internet use. It is unfortunate that such incidences are increasing across the world.
According to a Top10VPN report, the overall economic loss experienced worldwide due to Internet shutdown totals up to $4.01 billion, a 50% drop from what was recorded in 2019.

Although there were fewer cases in 2020 compared to what has been recorded in the year before, the shutdowns took longer periods than they did in 2019 – a 74% increase – despite the health emergencies experienced around the world.
Sub-Saharan African countries making the list as shown in the report include Ethiopia, Sudan, Tanzania, Chad, Guinea, Burundi, and Togo.
The economic impact for the region dropped in comparison to what was experienced in 2019, a drastic 810% decline.
However, this didn't reflect a reduction in incidents that usually trigger these censorships; like elections, national examinations, protests, among others.
However, it is not the case with Asian and European countries occupying the top five position on the list. India particularly lost $2.3 billion in 2020 compared to $1.3 billion in 2019.
Apart from the typical Internet blackouts, Internet throttling and social media restrictions, citizen rights were further subjugated in some nations through restriction of gathering, election interference, and infringement on freedom of speech.
It was disheartening at the beginning of 2021 as the Ugandan government pulled a familiar stunt during the January 14th presidential election, the fifth in the country's history of Internet shutdowns.
Beaming the searchlight
Top10VPN, in the report, considered both national and regional Internet blackouts that are significant enough to have an economic effect. It, however, didn't consider disruptions resulting from natural and technical causes.
The economic costs were sourced from reputable media platforms and calculated using Netblocks and Internet Society's Cost of Shutdown Tool. The calculations are based on national and regional Gross Domestic Products (GDPs), or economic value of Internet users in the affected region.
That said, it is worthy to note that all aforementioned disruptions are all government-led, which begs the question of when to draw the line between Internet moderation and outright censorship.
For instance, Chad had to endure one of the longest social media shutdowns in the world between March 2018 and July 2019 because of a constitutional change to retain a long-sitting president.
In 2020, the country faced another round of disruptions because the government wants to prevent the spread of messages "inciting hate and division" after videos of a military officer opening fire on a civilian mechanic began circulating.
Going by the state of Internet censorship in some African countries as delineated in this Techpoint Africa article, here's an overview of Top10VPN findings as it concerns sub-Saharan Africa.
Worthy mentions
Ethiopia
According to the report, the country lost $111.3million to a series of national blackouts during elections, a protest following the killing of a popular singer, and after a tribal conflict in the Tigray region.  All these lasted for 1,536 hours and affected a total of 19.5 million users.
Compared to 2019, the situation actually went bad because the country lost $56.8 million from 346 hours of disruption.
Ethiopia is one of the African countries with a standing law punishing hate speech with huge fines and long jail sentences.
Sudan
Within a relatively short period – 36 hours – Sudan lost $68.7 million to Internet disruptions in 2020. Apparently, the country fared well when compared to 2019 cases. In 2019, it was the worst hit sub-Saharan African country, and second in the world, losing $1.9 billion.
Unlike the previous year riled with electoral violence and civil unrest, 2020 cases were done to check examination malpractices.
The others include: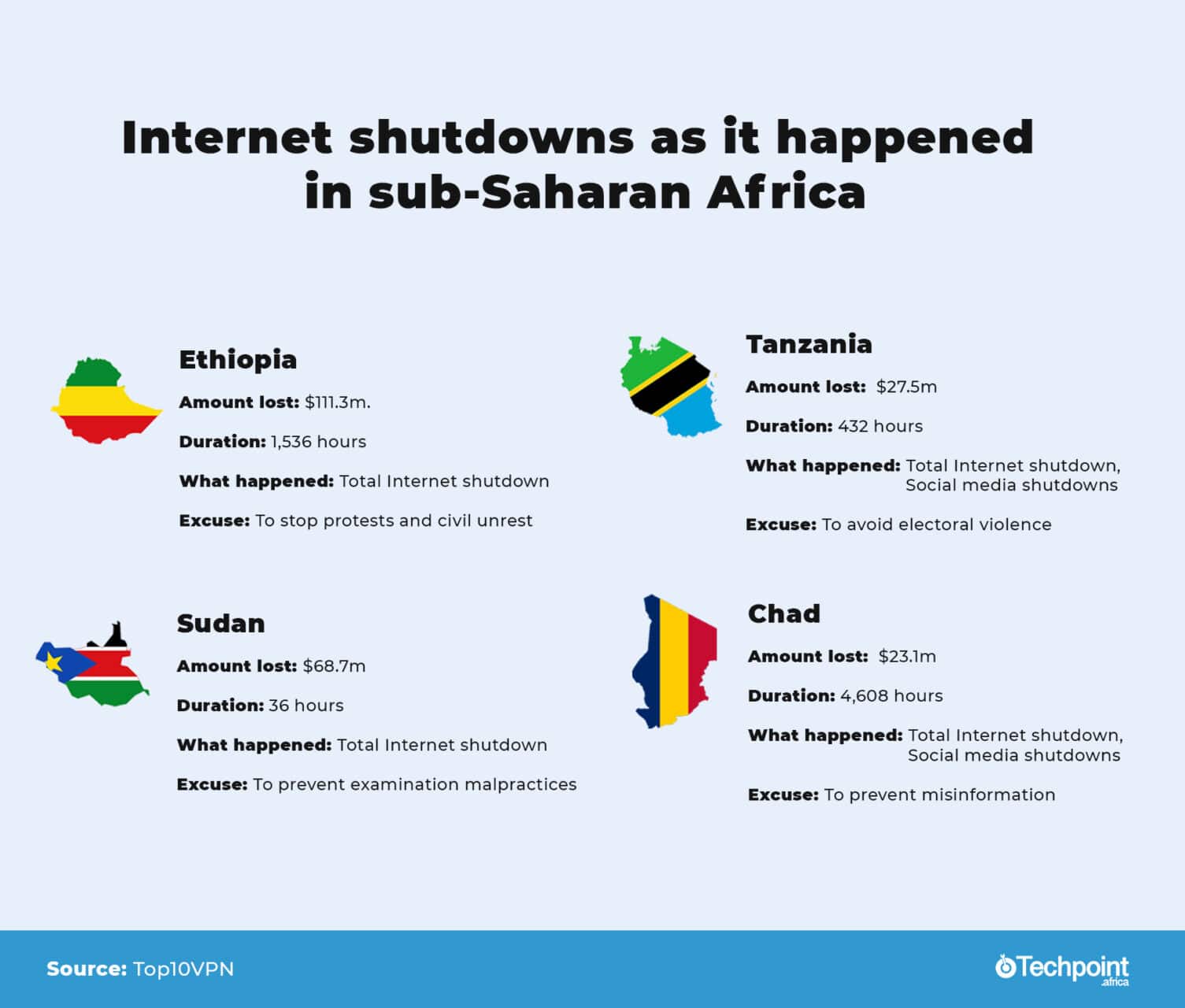 From 264 hours of total Internet disruption and 168 hours of social media shutdown, Tanzania lost $27.5 million. The disruptions happened in the days leading up to the presidential election and after, probably on the premise of preventing electoral violence.
In Chad's case, the citizens had to spend 4,608 hours combined either without access to social media or totally cut off from the Internet in 2020 in order to prevent "(mis)information" that could have followed the death of a civilian mechanic at the hands of a military officer. This cost the country $23.1 million.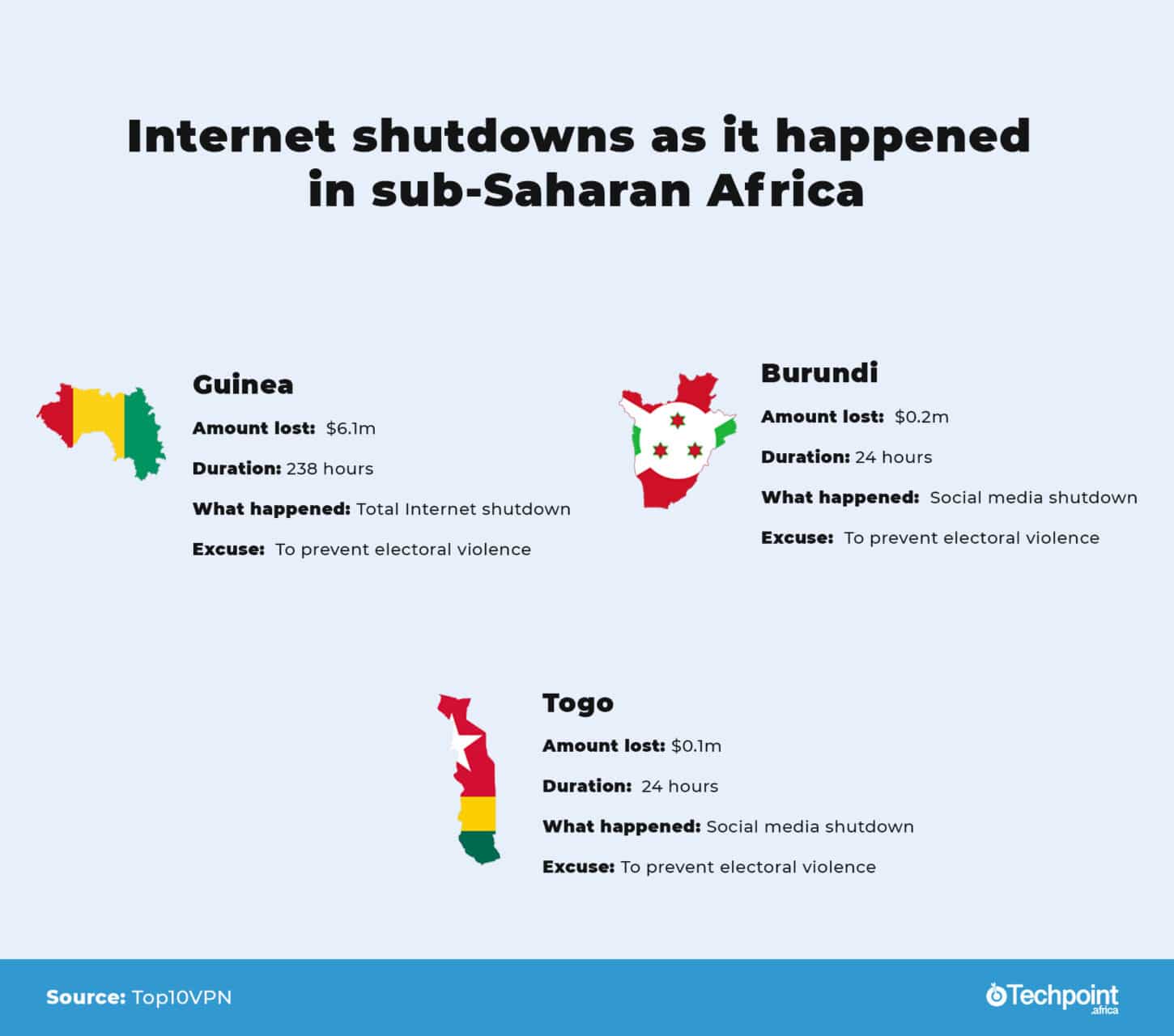 Guinea, like Tanzania, also lost $6.1 million within 238 hours because the government allegedly wanted to prevent the flow of information during the presidential election. Meanwhile, Burundi and Togo lost less than $300,000 after 24 hours of social media shutdowns during elections periods.
Of causes and effects
It, however, calls for consideration that outside the countries mentioned, 2020 also saw some other nations in the region run elections, experience protests and civil unrest, or even held examinations and their government's first point of call wasn't to close down access to the outside world.
What better time is there to shut down the Internet than when protesters are leveraging it to mobilise support from the international audience and stand up for their rights as they do offline?
We saw it happen in Nigeria during the #EndSARS and #LekkiMassacre movement. Although there was a scare that some parts of Lagos experienced Internet throttling.
Perhaps, the question should be why government-led Internet blackouts are consistent with some particular countries?
The closely related culprits are authoritarian governments, but this is only convenient, as some supposed democratic governments also made the list. A case in point is India which led the pack in 2020 and was among the top three in 2019.
With citizens often finding ways to circumvent these disruptions through proxy browsers and VPNs, along with more activities from activist organisations; ultimately, governments should see things from the United Nation's (UN) perspective: Internet use is a basic human right that shouldn't be infringed on.