Jumia has announced its financial results for the final quarter of 2020 and for the entire year. It was a promising outing from the eCommerce giant as it continued its gradual move towards profitability, but the company's growth in 2020 was much slower than the preceding year.
In the fourth quarter of 2020, Jumia's Gross Merchandise Volume (GMV) hit €231m a 23% increase from the preceding quarter. The company states that it's Black Friday campaign in November 2020, spurred this growth for the quarter.
More than 41,500 sellers reportedly participated in the event and experienced 141% growth in items sold.
Though year-on-year revenue dropped 15% for the quarter, gross profit increased 12.5% and losses (Adjusted EBITDA loss) decreased by 47.1% from 53.4m in 2019 to 28.3m in 2020.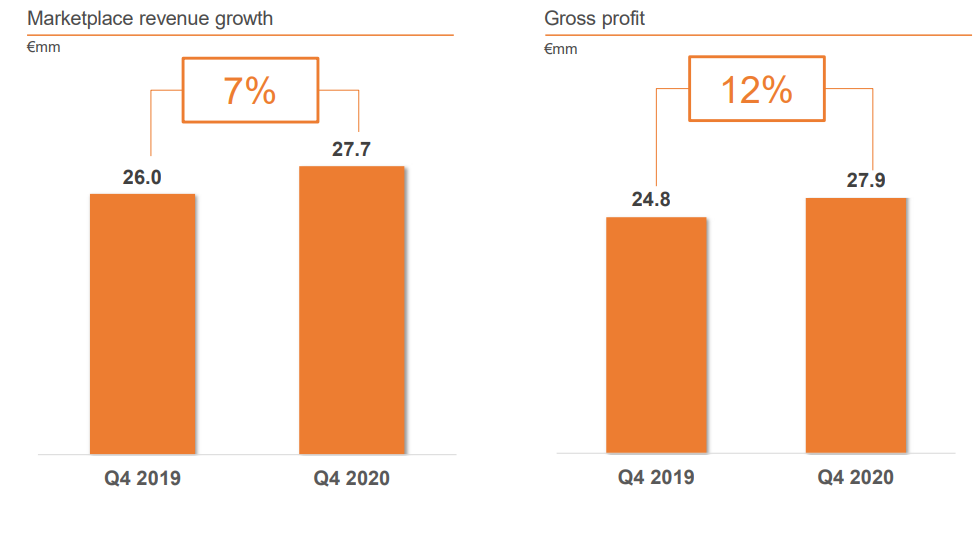 Zooming out for the entire year presents a picture of growth, but much slower than one would expect compared to 2019.
Jumia's 2020 in numbers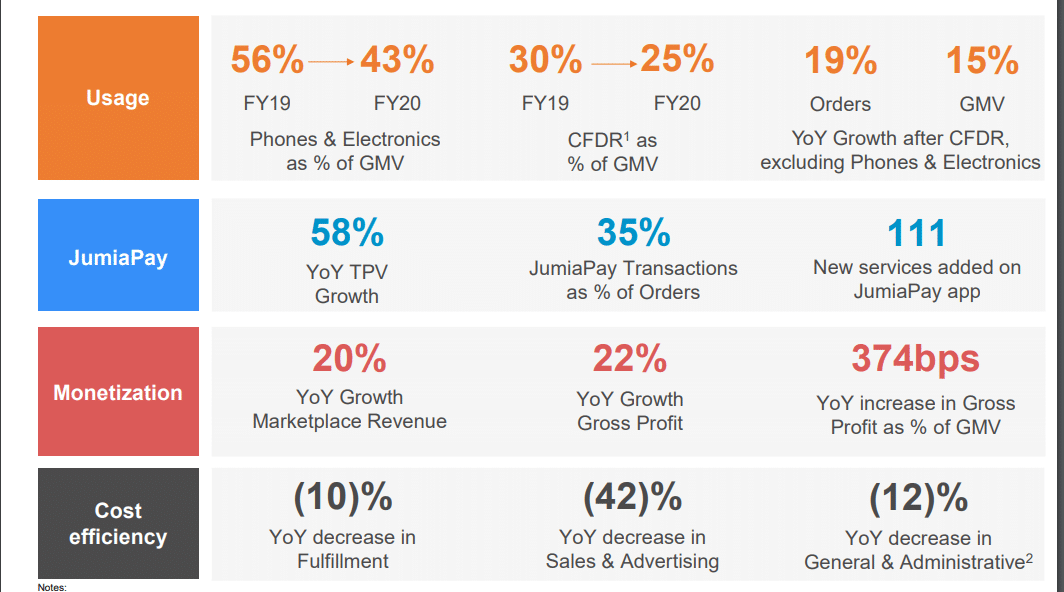 According to Jumia's report, annual active consumers increased by 12% from 6.1 million in 2019 to 6.8 million in 2020. This presents a weaker performance when compared to the 54% growth in consumers the company gained in 2019.
Note that Jumia defines its active consumers as people that placed an order on the platform, irrespective of cancellations or returns.
Interestingly, orders dropped 3% from 8.3 million in 2019, to 8.1 million in 2020. The company claims orders on the platform were stable, and the decrease in orders was due to a 14% decrease in digital services transactions on the Jumia pay app.
But it then means that the 700k consumers it added were unable to cover up for this shortfall in digital services transactions.
In 2019, orders grew 49% from 5.5 million to 8.3 million, making 2020 a slower year overall for the eCommerce giant.
GMV fell 21% from €292.9 million in 2019, to €231 million, a scenario the company attributes to a focus shift from phones and electronics to every-day consumer products like groceries, healthcare, and beauty products. A trend the company began in 2020.
However, this has led to a 19% decreased in the average value of orders from €35.4 in the fourth quarter of 2019 to €28.7 in the fourth quarter of 2020. On the positive side, losses per order dropped 46% from €6.5 to €3.5 in the same period.
While eCommerce companies seemingly got a big boost in 2020, these figures do not suggest increased adoption of online shopping on the Jumia platform.
According to co-CEOs, Sacha Poignonnec and Jeremy Hodara, the pandemic did not bring any drastic changes to consumer behaviour in 2020.
In fact, the company expects the pandemic to negatively impact consumer's purchasing power
All things considered, Jumia's move to focus on essential services and its drastic reduction in expenses seemed to have paid off in 2020.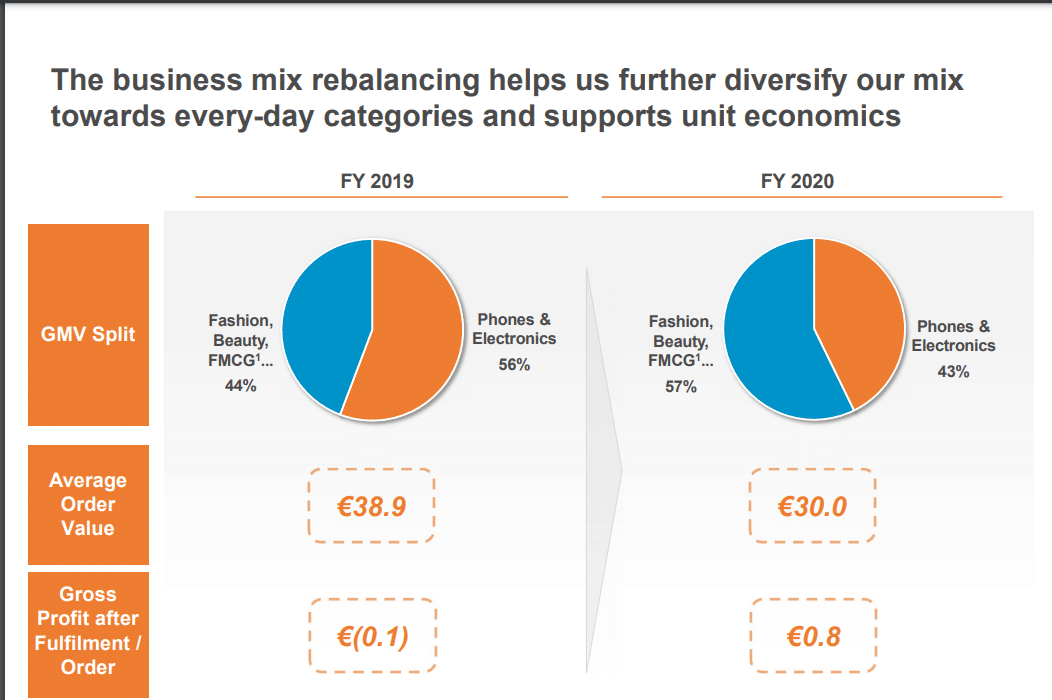 Though revenue declined by 12.9% from €160.4m in 2019, to €139.6m 2020, the company still witnessed a 22.3% increase in gross profit from 75.9m to 92.8m within the same period.
The company's losses (Adjusted EBITDA) also dropped 34.6% from €182.7m in 2019 to €119.5m in 2020. However, it was still a different picture in 2019 as gross profit increased by a whopping 72% and losses increased by 20%.
Transactions on JumiaPay, one of Jumia's most promising services, increased by 26.1% and 58% more costumers used the payment services for purchases on the platform.
This is once more much slower growth when compared to the 110% increase in JumiaPay transactions in 2019, and slightly higher growth of 57% for orders fulfilled with JumiaPay.
In 2020, Jumia saw investors like Rocket Internet and MTN exit the company with decent returns, and it's share price skyrocket past its pre-IPO numbers.
In November 2020, It opened up its logistics services to third-party businesses. So far, it has processed 500k packages for up to 270 corporate clients and SMEs across five countries.
So far, investors have reacted only slightly as Jumia's shares dropped from $51 to $48.2 per share.