Nigerian API fintech startup, Mono, has announced its pre-seed funding of $500,000.
Launched in August 2020, Mono enables companies and developers to access financial accounts for historical and real-time transactions, balances, bank statements, credits, and spending patterns of a customer.
In partnership with payment gateways in Nigeria like Flutterwave, Mono also has the capabilities to initiate direct debit payments and recurring debits on customers' accounts.
The startup was founded by Abdulhamid Hassan, ex-Product Manager, Paystack and Prakhar Singh, who previously founded Transferpay.ng.
After leaving his previous startup in July, Hassan felt he needed to try new things. During his break on weekends he would play around with software and at some point, he and Singh set out to build a mobile application that could aggregate customers' financial accounts from different Nigerian banks.
But to achieve this, they needed to use an API and according to Hassan, none matched their taste.
"We couldn't find an API that could enable us to do what we wanted. Something that was real-time and very stable," the CEO says to Techpoint Africa.
The pair decided to build the API infrastructure and then proceeded to build the application.
However, it didn't take off as intended because when they deployed the application and began marketing, they noticed that customers didn't want it; they wanted the API.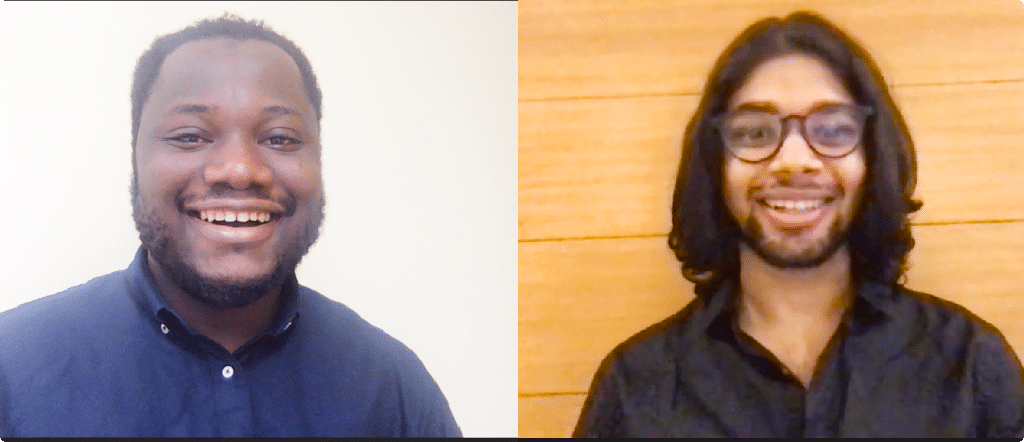 "People were reaching out about the API not the application, so that's what we decided to focus on. That was the light bulb moment for us."
This opportunity turned the tech entrepreneurs' side gig into a startup and last month, they launched their beta version.
Mono's value proposition
Companies in the business of accessing their users' financial accounts in Nigeria have found the task to be arduous.
Some traditional banks rarely have APIs for these companies to work with. For the ones that do, they are either clunky or subpar.
There's also the case of screen scraping which has to do with the user's customer experience. Here, when onboarding a user on their platform, companies that need this information use a screen scraper to fetch data from banks. Though the process works and comes in handy, it can be lethargic.
According to Hassan, Mono's tech has been designed to solve these problems by counting on the speed and stability of its platform.
He further adds that the platform's seamlessness is down to one of its most important features: its Statement Page.
With this, companies can generate a link from their Mono dashboard to share with their customers. When they click on the link, Mono immediately connects their financial accounts in real-time and shares the data with the company.
"We have stable connections and faster integrations. We also want our customers to use Mono without actually doing anything technical."
A testament to its capabilities, Mono has signed on customers that cut across health and lending. Some of them include Carbon, OnePipe, Swipe, Anyi Health, Flutterwave, and dozens of developers.
So asides using the API to verify account details, get bank statements and transactions, and perform direct debits, these businesses and developers can do KYC, credit checks, and in general, make onboarding smoother for their customers.
Initially, these clients were charged as much as $200 per month for 10k API calls on all endpoints. But now, Mono uses a pay-as-you-use pricing model where clients are charged $0.05 (₦19) per API call.
Growing and scaling with pre-seed investment
It is impressive that Mono, a two-month-old Nigerian startup, already has half a million dollars in the bank. Investors who have taken a bet on the startup in this round include VCs like Lateral Capital, Ventures Platform, Golden Palm Investments, and Rally Cap.
Similarly, angel investors like Idris Bello and Olumide Soyombo, among others, got a piece of Mono's pie too.
This is the beginning of a love story. Excited to announce that @lateralcap is joining the @mono_HQ journey as its first institutional investor. @ijbkid and @whoisprakhar are tackling a massive opportunity in the API economy 🌍 request beta access now -> https://t.co/S7gXOgYpv5 pic.twitter.com/ZBOYpopUtn

— Kyane "Omowale" Kassiri (@kyanekassiri) September 18, 2020
Poised to enter new markets, Mono has begun hiring. And having made integrations and connections with most banks in Nigeria, Hassan says the target is to launch next month in Ghana and Kenya with two banks each.
"We're starting a pilot with customers in Ghana and Kenya and looking to expand to other African countries very quickly," he says.
Despite the progress Mono has made in a short while, the serial entrepreneur is not oblivious of the challenges his team might face in the coming months, one of which is dealing with naive users.
Here's the thing.
To access these financial accounts, Mono relies on users to input their Internet banking details on the platform.
For instance, on Carbon's platform, users will need to click on a Mono widget and log in with their details. This allows Mono to fetch their transactions, bank statements, credit histories, and spending patterns from their banks and send them to Carbon.
Hassan believes that while users might be a bit sceptical about this new tech, it presents a great opportunity for the company to enlighten them and gain market share.
"At a time, people were afraid to put their BVN online. It's the same thing with Internet banking, and I feel it's a great thing for us as we can actually create content that helps users understand how they can protect themselves."
Albeit a nascent space in Nigeria, Mono isn't the only startup currently playing in the API fintech market.
Six months ago, Okra, a similar API fintech platform, led by Fara Ashiru Jituboh and David Peterside, raised $1 million to scale its business. While this might seem like a two-horse race, Hassan feels the market can accommodate more than these two players and competition should be encouraged.
"I feel like the market is pretty big for API fintech companies. I also think that having competition in the market improves the number of people that will use Internet banking. When customers have options, it helps the companies innovate."
---
Featured image: Mono founders, L-R: Abdulhamid Hassan (CEO), Prakhar Singh (CTO). Source: Supplied. https://zp-pdl.com/get-a-next-business-day-payday-loan.php http://www.otc-certified-store.com/alzheimer-s-and-parkinson-s-medicine-usa.html https://zp-pdl.com/apply-for-payday-loan-online.php http://www.otc-certified-store.com/animal-health-medicine-europe.html https://www.zp-pdl.com оформить займ через систему контактбезпроцентный займ на картузайм от платиза