Funke Opeke, CEO of MainOne, recently mentioned in an interview with Techpoint Africa that young professionals will always gravitate towards locations that have business enablers such as access to investors (mostly foreign), skills, banking support, customers, and infrastructure, among others. But this means there is a tendency to have a highly concentrated environment.
However, despite the availability of enablers, the concentration often cause an overuse of available facilities which results in congestion. And this is typical of major African tech cities.
Briter Bridges released a report (PDF) for the last quarter of 2019 revealing that the frequency of tech hubs in Africa has increased to 643 with South Africa, Nigeria, Kenya, and Egypt making up 42.6%.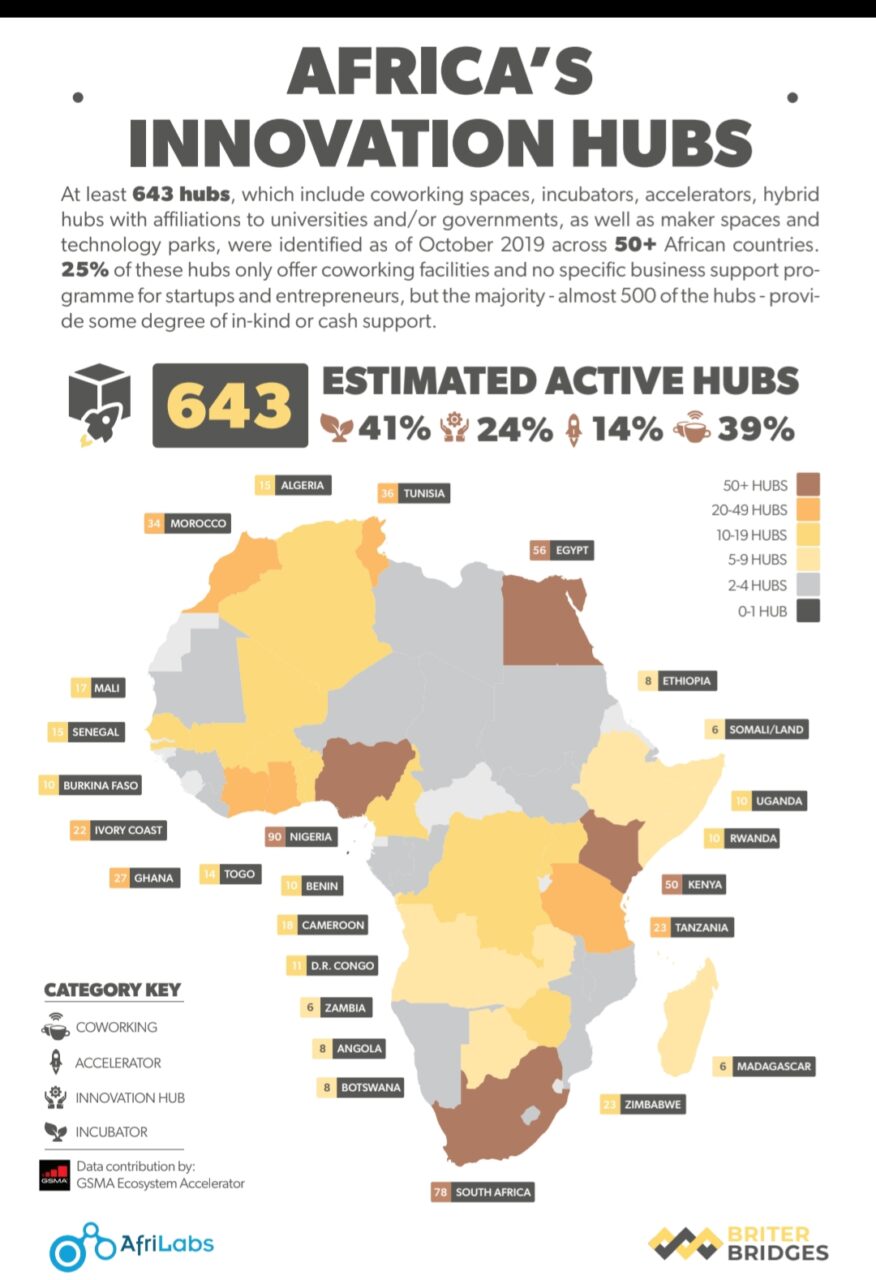 Consequently, there are cities in these countries serving as a base to the largest parts of these tech hubs: Lagos, Cairo, Cape Town, and Nairobi.
Interestingly, these cities have a common challenge which reports have argued can adversely affect workplace productivity: traffic congestion and its influence on commute time.
The mutual inclusiveness of traffic congestion and productivity
If anything, a lot of traffic can mean many people have work to get to. This means congestion can rightly be associated with economic growth.
But a study argues that congestion ceases to be a good sign of growth once it crosses the threshold -- the point where it impedes growth -- by causing a movement delay of about 35 to 37 hours per year per commuter.
Case in point, Lagos, Nigeria.
Lagos-based coworking space, Musterpoint recently released its 2020 Lagos Workforce Productivity (LWP) report (PDF). The report reveals that a regular worker in the city spends an average of 70 hours annually on the road, during which productive time is lost.
In a similar survey, commuters in urban Kenya, particularly Nairobi, experience at least a 30-minute delay in transit daily.
Perhaps, if these instances are sufficient, it is possible to anticipate similar situations in other locations like Egypt and South Africa with such challenges.
Cairo, for instance, is found on the same list with Lagos as one of the world's most congested cities. Even in controlled situations, it is impossible for a commuter to escape the rush hour traffic. And such is the case with Cape Town.
A Harvard Business School research puts the correlation between work productivity and commute time this way: longer commute time is detrimental and costly to performance; not only in the amount it costs, but also the organisational impacts it has in terms of job satisfaction and turnover.
In fact, in some cases, long-distance commuting can be a deciding factor for recruiters.
Fortunately, restoring an employee's motivation to work by introducing remote work is quite easy in settings where it is possible. As it is noticed with the likes of Andela and Twitter; but this also has its pitfalls.
However, if more attention is paid to other aspects of an employee's life, it will be noticed that satisfaction can be gotten from more than avoiding traffic or working from home.
Other motivators
According to the LWP report, respondents prioritise financial benefits and opportunities to develop their careers over proximity to their homes while deciding what motivates them on the job.
This could mean that an employee may decide to go with a longer commute time if they are properly remunerated. Author, Amy Morin also believes that while this is obtainable, the choice a person makes will be based solely on what makes them happy.
On the other hand, some would rather ignore financial benefits to escape commuting stress. From a poll conducted on Community, Techpoint Africa's interactive platform, 74% of the respondents would accept a salary cut in order to go completely remote although the salary cut percentage isn't defined.
However, this report argues that taking a pay cut could be as detrimental as the impact of longer commutes. Agreeing with this, a respondent opined that adopting WFH doesn't reduce productivity or expenses, which are situations that could have justified a pay cut.
Even though the effects of prolonged commutes cannot be disregarded, the time spent in traffic can be put to good use as we explained in this piece.
Notwithstanding, depending on an employer's discretion or team agreement, any of the factors mentioned can serve as compensation for long commute time as congestion might remain a part of an active tech city.