Though several businesses have witnessed dwindling revenues, one of the sectors most affected by the pandemic and the resulting movement restriction is the transport sector. For the most part, there was either a total pause or negligible activity in the transport sector.
As part of the country's post-lockdown economic plans, Uganda's Ministry of Kampala Capital City Authority Affairs, has proposed new regulations for boda boda (commercial) motorcycles and taxi operations in the nation's capital city.
According to the Daily Monitor, Kampala's Lord Mayor, Erias Lukwago quoting the Ministry's guidelines, stated that all boda boda motorcycles shall operate under digital companies with the use of apps like SafeBoda, Uber, and Bolt.
Also,  technocrats have mapped out 970 boda boda stages (parks) and about 385 of them might be phased out. Although details were not revealed, there will also be boda boda free zones in the city.
"In the detail, after the lockdown, boda-bodas will continue operating by carrying cargo only and abiding by the curfew time, as they formalise their membership with registered digital companies like SafeBoda, Uber, and Bolt, among others, in the next 21 days," Lukwago said.
According to the Mayor, once the lockdown is lifted, taxis will remain banned for 28 days. After payment of mandatory KCCA fees, the first 42 days will be used to obtain a route chart and allocated stages from the Transport Licencing Board at the end of a verification process.
After 42 days, registered taxis will only be allowed to operate within the city under very strict measures.
Lukwago, on his part, reportedly insisted that these proposed regulations were made without the consultation of the city's government and existing ordinances for boda boda taxi operators.
What this means if implemented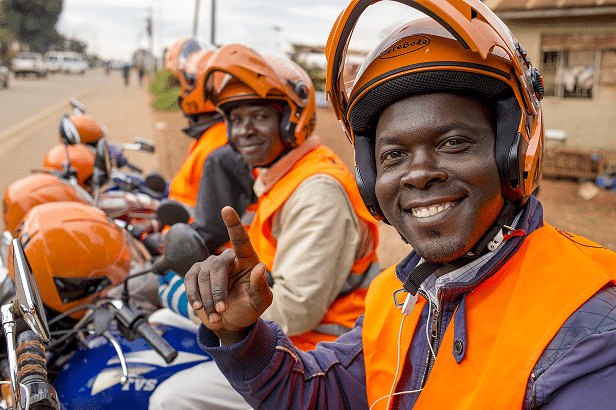 If these regulations are implemented, it could have ripple effects on the economy. So far, the reactions of policymakers to the activities of digital platforms have largely been unpredictable.
In Nigeria for example, citing issues of safety and security, the state government placed a ban on okadas (commercial motorcycles in West Africa) and did not exempt digital operators like MAX, Gokada, and OPay in major parts of Lagos. This was after months of tussles with regulatory bodies and traditional transport unions.
[auto-iframe link=https://techpoint.africa/2020/02/27/lessons-lagos-okada-ban/embed tag =first]
Prior to the lockdown in Lagos, there were also plans to regulate e-hailing companies like Uber and Bolt and, with the launch of Ekocab, traditional taxi operators as well.
Although there is not enough supporting data, recent reports suggest that Uganda might have over a million boda bodas, with roughly 200,000 in the city of Kampala. Just like most cities with a teeming population of transport workers, the sector remains largely unregulated and several of them unregistered.
Uganda, so far, has some prominent e-hailing companies  -- SafeBoda, Uber, Bolt, boda bodas, Dial Jack, and inDriver. Driving on any of these platforms usually requires up to date vehicle papers, licences, a smartphone, and some level of literacy to operate their respective apps.
By leveraging the data from these companies, the government might be able to regulate the transport sector and track safety and security issues more closely.
For ride-hailing companies, this could mean substantially increased patronage for their various platforms, a scenario that could intensify competition in Uganda's ride-hailing space.
As of July 2018, GSMA put smartphone adoption in Uganda at 16% much lower than the sub-Saharan African average of 36% and about 46% of the country's population uses the Internet.
Since these platforms are mostly web or app-based, it's very likely that more persons will adopt smartphones and make use of the Internet.
Fueled by substantial mobile money adoption, the percentage of financially excluded persons in Uganda stood at 15% in 2017 and is expected to be reduced to 5% by 2022.
Just like in most parts Africa, for Ugandans, cash still remains the major means of transactions. Even mobile money transactions were mostly done to send and receive cash, rather than making cashless payments.
In 2019, Jumia reported that the majority of sales in Uganda were cash-based. If traditional boda boda operators begin to go digital, it could also influence the adoption of more digital payment channels.
While it remains to be seen if these regulations will be implemented, there's no telling that such a move will cause a drastic change to the city's transport sector, the operations of ride-hailing companies, and the livelihood of various individuals once the lockdown is lifted.