New York-based investigative research publication, Hindenburg Research, recently issued a detailed report accusing Chinese-backed Opera of having a set of exploitative lending platforms in Nigeria, Kenya, and India, which violates Google Play Store's policies. The report further links the company's actions to its deteriorating post-IPO business and financials.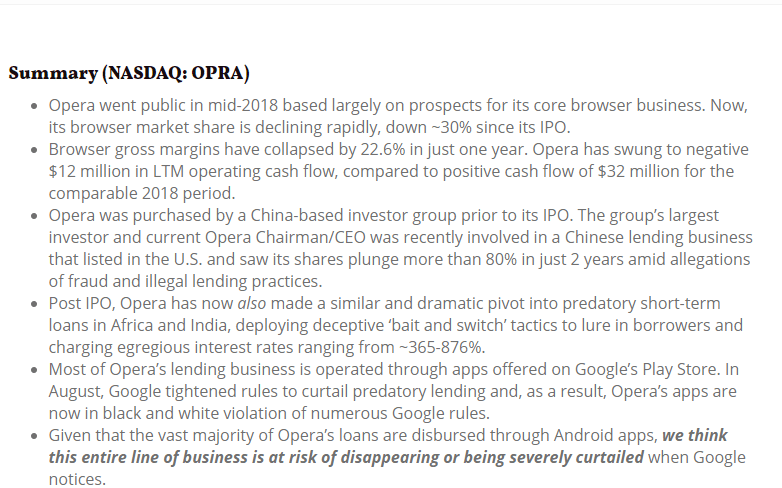 For this, Opera came under scrutiny which led the Internet company to release an official statement refuting these claims.
"As communicated in our statement, available on our investor website, we believe that the report contains numerous errors, unsubstantiated statements, and misleading conclusions and interpretations regarding the business of and events relating to us," Opera's OPay told Techpoint.
Be that as it may, Opera did not share any information to clarify how its apps operate and how they are advertised to users.
---
Suggested Read: OKash loan feature removed from OPay app, amidst heavy backlash on its lending policy
---
However, some light has been shed on what might be happening behind the scenes between the investigative publication and Opera. Although the report seems to back up its allegations with evidence, Hindenburg is said to be in possession of Opera's stock and is in a position to short-sell.
What does short-selling mean?
According to financial information website, MarketWatch, shorting or short-selling is when an investor borrows shares and immediately sells them, hoping to scoop them up later at a lower price, return them to the lender, and keep the difference.
Based on this, Hindenburg (an investor) borrows shares of Opera from a broker, then sells them immediately in hopes to buy them back at a lower price. Hindenburg then returns the shares to the broker at cost price, and keeps the profit.
From market volatility to weak business models, there are a lot of factors that come into play for a company's stock price to drop. One of which is bad or negative news.
Hindenburg's allegations against Opera, while based on some evidence, might be aiming to accomplish this.
Hindenburg says in the report that due to Opera's failing business, it predicts that the company's stock will fall 72% from the $9 it traded at on January 16 to about $2.60 within 12 months.
Since releasing the report, Opera's stock fell 24% from $9 on January 16 to its lowest price yet of $6.84 on January 21. However, it had bounced back to $8.04 as at the time of publication.
In hindsight, if Hindenburg had Opera shares, sold them at $9 per share on January 16, then bought them and returned to the broker at $7 per share on January 21, it would have made a profit of $2 per share. This shows that the investigative publication stands to gain a lot in Opera's share value drop.
Similarity to Citron Research shorting Jumia's stock
Opera isn't the only company to have been targeted by Hindenburg Research. On Hindenburg's site, there are other publicly-listed US companies like teledentistry company SmileDirectClub and energy company, Bloom Energy, who have recently come under attack from the investigative publication.
Like Opera, Hindenburg shorted SmileDirectClub and Bloom Energy stocks and their share prices dropped significantly thereafter.
Last year, Citron Research, a publication that reports on companies that are overvalued or engaged in fraud, accused Jumia of securities fraud. But at the same time, it was shorting the eCommerce company's stock. After Citron released its report on May 9, Jumia's share price dropped 16.23% from its opening price of $32.10 to closing price of $26.89. Also after claiming Jumia's stock was worthless and overvalued, the eCommerce company faced several securities-related lawsuits.
---
Suggested Read: How Jumia lost its unicorn status, shedding $2.6bn market cap in 6 months
---
It is indeed difficult what to make of all this because inasmuch as the reports made by Citron and Hindenburg Research are in some ways linked to shorting these companies' stocks, there seems to be some truth to the allegations made.
Short-selling stocks is allowed on the Nigerian Stock Exchange but witnessing relatively few tech IPOs within the African continent has made it seem unusual. However, it is quite common in the US stock markets where the Citron Research, who shorted Jumia's stock, shorted stocks of both automotive and energy company, Tesla and ride-hailing service, Lyft.
Although Jumia and Opera are both Africa-focused Internet companies, they are publicly traded in the US. Hence, they aren't exempted from the game of short-selling where their stocks and valuations will be questioned, and more of this will likely happen if African or Africa-focused companies continue to go public in the US.