The race to occupy Africa's fintech space by foreign VC interests has never been more intense. This is following the unprecedented interest of Chinese investors in Africa's most populous country and a company -- OPay -- taking center stage.
When OPay entered the Nigerian market, it quickly won the hearts of Nigerians with discounts and several other incentives. However, for some businesses, this wasn't a good sign.
---
Suggested Read: OPay, ORide and the effects of a $50 million war chest
---
OPay launched a bike-hailing service that aggressively acquired customers, included more services to its offering, grew agents network to over 140,000, and gave more discounts to the detriment of competitors.
It never really seemed there was going to be an OPay challenger until last week.
A date between Chinese investors
Last week PalmPay announced its launch in Nigeria with a $40 million investment to support its African activities. PalmPay is co-owned by Chinese-based Transsion Holdings and NetEase.
On the other hand, OPay, which is partly owned by Norway-based Opera and a Chinese group of investors, has raised over $170 million. Having secured the sum of $50 million for its launch, OPay secured an additional $120 million in a recent series B round.
Prominent Chinese investors associated with OPay are Sequoia Capital China, Source Code Capital, Meituan-Dianping, IDG Capital, and GSR Ventures.
Even though these investors represent China's continued interest in Africa, the playing field will be different. In part, because, compared to its deal-making on infrastructure and commodities, very little of the Chinese-African engagement over the last decade has been focused on tech.
The paradigm shift
Now, there's a paradigm shift towards Internet consumption. And given its ever-increasing demand, the Internet industry in Africa has tremendous potential.
The Chinese investors' interest in Africa-focused businesses -- like OPay and PalmPay -- is an indicator of this paradigm shift.
For instance, Transsion Holdings and MediaTek are original equipment manufacturers (OEM). Transsion is the company behind the TECNO, Infinix, and Itel brands. Additionally, it boasts an array of Africa-focused apps, including short video-sharing platform, Vskit, and music streaming service, Boomplay.
MediaTek is the world's fourth-largest global fabless semiconductor company, annually powering more than 1.5 billion TECNO, Itel, and Infinix devices, among others.
With platforms like Boomplay -- reported to have more than 53 million African users -- and Vskit, PalmPay should be able to leverage Transsion's dominant network of TECNO, Infinix, and Itel devices to gain ground in Africa's mobile and online payment space.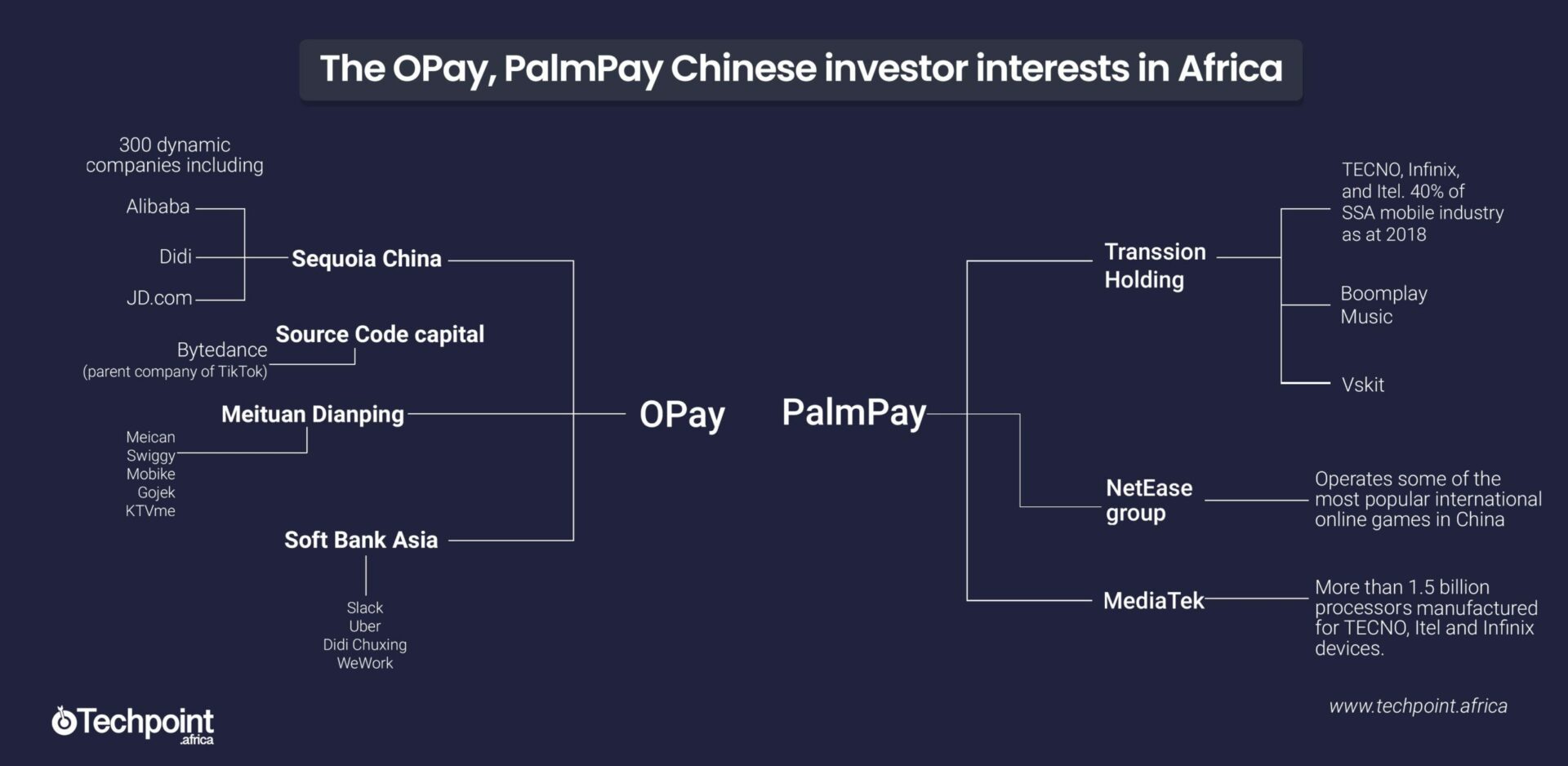 On the other hand, OPay's investors will enjoy the first-mover advantage as far as Africa's mobile and online payment is concerned.
Having been in the market longer, OPay has acquired many customers across a suite of products that includes bike, tricycle, quick loans, and food delivery.
The Opera browser, now belonging to a Chinese consortium following its sales for $600 million, is the fifth most popular desktop browser and holds a respectable 10% share of the mobile market. It is unlikely that the Opera browser won't aid the drive for revenue in the fintech and to a lesser extent growth in advertising and search revenue.
Still, investors will savour growth potential in new opportunities beyond the browser; case in point is the news and content and classifieds divisions, Olist.
Treading a fine line
It will not be forgotten in a hurry that an investor like Sequoia China has a history of backing loss-making unicorns. A typical example is Sequoia China's investment in the ride-hailing startup, Didi Chuxing which reportedly lost over $1.6 billion in 2018.
Another example is the Chinese super app, Meituan Dianping that went nine years before becoming profitable two months ago.
This Amazon-Esque profitless path to domination comes down to Meituan Dianping aggressively focusing on expansion over profitability. Careful examination of the OPay-connected investors shows there is an insatiable craving for super apps.
Many of these so-called super apps became the giants they are by aggressive customer acquisition strategies. Whether or not the sustainability of OPay's business will be called into question for seemingly building towards a super app remains to be seen.
Needless to say, parallel events such as the purported shut down of bus division, OBus, and the over-the-top use of incentives to acquire customers makes it all the more frightening.
However, on the bright side, an investor like Meituan Dianping has managed to profit off a notoriously loss-making food delivery business. Its financial results for Q2 2019 show $3.17 billion in revenue and $56 billion in market cap. This means it has replaced Baidu as the third most valuable tech giant in China, only behind Alibaba and Tencent.
This coincides with the release of Uber's Q2 numbers in both revenue and market cap, which reveal the US-based taxi-hailing company is still struggling to break-even.
Another positive development is the participation of Japan's SoftBank Ventures in OPay series B round. As the only global early-stage venture arm of SoftBank Group, OPay's investment is SoftBank Ventures' first in Africa. SoftBank Ventures has stakes in Uber, Didi Chuxing, Slack, and WeWork, amongst others.
Still, nothing is certain
There is an impending competition between OPay and PalmPay, and this is down to the strong investor network of both sides.
Together, these Chinese-backed companies have the experience, finances, and network required to become dominant players in the African digital ecosystem. And although there's no telling if the long-term gains would benefit Africans, enterprises connected to these startups across board are growing sales, able to cut procurement and logistics costs, and improve working capital turnover in the meantime.
There is also the argument that the trend is unleashing the potential of talents in Africa. 2019 is indeed a year Chinese investors have gone all-in on the continent's startup scene. Yesterday it was OPay, today it is PalmPay. Which will it be tomorrow?