In July 2019, Airtel Africa -- a subsidiary of India's Bharti Airtel -- dual-listed on the London and Nigerian capital markets. The listing came with little publicity compared to MTN Nigeria's, but Airtel's prospectus contains some interesting facts about the African market.
Airtel, registered in the UK as Airtel Africa Plc. -- formerly Airtel Africa Limited -- is the third largest mobile network operator in Nigeria. Despite this widespread popularity, Airtel's prospectus emphasises, among other interesting trends, that its shares are not for everyone.
The prospectus (PDF) contains relevant information for prospective investors including its share listings financials and market trends for the year ending March 31, 2019, across the company's footprints in Africa.
Here are some of the interesting facts from the prospectus:
Nigeria remains the biggest market in terms of subscriber base
Though the most populous African nation, recent findings have tempered expectations on the size of Nigeria's addressable market on the Internet.
---
Suggested Read: Nigeria's addressable market on the Internet is probably smaller than you think
---
Unsurprisingly, Nigeria is Airtel's biggest market, making up 37.6% of the group's total subscribers, with the East African market accounting for 43.4% of its subscriber base, and the rest of Africa, 19.1%.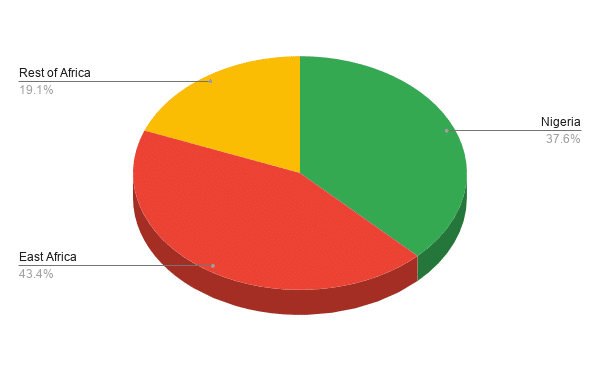 Interestingly, Airtel's revenue from Nigeria was a little higher than that of East Africa despite having a lower share of the subscriber base.
In the year ended March 31, 2019, revenue in Nigeria was ₦400.3 billion, ($1.106 billion), representing 35.9% of the group's revenue for the year; revenue in East Africa was  ₦399 billion ($1.102 billion) -- 35.8% of the group's revenue in the year -- and revenue for the rest of Africa was ₦321.4 billion ($888 million) (28.3% of the annual revenue).
Uganda and Tanzania defy the odds
In April 2018, the Tanzanian government, through the Tanzanian Communications Regulations Authority (TCRA), passed the Electronic and Postal Communications (Online Content) Regulations into law which demands an annual blogger licence fee of TSh2.1 million ($900).
In July of the same year, the Ugandan government imposed social media taxes on its citizens. Internet users in the East African country were forced to pay Ush200 ($0.05) as a daily tax for using Internet platforms.
---
Suggested Read: How not to regulate social media in Africa
---
Despite these controversial decisions, Airtel's prospectus shows that the average data usage in these two countries is slightly higher than in Nigeria, Airtel's largest market. In 2018, the average data usage in Nigeria was 1.344 GB per month compared to Uganda (1.345 GB) and Tanzania (1.5 GB).
Worthy mentions amongst smaller markets, the Republic of the Congo and Rwanda, have monthly data usage values of 1.347 GB and 1.374 GB respectively.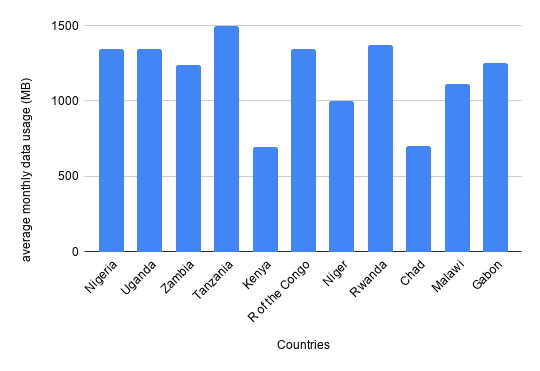 Small nations are punching above their weight
Airtel cites market forces such as GDP, inflation, oil prices, high competition, and smartphone penetration as major influencers of mobile revenues in the African market.
It's also observed that voice, still the major contributor to mobile revenue, is steadily declining in favour of data and other revenue streams.
Some of the telco's smaller markets happen to have higher mobile Average Revenue Per User (ARPU) in a month than the bigger markets.
The East African island nation of Seychelles happens to have the highest ARPU at Rs 328 ($24), followed by Gabon and Republic of the Congo of Central Africa at CFA5500 ($9.3) and CFA3222 ($5.4) per user respectively. Amongst the bigger markets, Kenya's ARPU stands at Ksh477 ($4.6) per month, while the monthly ARPU values for Zambia, Nigeria, Uganda, DRC, and Tanzania stand at Zk40.6 ($3.1), ₦1,080 ($3), USh10,341 ($2.8), FC4664 ($2.8), and TSh5293 ($2.3) respectively.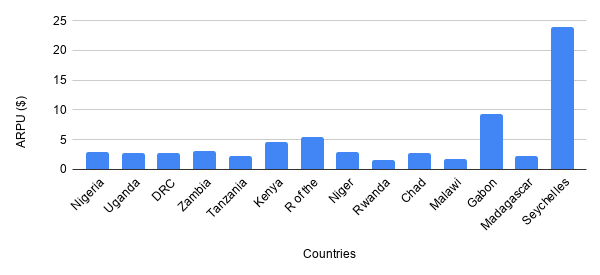 Airtel  Africa's shares are not for everyone
This seems pretty obvious given the subdued publicity surrounding Airtel's initial public offering (IPO). The Nigerian offer was made just for Qualified Institutional Investors and High-Net-Worth individuals as defined in Rule 321 of Rules of the Securities Exchange Commission, Nigeria.
High-net-worth individuals in this context are those whose net worth of investment assets exceed ₦100 million ($275,800). Qualified Investors include banks, fund managers, Pension Fund Administrators, insurance companies, multilateral/bilateral institutions, etc.
The offer was also made only to Qualified Institutional Buyers in the United States and by way of a private placement to South African Qualifying Investors.
This means that any private investor with a few thousand or millions to spare cannot invest in Airtel Africa's stocks on the capital market.
Listing in other African bourses
Besides Nigeria, Airtel is listed in the capital market of other African countries and also plans to list on some others.
Airtel Networks Zambia Plc., the Group's Zambian operating subsidiary, is publicly listed on the Lusaka Stock Exchange (LuSE) with a 3.64% float.
In a similar manner to Nigeria, the telecom company also appears to be listed in South Africa with the offer addressed to South African Qualifying Investors alone.
In line with regulatory requirements, Airtel Africa plans to list in Tanzania as well as Uganda.
Airtel struggles to dominate African markets
Airtel has a presence in 14 African countries across the continent, its key markets being Nigeria, Uganda, DRC, Zambia, Tanzania, and Kenya.
However, the telecom company appears to be playing either second or third fiddle to its competitors in these major markets.
In a bid to increase competition in Kenya, Airtel planned a merger with Telkom Kenya, but the move stalled on allegations of corruption.
Airtel is the third-largest telco in Nigeria, behind MTN and Glo; the second-largest behind MTN in Uganda; third behind Vodacom and Orange in DRC; second behind MTN in Zambia; third behind Vodacom and Tigo in Tanzania, and a distant second behind Safaricom in Kenya.
Conversely, Airtel Africa fares slightly better in its smaller markets, but of the remaining 8 countries -- Republic of the Congo, Niger, Rwanda, Chad, Malawi, Gabon, Madagascar, and Seychelles -- it is only able to dominate two -- Niger and Rwanda.