The Nigerian Civil Aviation Authority (NCAA) has banned a certain model of the popular MacBook Pro by Apple from all flights in Nigeria.
According to a circular signed by Captain Abdullahi Maikano Sidi, the Director of Operations and Training at NCAA, the MacBook Pro Retina 15 MID 2015 is banned on all flights, effective immediately.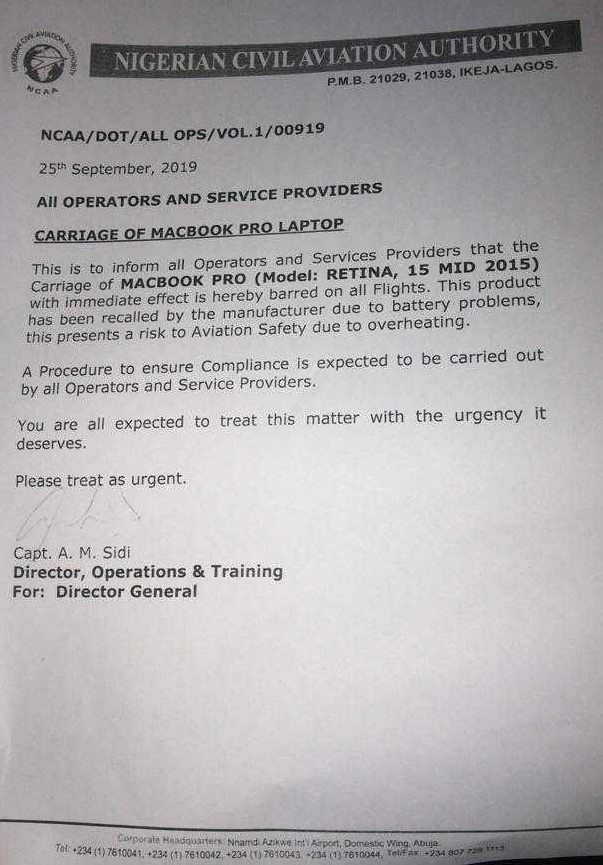 The decision to ban this MacBook Pro model comes due to its recall by Apple as a result of battery problems. NCAA stated that travelling with this device "presents a risk to Aviation Safety due to overheating."
Further investigations revealed that the battery contained in this particular laptop model had the potential of posing a serious fire safety risk in an aeroplane.
The NCAA directs that the MacBook Pro (Retina, 15-inch, Mid 2015) is not to be allowed on flights as a carry-on or checked-in luggage due to the potential threats involved.
Apple, the technology giants and makers of the MacBook Pro had earlier initiated  a voluntary recall of 15-inch MacBook Pro units sold between September 2015 and February 2017 due to battery problems.