Second-hand or 'London-used' phones, as they are popularly known, are very popular in Nigeria because of their relatively cheap prices.
These phones are not called 'London-used' for nothing. Most of them are presumed to be refurbished devices shipped in from London, England's capital.
But according to a report in April 2018, most of these phones were not handed down willingly by their previous owners.
The UK Sun discovered that gangs on UK streets were violently snatching tens of thousands of phones that are allegedly shipped to be sold in Computer Village in Lagos, Nigeria.
The report said in 2016 there were 60,000 mobile phone thefts in London and 446,000 in the United Kingdom. And a large number of these phones came to Nigeria.
More than 1 year later, the business of London-used phones is still thriving, seemingly even more than ever. With eCommerce platforms, social media accounts and physical stores exclusively dedicated to the sale of these fairly-used phones.
"We been knew"
According to a survey carried out by Techpoint, six out of every 10 people that bought 'London-used' phones admit to knowing the phones may be stolen.
"Of course, I suspect. There is no other reason why some of these phones are as cheap as they are," Mark* replied laughing.
Debola* echoes a popular sentiment.
"I bought my London-used Samsung S7 at Banex Plaza in Abuja and to be honest, at the time of purchase, it did not occur to me that the phone might have been stolen. It was after I bought the phone that I saw the article about stolen phones from the UK," she said, referencing the UK Sun story.
At that point, like a lot of people interviewed, Debola said she was more worried about being tracked by the former owner or authorities if it was a stolen phone.
In Derrick's* defense, he says it's impractical to worry about anything else.
"Let's assume the phone was stolen, what am I supposed to do? Stop using it? Throw it away? The best thing to do at that point is to worry about myself."
In May 2018,  Commander of the Lagos State Rapid Response Squad (RRS), Tunji Disu warned members of the public that their second hand phones could land them in jail outside Nigeria.
---
Suggested Read: Your "London-used" phone could land you in jail outside Nigeria
---
The statement served as a warning to a Nigerian populace, but it raised a lot of red flags and questions.
Why do stolen phones in Nigeria have to leave the country before the law takes its course? Why is Nigeria a safe haven for these phones?
Usually, when a phone is stolen, the user is supposed to be able to blacklist it through the phone's unique IMEI (International Mobile Equipment Identity) number. But why is this not the case in Nigeria?
The UK Sun investigation alleges Nigeria is not signed up to a global deal to blacklist stolen phones through their IMEI numbers.
Charity begins at home
The Nigerian Communication Commission (NCC); Nigeria's authority on the issue, could not be reached to confirm or deny the claims of Nigeria's uncooperative stance in global anti-theft IMEI security.
However, there is an enabler of the stolen phone trade in Nigeria that transcends IMEI numbers and international borders; the ease of unlocking and unblocking phones. It even affects phones stolen in Nigeria.
Anyone can walk into Nigeria's Computer Village or any other electronics market and have phones unlocked for as low as ₦2,000 ($5).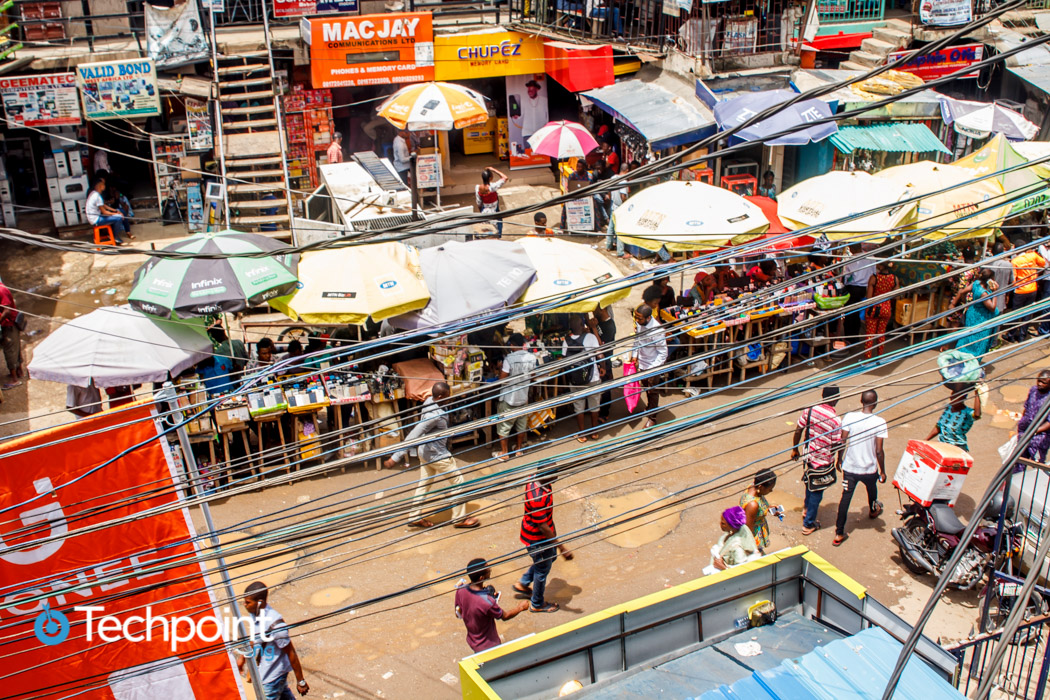 The National President of the Association of Communication Device Technicians of Nigeria (AMCODET), Apara Ige says this is a major problem.
Ige explains that since 2016, the organisation has been working with relevant government agencies on putting compulsory measures in place to ensure security procedures are undergone before any device is unlocked.
"Before these regulations come through, we are most importantly working with the mobile phone technicians. We are educating them on safety measures, because if they are not all on board, the project is pointless," Ige said in a phone conversation with Techpoint.
He said AMCODET is working on a mobile phone unlocking clearance permit. The document will contain bio data and make it compulsory that before a mobile phone is unlocked by a technician in Nigeria, it must undergo some security checks.
"When people put locks on their phones, they typically do not want them to be unlocked. With these checks we are putting in place, we want to make sure that whoever is bringing phones to unlock, no matter the quantity, is registered as having brought them," Ige said.
The permit will first be enforced and tested by AMCODET in Lagos State, Nigeria's economic hub, before spreading to other states.
As Ige rightly observed, this permit is not a cure-all for the currently thriving international and national stolen phone market, but it is a start, and a good one. Time will tell how it pans out.
---
*All names indicated in the story have been changed as requested by the interviewees.