It's sometime in 2012, many Nigerians on Facebook are sharing, liking and commenting on a particular comedy skit. Comedy skits are quite popular among Nigerians because they want to laugh and forget their problems momentarily. But what's special about this video is that the characters aren't real, they are cartoons. The skit was titled Aboki.
The premise of the short skit is based on a Mai Shai (local name for an Hausa man that sells tea, cooked noodles, bread and eggs) and a well dressed man who requests for the most expensive bread and egg combo ever made, only to ask for just ₦10's worth.
The video went viral, everyone loved it. It was funny and it was different. But what many people probably didn't know at the time was the creator of the cartoon.
Nigerian comedian Emeka Erem popularly known as Ajebo, the creator of Aboki, saw the potential of using animation for his comedy as far back as 2008 when he was still an undergraduate student of mass communication at the University of Nigeria, Nsukka (UNN).
11 years down the line and many cartoon skits and distribution channels later, Ajebo's comedy skits are some of the most popular animation content to come out of Nigeria. His YouTube channel, House of Ajebo currently has over 106k subscribers and 13 million views -- most, coming from viewers outside Nigeria.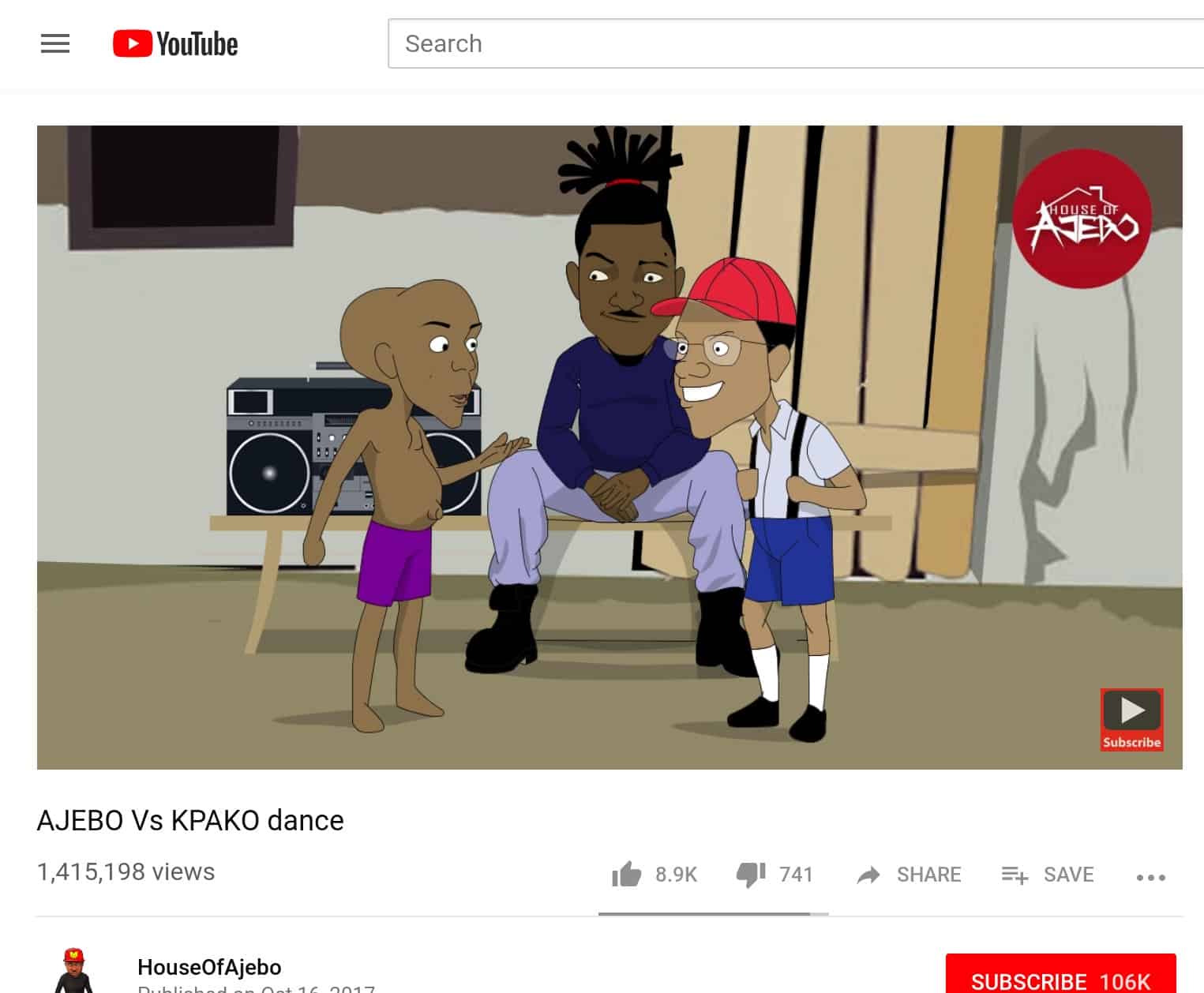 In a recent chat with Techpoint, Ajebo shares the story of how animation helped him create a niche for himself in the Nigerian comedy industry.
Ajebo the Comedian: The Origin Story
Emeka Erem has always been the life of the party and a natural entertainer. But he only discovered that he could make people laugh when he joined the drama group in his church as a young boy.
"I'd be acting in a serious drama that would be snowballing into getting people to repent, and somehow I'd put comedy into it and get everyone laughing," he reminisces.
Fast forward to his secondary school days, Emeka became a master of dissing people with his jokes. His reputation grew among his peers so much so that they'd call upon him to fight their diss battles for them.
However, his first opportunity to perform his jokes in front of a large audience did not come until his second year in senior secondary school when he hosted his school's Literary and Debate Society Day.
"By that time, I had no original jokes but I had watched all the CDs of Nights of a Thousand Laughs back to back. So I was equipped with other people's jokes."
The feedback Emeka got after his performance on stage gave him all the confidence he needed to pursue a career as a comedy act.
"When it was time to apply to universities, I searched for schools in Nigeria where I could study comedy, obviously, there was none. At the time, my mum, who despite her support of my dream to become a comedian, wanted me to study law. Comedy as a career was a joke then, no pun intended."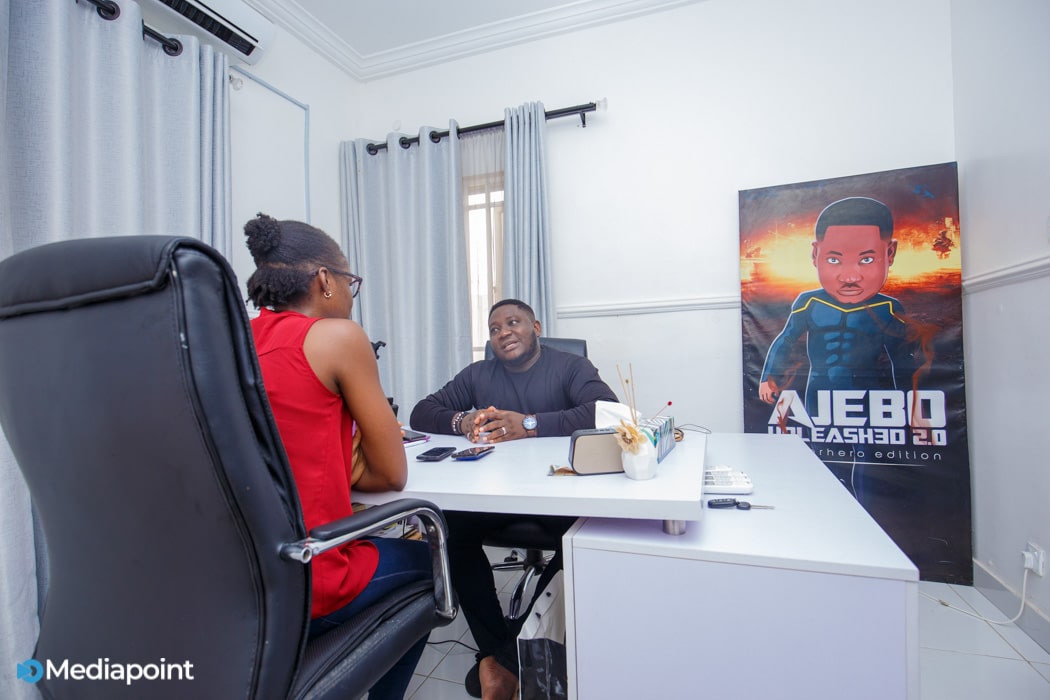 At his first attempt, Emeka was not granted admission to study law so he kept on trying. Meanwhile, he continued to build on his passion for comedy and entertainment by performing in churches for free and attending various motivational and career-help conferences.
He even hosted the eviction party at the former popular reality TV show Next Movie Star.
After three failed attempts at studying law and at one time economics, Emeka enrolled at UNN to study mass communication in 2006.
"At that point, I had the option of studying theatre arts and mass communication. I chose the latter because I believed that I could still catch up with theatre arts with some research."
As an undergraduate of mass communication, Emeka was introduced to radio. He worked at the UNN radio station and was exposed to various ways to tell a story, including visual effects, pictures and animation.
Even though the concept of animation he was taught in school was not in-depth, it was enough to create an impression on Emeka.
"I came up with a scenario in my head, something like a PowerPoint presentation. It'd have pre-loaded animated pictures on the slide, so as I'm cracking the joke, the pictorial representation is displayed on the screen. It'd take the stress off you as a listener and you're able to get the exact thing I'm talking about and laugh."
Now, all Emeka needed to make this into reality was to get an illustrator. But he would not meet one until he was out of school.
While still in school, Emeka continued to gain experience in radio as well as writing for a magazine. He also continued to hone his comedic skills, writing original jokes and entering open mic competitions.
"I had become very confident as a comedian. Even when I met AY, I told him I was funny. He asked me to prove it by winning the AY Open Mic Challenge."
Emeka would go on to win the competition at his second attempt. He appeared in various AY live shows afterwards and became an editor for AY Magazine.
At this time, he had rebranded his name from MC Erem to Ajebo, a name given to him by his colleagues because they said he looked like a rich kid.
Comedy meets technology
After his first degree in mass communication (he also has a master's degree in mass comm.), Ajebo was back in Lagos in 2010 and joined Naija FM. It was at this time he met and partnered with an animator named Victor Enoch who helped him bring his skits to life using animated characters, just like he had always dreamt.
"So we started making cartoons and posting them on Facebook. I didn't know how popular the cartoons were until about one year later when people started sending me the videos and gushing about how funny they were. Since there was no connection between me and the videos, many people didn't know I made them."
Then he decided to put a face to it and structure the distribution of his cartoons by first creating an official Facebook page.
"As at the time I created a YouTube page, my skits were all already all over YouTube. People were already making money off them and I didn't know. That was how I started building the brand."
In 2013, following the success of his funny cartoons, Ajebo hosted his first stand up comedy show titled Ajebo Unleashed: My Cartoons and I and it was sold out.
According to him, the show gave fans of his skits the opportunity to meet the man behind the cartoons. In 2016, he quit his job at Naija FM to focus on his career as a comedian.
Doing animation in Nigeria
Ajebo names the cost of outsourcing the animation of his skits as one of the biggest challenges he faced when he initially started.
"I still outsource some of it but I now have a studio with mostly audio equipment and one animator. Realistically, outsourcing is more cost effective than hiring in-house animators."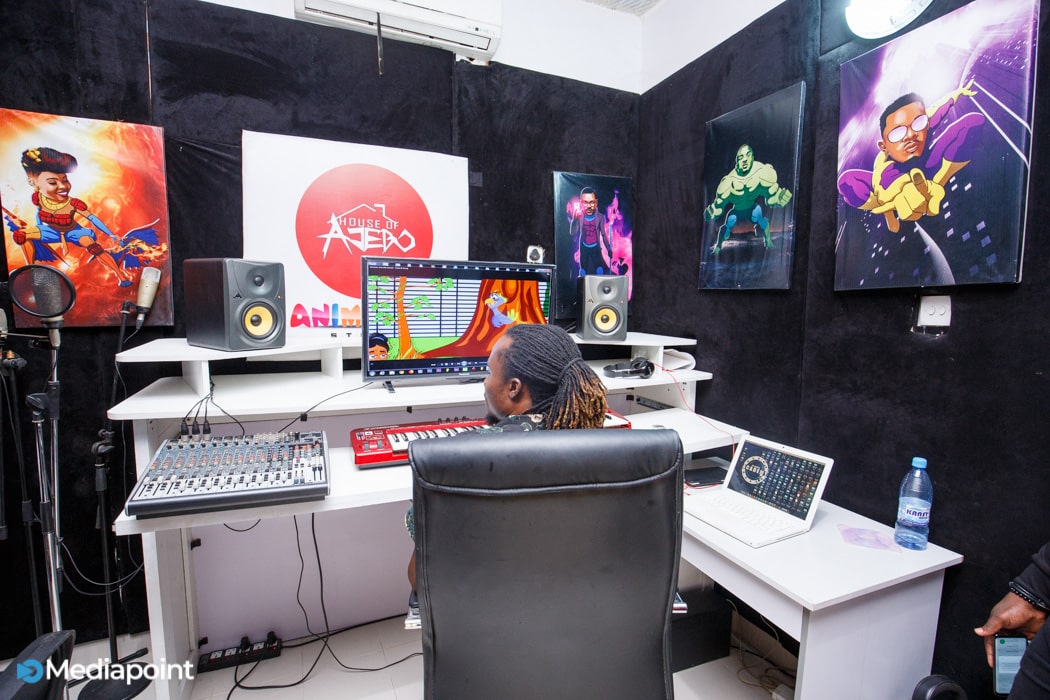 Asides his sold out shows, Ajebo's biggest distribution channel is YouTube; he's currently the Nigerian stand up comedian with the most views on the platform.
However, like many professional YouTubers in the country, most of his content revenue comes from brand integrations and sponsorship.
---
Suggested Read: Professional Nigerian YouTubers have to look outside YouTube to make money
---
"We've gone commercial, so I walk into companies and propose that we help them promote their brands with our skits."
"Humour is a great tool to advertise a product and knowing the right amount of humour to put in and the right time is key. Because if you add too much, it can overshadow the message and the ad can lose its essence. Or sometimes, the humour could be the message."
The process of developing these skits typically starts with Ajebo coming up with ideas and according to him, he can get inspiration from anywhere. When the ideas become fully formed, he scripts them and records the audio. After recording, he then sends it to his animators and then for post production.
Despite the good quality of his animated skits and their success, Ajebo believes that it could be better. According to him, for it to get better, Nigeria's animation industry has to grow.
The Nigerian animation industry, despite its progress is still said to be in its infancy for various reasons. Chief among these reasons are the small size of the animation workforce and a lack of infrastructure.
---
Suggested Read: 4 hindrances to the Nigerian animation industry taking off
---
Ajebo believes that the industry is beginning to see a rise in the number of animators and they are creating great content. However, they still lack the support that they need.
"We have many talented animators but the market is not ready. Nigerians still largely prefer to watch foreign cartoons but things are getting better. These days, I see ads in animation which shows that we're getting there. It also means that Nigerian animators need to keep improving on the quality of their work."
To create a market for himself, Ajebo brands his skits and is currently diversifying into educational skits for children.
"We are about to launch a new educational series called the Adventures of Taiwo and Kehinde."
Ajebo says he owes his success as a comedian to technology; from the creation of his skits to its distribution and hopes to continue to leverage it to create more ground breaking content.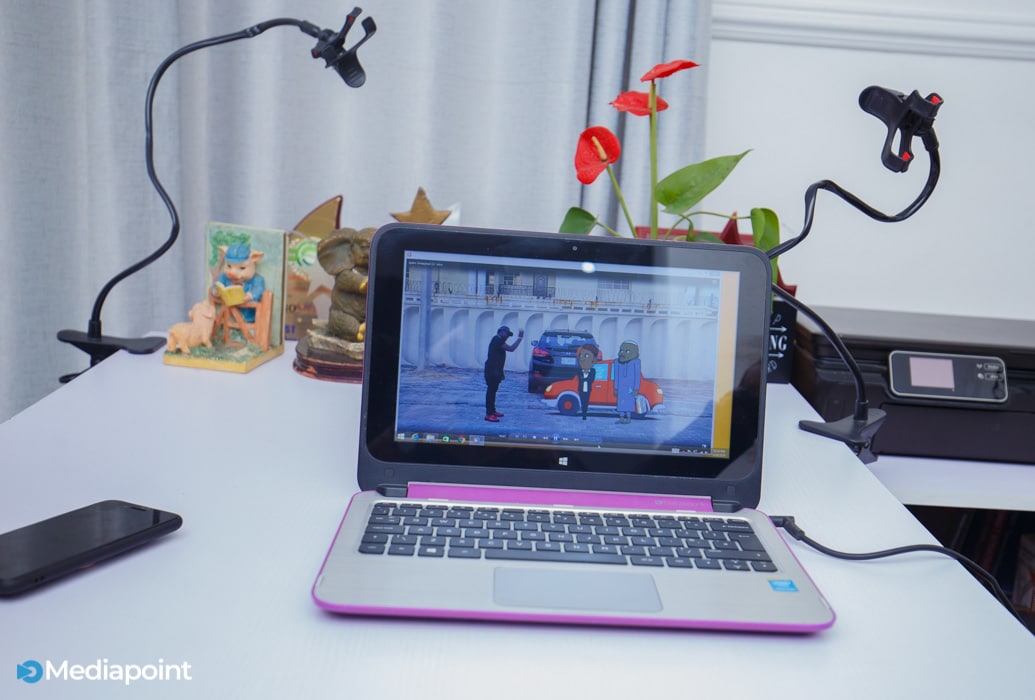 "My shows are a blend of animation and stand up. During one of my live shows, I had a conversation with Tegwolo, one of my most popular cartoon characters. It was amazing."
Like many comedians, Ajebo wants to keep diversifying and venturing into other industries. He currently owns a clothing line named Ajebo Signature which he plans to scale to become a merchandising outfit. And like his mentor AY, he plans to make movies, but with animation.