It is the 20th of February 2019, a few minutes past 12 PM and a hot sunny afternoon at the Murtala Muhammed International Airport in Lagos, Nigeria. It looks and feels like a normal day, except that cab drivers are fighting.
A closer look will reveal that this fight is between traditional cab drivers in the airport and their online hailing counterparts on Uber, Bolt -- previously known as Taxify -- and the rest. The former are trying to eject the latter; there is no love here.
Reports do not say how long this scuffle lasts or the eventual outcome, but it is neither surprising nor the first time this is happening at the Lagos airport, in Nigeria or around the world.
The advent of online hailing technology has placed its users at a seeming advantage over others who either refuse to or are unable to use it. This reaction is knee jerk and not just restricted to Nigeria; it is global.
The fear of change is primal in humans. As innovation is the most blatant evidence of change, the world over is peppered with examples of people fighting innovations.
At the Nnamdi Azikiwe International Airport in Abuja, drivers on online hailing platforms are getting the medicine served their Lagos counterparts in potent and dangerous doses.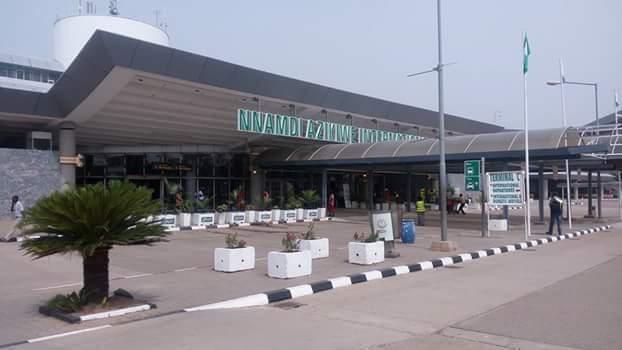 In the Abuja case, in the quest to drive out online hailing operators, traditional cab drivers seemingly have an unlikely ally; the Federal Airport Authority of Nigeria (FAAN).
FAAN is the government agency in Nigeria charged with managing commercial airports.
According to multiple reports from e-hailing drivers operating in the airport, most of them have been manhandled, searched, 'arrested' and made to pay fines ranging from ₦2,500 to ₦25,000 ($6.9 to $69) for picking up passengers at the airport.

These acts are being perpetrated by people wearing lemon green vests bearing the insignia and initials of FAAN.
Mike (not real name) narrates his experience to Techpoint;
"Friday 8th of March (2019) was the first time I encountered these thugs. I had stopped to pick a passenger, they rushed into my car and attempted to wrestle my key from the ignition. I initially thought it was a robbery so I fought back. They told me I was not supposed to pick passengers at the airport, I was further asked to go park close to the FAAN kiosk where my car was clamped with wheel locks. They asked me to pay a ₦25,000 ($69)  fine which I did not have. After hours of begging, a woman at the SERVICOM kiosk convinced them to let me go. It was really embarrassing and scary."
Other drivers are not as lucky as Mike. Multiple receipts are evidence of forced inconsistent payments from drivers for offences ranging from loitering to illegal parking; all manufactured to ensure they do not operate in the airport.
All with similar stories to Mike's, many of the drivers confirmed that this treatment or rule is not extended to traditional cab drivers in the airport.
Sometimes, the FAAN workers take their phones and search for an e-hailing app to confirm. One driver, Chuks (not real name) said on one of such occasions, his passenger had to hurriedly save his name as a contact and lie that Chuks was her driver to avoid what was becoming an embarrassing and potentially dangerous situation. Even passengers are not spared this experiences.
Some of the drivers under the aegis of the National Union of Professional e-Hailing Drivers and Partners (NUPEDP) have sought all forms of recourse. The 2-year old union says it has at least 3,000 members, is affiliated with the Trade Union Congress of Nigeria (TUC) and was set up to check irregularities in the e-hailing industry.
According to its president, Ayo Ade Ibrahim,
"We learned that cab drivers at the airport pay group fees to FAAN to operate and this is why they are not letting us come and pick their passengers without paying."
Ayo said they informed online hailing companies to talk with airport authorities to allow the drivers continue doing their work, but nothing was done. He shared copies of letters that NUPEDP had issued to a few of these companies with Techpoint.
"We gathered that the e-hailing companies talked to FAAN, but were unable or did not want to meet up with the requirements. Most of them did not want to commit so as not to benefit the other," he told Techpoint.
As at press time, all efforts to reach FAAN for an official statement on the matter have proven abortive. Email correspondence has not been responded to and at the organisation headquarters in the Murtala Muhammed International Airport in Lagos, official requests were requested to be made in a manner that Techpoint is working on.
But an unnamed source at FAAN in the Abuja airport confirmed some of the driver groups paid a minimum of ₦50,000 ($138) for authority to operate.
"We call these cabs 'car hire' and they have to register with FAAN and pay a fee as a group. There is no particular fixed fee. Currently we have about 9 car hire companies registered and any new entrant has to join one of the groups."
For drivers on e-hailing platforms, the source confirmed they are arrested and fined. He said the drivers have to come and register as a body to be allowed to operate. The source also said registered companies have to state the number of cars they own operating under them and their number plates. This is a problem.
These online hailing platforms do not own the cars, but apparently the authorities are not aware of this fact.
When asked, Ayo Ade Ibrahim said he and NUPEDP are not aware of the exact cost of obtaining an authorisation to operate.
"I don't have authority to divulge that kind of information. I don't know how much it is, but it is a huge project, I do not have the exact estimate or range now."
"These e-hailing companies take a large percentage of our earnings. So it is only right they work on regulatory kinks like this to allow us operate freely without disturbance. We have been writing them ever since without response to do this," he continued in a tone that suggested they are aware but unwilling to pay the requested fees.
Maybe rightfully so. Ever since e-hailing companies operating in Nigeria diversified from the country's commercial hub in Lagos State to other states, challenges of operating in these terrains have questioned profitability, especially for the drivers.
---
Suggested Read; Online ride-hailing taxi services may not work in these Nigerian cities
---
And for some of these states, rides to and from the airport still remain the major source of income for the driver partners on e-hailing platforms.
How concerned are the e-hailing companies?
Uber says it is aware of the incidents. In an email to Techpoint, the company's Head of Communication in West Africa, Francesca Uriri said;
"We are concerned about the continued harassment and intimidation of Uber driver-partners at the Nnamdi Azikiwe Airport in Abuja, and we urge the management of FAAN to take a decisive stance against these incidents and prevent them from reoccurring in the future. Customers should be given the freedom to choose their mode of transportation and driver-partners should be allowed to exercise their freedom to drive and earn a living for their family, without fear or harassment."
She said Uber is "presently in talks with FAAN and is working with all relevant stakeholders to resolve this as a matter of urgency."
No response was given to or comments made on whether Uber will register its drivers at the airport.
As at press time, Bolt has not responded to requests for comment from Techpoint.
Legal or not, how right?
Through all of this, all parties involved were either unable to or simply refused to confirm the legality of the requested fees for cab drivers to operate at the Nnamdi Azikiwe International Airport in Abuja.
The price range quoted by the aforementioned unnamed source at FAAN in Abuja suggests a lack of structure to the levies; a very important factor for official fees.
Legal or not, the methods of enforcing these payments point to inhumane and anti-competitive practices that skew the market towards stifling innovation.
*This is a developing story