UPDATE [March 21, 2019 at 11:44 am]: Article now accurately reflects a 70:30 revenue split, as opposed to 65:35 originally stated. 
---
Over the years, GIG Mobility (GIGM) has come to be associated with technology and innovation in Nigeria's crowded transportation industry.
The company has steadily deployed solution-oriented technology to manage and make road travel in Nigeria as efficient as possible.
In a recent press sensitisation, the company unveiled its Enterprise Partner Solution; an innovative and novel concept. The new system lets anybody invest in the company by buying buses and putting on the platform.
After inspection and all other pre-approved processes, the buses are branded GIGM and put on the roads with the rest of the company's fleet. Basically, investors will own a transport business with the GIGM brand.
An Enterprise Business Manager will be assigned to each investor for an optimal experience.
According to Chief Operating Officer at GIGM, Vuakpor Muoghereh, these investors will be called Enterprise Partners (EPs) and after their buses are on-boarded, the GIGM Enterprise Partner App will let them monitor all of the bus operations.
"They will be able to see everything from income, driver captain assigned, to even distance covered. They will know when the bus is working and when it is not, all from the app," Vuakpor said.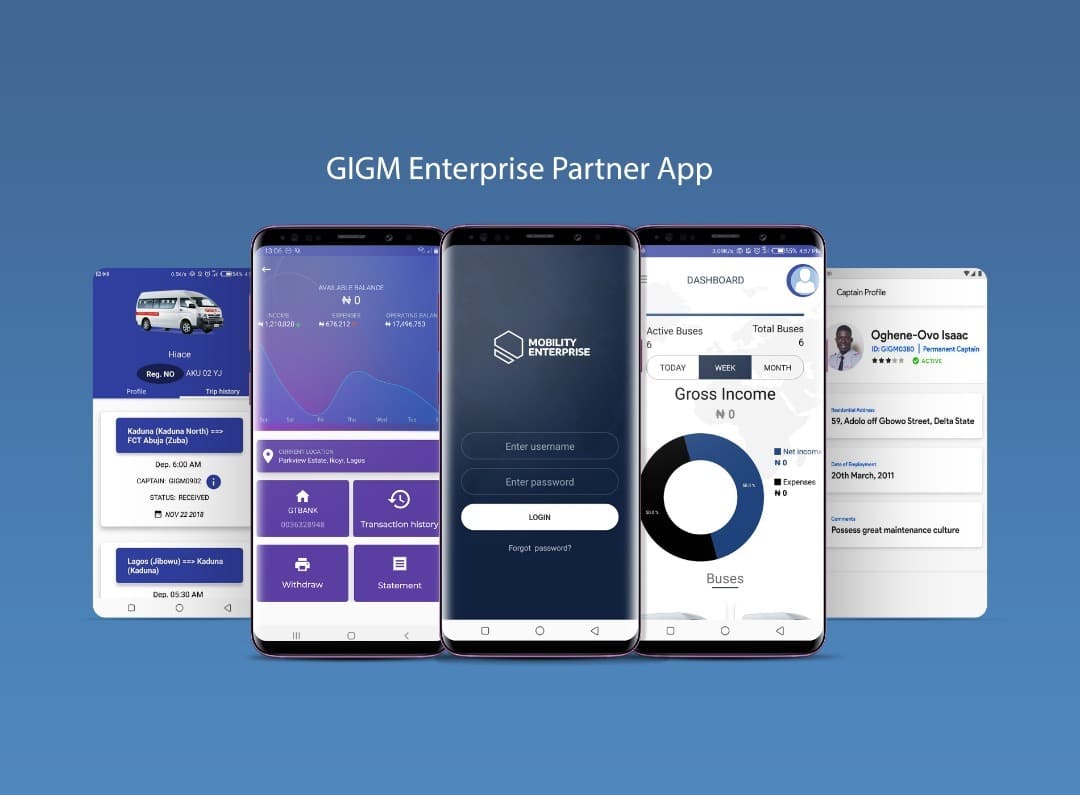 Professionals and players agree the transport business is one of the most lucrative sectors to invest in Nigeria. However, the highly unregulated landscape means these profits always slip through the cracks leaving investors high and dry.
According to the description on its webpage, the GIGM Enterprise Solution wants to help entrepreneurs invest "without the typical challenges of running an independent business in the transport industry."
Vuakpor said this opportunity extends to everyone.
"We are inviting people to a transparent and incredible wealth creation opportunity facilitated by technology in an industry that is usually marred with irregularities."
To become a partner, an investor has to own a minimum of 3 of either the Toyota Sienna minivans, Toyota Hiace commercial vans or Mercedes Sprinters. All these are popular vehicles in the Nigerian intercity transport scene.
Vuakpor said GIGM also accepts JET Mover minivans. According to her, the vehicles must not be brand new as long as they are in top notch working conditions that can be better determined during the inspection process.
Regardless, the sharing formula for the Enterprise Solution is quite eye catching. The company gets 30% and investors get 70% of total profit.
GIGM says it will manage the technology as well as handle staffing and logistics costs. Maintaining the vehicle, repairs, fueling and other vehicular operation costs will be made from the investor's share. This raises a lot of questions as to how much will be left after all these unknown costs.
However, Vuakpor insists that no matter what happens, data-backed projections have shown the investments are solid.
"We made findings and regardless of what costs the investors bear, their returns will still be some of the highest anywhere," she said.
Still, the opportunity looks to be capital intensive to an extent that might most likely target High Networth Individuals (HNIs). But the company says it is working with banks to provide financing for potential investors. This is probably where and when 'everyone' can truly come in.
Another arm of the Enterprise Solution is the Owner Captain model where GIGM lets its driver captains own their buses after an agreed time and payment. This is a hire purchase method to empower its captains.
GIGM; on becoming more than just a transport company
Before even kicking off presentations, Vuakpor said the company now wishes to be known as GIG Mobility. She said switching out the motors for mobility in the company's  name was a more fitting descriptor as it wanted to be more than just a transport company.
---
Suggested Read: How GIGM became the most technology-driven bus transportation company in Nigeria
---
"We are trying to move away from being a traditional transport company to a transport platform and everyday we get closer to this goal. To do this effectively, our biggest investment is in tech and our tech team is currently the biggest right now."
Vuakpor said GIGM's innovative solutions are made to alleviate bottlenecks typically associated with traditional transport services.
And that everything  from its GIGM Mobile App, PickUp feature, Captain App for drivers, GIG Mobility System and now the Enterprise Partner solution are all built in house by the tech team.
GIGM stays out-innovating itself every time and Vuakpor has a reason why;
"The transport industry in Nigeria and Africa is largely disorganised and we don't have the power to regulate from government levels, but we want to regulate with technology."