It's no news that fintech startups are aggressively vying for a piece of the Nigerian banking sector's pie. Some of them currently offer the basic banking services and some have gone further to cater for merchants and businesses, via their Application Programming Interface (API) and several other channels.
Two of the most prominent fintech startups, Flutterwave and Paystack not only allow businesses to accept payments online, they also recently started issuing Point of Sale (PoS) machines to their merchants.
Kuddos to these guys. I just stumbled on @Paystack's POS Machine. These guys aren't slaking at all. pic.twitter.com/m3hqdBHkrs

— Ahmad Mukoshy👨‍💻 (@mukoshy) May 22, 2018
However, a couple of weeks ago, Paystack suddenly recalled their PoS machines in circulation. There are unconfirmed reports that Flutterwave did same; what we can confirm is that they no longer distribute machines.
The reason for the recall/suspension wasn't communicated to the merchants, so we decided to look into it.
Shortchanging established players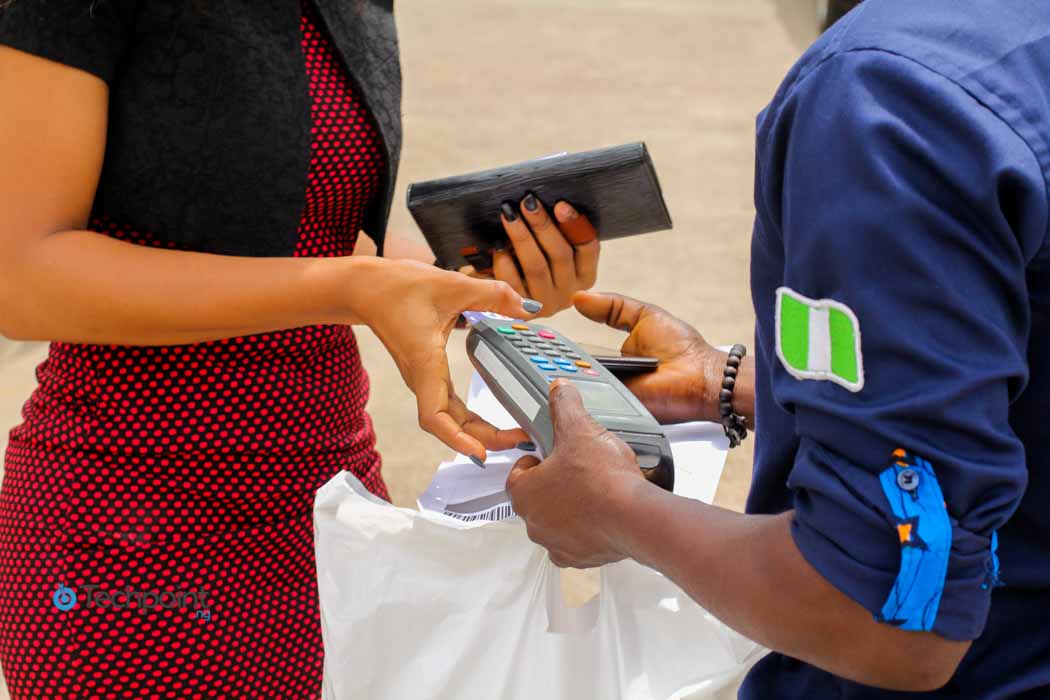 From our findings, Paystack and Flutterwave are not licensed to acquire PoS machines on behalf of their merchants. But as a workaround, they were able to collect machines from licensed acquirers, such as commercial banks, by posing as wholesalers.
They used this route because wholesalers with large transaction volume and lower profit margins (for example, retail chains like ShopRite, Spar) are given special consideration. While regular merchants are charged the industry standard of 0.75% per PoS transaction, large wholesalers are only charged 0.2%.
Apparently, Paystack and Flutterwave were reissuing these wholesale machines to their merchants at a relatively higher charge of 1.5% (with a flat fee of ₦100) and 1.4% respectively.
The merchant, card issuer, acquirer, payment terminal owner, local switch and terminal service aggregator all have a share of the 0.2% or 0.75% as the case may be. Which implies that these startups were making more than what the five players collectively make from transaction charges.
Many industry stakeholders took issue with this, especially the Payments Terminal Service Providers (PTSPs) -- licensed companies charged with the deployment, maintenance and provision of support for PoS terminals in Nigeria
The recall
According to a reliable source, the PTSPs are responsible for the PoS recall/suspension, on the grounds that Paystack and Flutterwave had an unfair advantage.
And they appear to have legal backing. According to the Central Bank of Nigeria's Guidelines on Point of Sale Card Acceptance Services (PDF), only PTSPs are allowed to deploy PoS terminals.
"Any party, other than a PTSP that deploys PoS terminals, shall be fined ₦50,000 per day that terminal remains deployed."
Based on the above, Paystack and Flutterwave will have to either stick to other channels of processing payments or get a licence that would empower them to acquire merchants and also own PoS terminals.
Paystack did inform Techpoint earlier in the month that the PoS channel is yet to be official on its platform; what we've seen over the past few months was only a 'limited pilot'. There might be some truth to this.
Earlier in the week, Paystack announced raising $8 million, particularly stating intentions to integrate a wider range of payments options, among other expansion plans.
Paystack may have been positioning to acquire a licence as a merchant acquirer, which explains the PoS channel testing earlier in the year. The testing was probably done in preparation for the licence as well as the funding round.