Last week, Vice President of Nigeria, Prof. Yemi Osinbajo, visited Lagos on a personal tour of its startup community.
Even though it was unannounced, you'd expect that news of his visit was received with general enthusiasm. After all, he not only remains the number two man in the country but this administration, in which he plays key roles, has professed a commitment to taking youth entrepreneurship and ICT to the next level.
As the second-in-command to President Buhari, Prof. Yemi Osinbajo has been interfacing with the ICT sector on many fronts. The significance of this is that he has a good understanding of the kind of people to meet and also what they expect of him.
However, in spite of his understanding and knowledge, his visit was quite disappointing.
The fundamentals of the tech community weren't captured
At last year's Techpoint Inspired, Emeka Okoye, CEO of Cymantiks Nigeria Limited, argued that an ecosystem is not complete without acknowledging the role of institutions of learning. According to him, there can't be real innovation if there is no sustainable system that allows students and technology companies interact with each other.
Interestingly, Yaba, the place touted as the Silicon Valley of Nigeria, has two tertiary institutions that have earned a reputation in areas other than tech. A proactive step would have been to visit these institutions to see how the government can help improve their levels of ICT competency.
A direct consequence of that can be a drastic change towards education -- and even -- work in the country.
However, as this didn't happen, one has to question the Vice President's supposed knowledge of an ecosystem that has its heart in Lagos. It is obvious this was not a visit to understand the basic functionality of the tech community but rather one meant to tick some duties off the perfunctory duty list of the Vice President.
The unfulfilled promises
Earlier I mentioned this administration has professed a commitment to the ICT sector. As a matter of fact, on the federal government's ICT to-do list lies a long list of projects waiting to be implemented.
While the timeline to deliver on the majority of these projects has elapsed, the list is still surprisingly being updated with no clear plans to make good on their implementation.
Of particular interest, however, is the federal government's plans to recreate tech hubs across Nigeria -- a plan announced by the Vice President himself. Being the commercial hub of Nigeria, it is understandable that Lagos was not proposed among places to set up these ICT centres. But when the Vice President spoke about developing existing hubs and seeing how government can empower those already working in the various ICT hubs, Lagos was surely in the picture.
At the state level, Lagos has shown that it prioritises ICT delivery and digital governance. Not long ago, it outperformed the other 35 states to emerge as the best-performing state in ICT development and e-government implementation in Nigeria.
Given the feat achieved by the Lagos State Government, it is evident government remains a big stakeholder in any ecosystem. However, since major decisions affecting ICT in the country are taken at the national level, it is important that the national government is proactive in getting things done.
How much of these problems are they willing to solve?
Over the course of his tour, the VP made a stop at the Co-creation Hub (CcHUB). CcHUB co-founder, Femi Longe suggested that Tinapa, an 80,000 square-metre area of majestic warehouses and shops built with over $450 million by the Cross River state government in Calabar, be converted to a tech school where people can be trained in various ICT skills. Even though his suggestion was a little ambiguous, he does have a point.
Nigeria has gotten to a point where there is a high demand for its software developers and engineers. At the moment many foreign companies recruit local talent to work with them either directly or remotely.
Outside the realm of ICT, the streets of Nigeria are filled with youth who have little to nothing to engage them productively. Setting up a boarding school of some sort in a place Lagosians (for a change of environment) can relocate to, for say three to six months, where they will learn different tech skills seems like a good proposition for the tech community (not just Lagos) at large.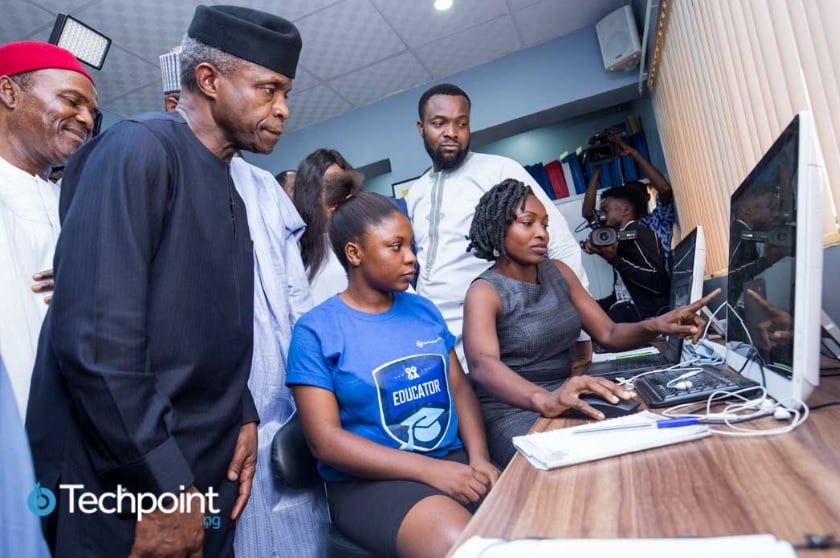 Now that one thinks of it, this would have been a better way to utilise the ₦500 billion Social Intervention Fund -- a Federal Government fund set up under the direct supervision of the Office of the Vice President -- instead of its appropriation to aids such as feeding school children and monthly allocations to those regarded as indigents.
In a not too surprising manner depicting the true politician that he is, the Vice President responded; "We would look into it."
In all, it is obvious that the Vice President's visit was just what it was -- a tour, and nothing more. In hindsight, we've seen enough of the federal government's conflicting position to know where it stands with ICT and the Vice President's visit did nothing to change that position.