In a world where digital technology has created seemingly endless new financial payment possibilities, strategy matters more than ever. Successful brands don't just adopt new technologies, they enlist these technologies in the service of a clearly defined strategy that helps them to identify the opportunities that really matter.
The digitization of commerce continues to be the biggest innovation in payments, accelerating the shift from traditional to digital platforms. How consumers choose to bank is changing and the wave of disruption is fundamentally changing the financial services landscape.  This move is creating new business models, transforming user expectations and behaviours.
Kantar TNS is hosting a Fintech Summit in Lagos, "Payments of tomorrow and the changing consumer".  The summit focuses on the challenges and opportunities digitalization presents in the FinTech Industry and helps identify how to win in today's market place.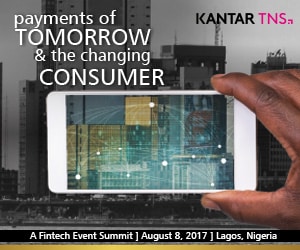 Key note speakers at the summit include Adebisi Shonubi, Managing Director, Nigeria Inter-bank Settlement System PLC and Jonathan Chocqueel-Mangan, Chief Strategy & Transformation Officer, Kantar, and a member of Kantar's Global Board.
The line-up also includes a panel discussion on Micropayment and Opportunity for Mobile in Nigeria.  Panellists include Akeem Lawal, Divisional CEO, Interswitch Group, Deji Oguntonade, Head FinTech and Innovation, Guaranty Trust Bank, Lara Ajele, Head of Payment, Jumia Africa, Niyi Ajao, Executive Director, Business Development, NIBSS, Olubayo Adekanmbi, Chief Transformation Officer, MTN Nigeria and Victor Okigbo, Project Director, Africa FinTech Foundry.
If you're interested in attending and would like to register for the event, kindly send an email to [email protected].
With more than 40 years' experience in the Finance category, and specialist teams in over 40 markets including Nigeria, Kantar TNS is uniquely positioned to help finance providers navigate the challenges of their sector.  Their range of customised research solutions for finance integrate brand planning and market analysis with in-depth insight on optimising the customer experience to deliver business growth. An incremental approach to new product development helps identify the most exciting opportunities for technology-led innovation, and their brand tracking and advertising evaluation solutions provide the essential tools for protecting and growing share.
In addition, Kantar TNS's unique understanding of the technology ecosystem provides clients with powerful insights on the real impact of innovation, identifying the breakthrough products and solutions that will deliver the greatest value to a business's bottom line. Their unique 'Technology Stack'  approach identifies which potentially disruptive technologies will make it into the mainstream – and what threats and opportunities they will create when they get there. Connected Life, Kantar TNS' global study of technology and consumer lives, offers market-by-market insight on the key trends shaping the technology landscape.
"If we do not truly understand the relationships consumers have with our brands, we cannot hope to create the right communication.  By anticipating what drives people you can uncover the right opportunities for innovation and growth and create irresistible brands that always stay ahead." Says Adeola Tejumola, CEO Insights West, East & Central Africa for Kantar.
To register for the event, kindly send an email to [email protected].