Whether you own a small shop, run a mobile business or even a roadside shop, you will always face the challenge of efficiently collecting payments. If you choose to operate a cash-only policy, chances are you experience the "I no get change" syndrome and other risks of handling cash far too often. And while traditional PoS machines offer a convenient way to collect payments via customer's debit cards, they are bulky and not robust enough.
Enter PayPad
PayPad is an mPoS (mobile PoS) solution - the first of its kind in Nigeria - that allows merchants to accept card payments using their smart mobile device (tablet and phones).
PayPad is a product of Electronic Settlement Limited, the same company that brought us web payment gateway, CashEnvoy.
Getting started
Signing up for PayPad is entirely free. All you need is a data-enabled smartdevice. The easiest way to sign up for PayPad is to go to the PayPad website. You fill in a few details - nothing more than your basic business details and name of your bank  -  and in less than 48 hours, a PayPad representative will get in touch with you. Once you are registered on the PayPad platform, you will get a complimentary PINpad from your bank.
After pairing the PayPad to your smartphone via bluetooth, the PayPad/Bank representative assists you with activating the PayPad app (available for Android and BlackBerry 10. iOS and Windows to be launched soon) on your smartdevice.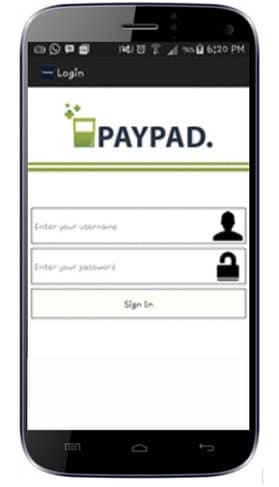 The entire setup process takes place only once. Once completed, you never have to setup again and you can immediately begin accepting card payments.
The PayPad advantage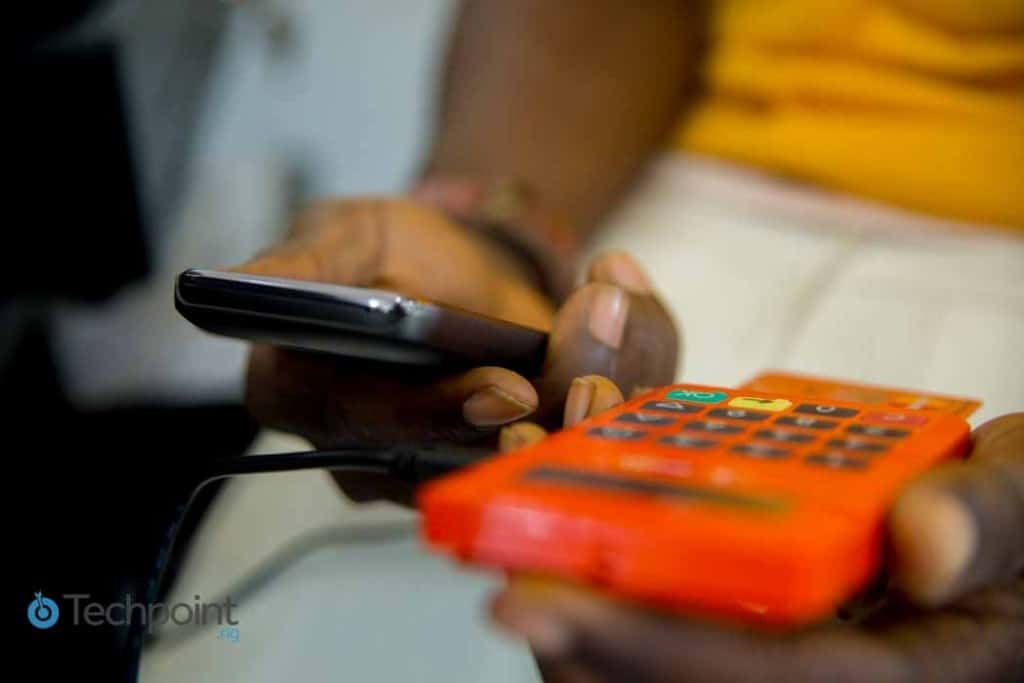 While the PINpad functions without internet, your smartdevice does have to be connected to the internet in order to process transactions.
One major advantage PayPad has over traditional POS, asides its ultra-portable form factor, is that it rides on your smartdevice's connectivity (EDGE, 3G or 4G). Whereas traditional POS devices are limited to the archaic GPRS. As long as you have an active connection, no matter how slow, the transaction will go through. This is especially because, each transaction uses up no more than 1KB of data. If you do the maths, you'll find that with a basic 200mb data plan, you can process over 200,000 transactions with the PayPad solution. So it's definitely also cost efficient.
Another advantage for merchants is that PayPad also provides an opportunity for you to make extra cash by selling airtime and accepting bill (DStv, PHCN) payments.
Receiving payments
Receiving with PayPad is as simple as typing in the transaction amount on your smart device. Optionally, you can also add a description of the item to be purchased. Typing a description is very easy because you are doing it on a smartphone or tablet. This is something you cannot do on traditional PoS devices.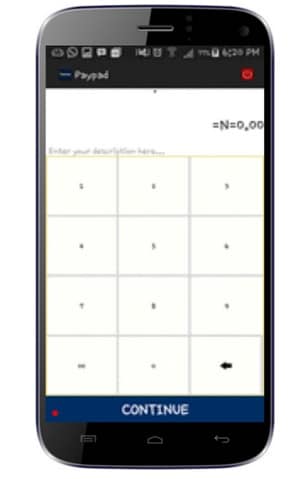 The transaction amount you enter is instantly sent to the PINpad, giving the customer visual confirmation of the purchase. The customer inserts their card and punches in their PIN on request.
Miliseconds after, the payment is processed, the customer is notified to remove their card and the transaction is completed. It's that easy and you get the money in your account within 24 hours.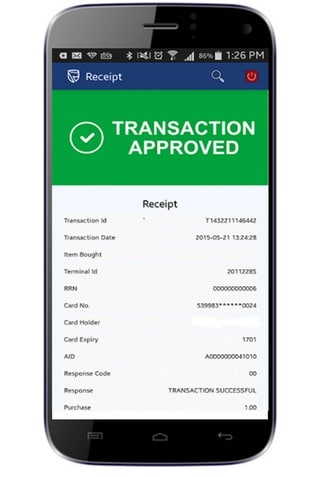 You can send an e-receipt to the customer's email address for future reference. One advantage of an e-receipt over traditional POS receipts is that it never fades out or gets misplaced. Even if the customer loses the email, the receipt can always be called back from your transaction history page.
As the situation might require, you can also accept cash payments and use PayPad for tracking and receipts. The idea is to provide a way to efficiently track and manage your finances. The app will automatically generate daily reports and charts which you can access either on the app or on the web. This also provides a unique opportunity for store owners to remotely monitor transaction activity in their stores.
Security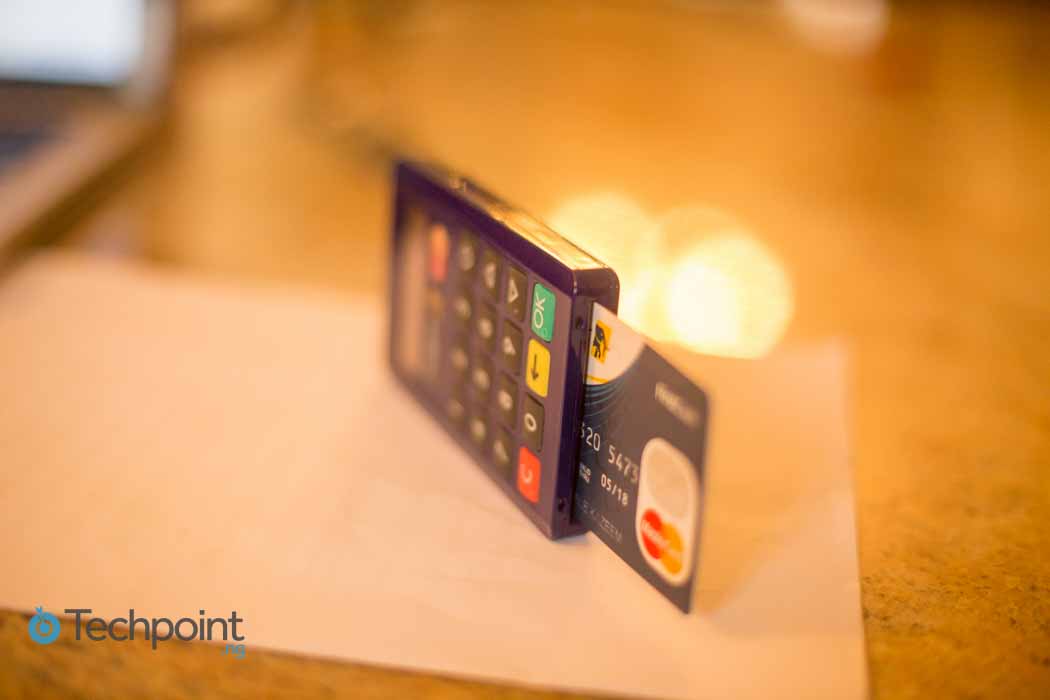 When it comes to card payments, security is always a concern. PayPad has taken a few steps to ensure security. No personal info is stored on your smartphone; they all go through the PINpad which is fortified with all the necessary industry standard certifications. Even more importantly, because the device is connected to the mobile app on your phone, security updates can be sent remotely. This eliminates the need for store-to-store visits as with traditional POS.
Custom solutions
For stores who already have their own custom payments setup, or want to build one, PayPad has an API with which you can easily integrate. If you lack the manpower to do so, PayPad has a team of developers that can help you achieve this. You do not have to scrap your current setup to enjoy the benefits of PayPad
Conclusions
PayPad offers merchants an attractive, simple and useful way for anyone from street vendors to mobile businesses to accept card payments anywhere. For consumers, it is easily one of the easiest and safest ways you can pay for stuff. PayPad is currently available for customers
So far, the only major challenge I can think of would be adoption. Especially on the customer's side. It might take a while to convince them that Paypad is safe to use. However once they use it for the first time, they're bound to love it.
Since its March launch, PayPad has managed to bring over  600 active merchants on board and is available for use with 10 of Nigeria's major banks.
As I mentioned earlier, all you need to start using PayPad is a bank account. You can visit the website to sign up for PayPad now.
If you have any questions or observations, feel free to drop them in the comments section below.