In a world where mobile phones are becoming increasingly commoditised, it takes a whole lot more than random spec bumps and shallow aesthetics, to differentiate from the noisy market. But differentiating is exactly what Nigeria-based OEM, SOLO is doing very well at. SOLO is more than just a mobile phone company. The phones they produce are really an end to a means, which is end-to-end mobile content delivery experience for its users.
The SOLO value proposition is two-fold. There's SOLO Music, with which SOLO Phone users get free access to stream and download music from a library of over 20-million international and local music tracks, directly to, and for the lifetime, of the device. There's also SOLO View, with which users can rent and download Hollywood and Nollywood movies directly to any Android device.
SOLO Global CEO and Co-founder, Tayo Ogundipe is a man with vast experience in the technology and telecoms sector, having spent 20 years in the US where he played huge decision-making roles in companies like HTC and Sony Ericsson. Techpoint spent an afternoon with Tayo Ogundipe, where he took time out from his busy schedule to share his background, experiences and challenges so far, running a disruptive local company like SOLO.
You have quite an interesting track record. According to your LinkedIn profile, you graduated from the University of Ife (now OAU) with a First Class in Accounting, acquired no extra degrees, yet you ended up playing big roles in companies like HTC and Sony in the US. Could you please tell us more about your background?
I actually did start my MBA at Unilag, but I didn't finish it. I was very fortunate to have a First Class in Accounting from Ife. Those days were good; out of college I had offers from Arthur Andersen, PricewaterhouseCoopers, Deloitte, Unilever, UAC, you could just have your pick. My father was a bricklayer, so it wasn't like he made a call or something like that. We had nobody. You didn't need to know anybody. It's amazing; Nigeria used to work like that. Before I finished my NYSC, I had jobs waiting for me. So I started with Arthur Andersen. Then I did my ICAN an got qualified as a Chattered Accountant.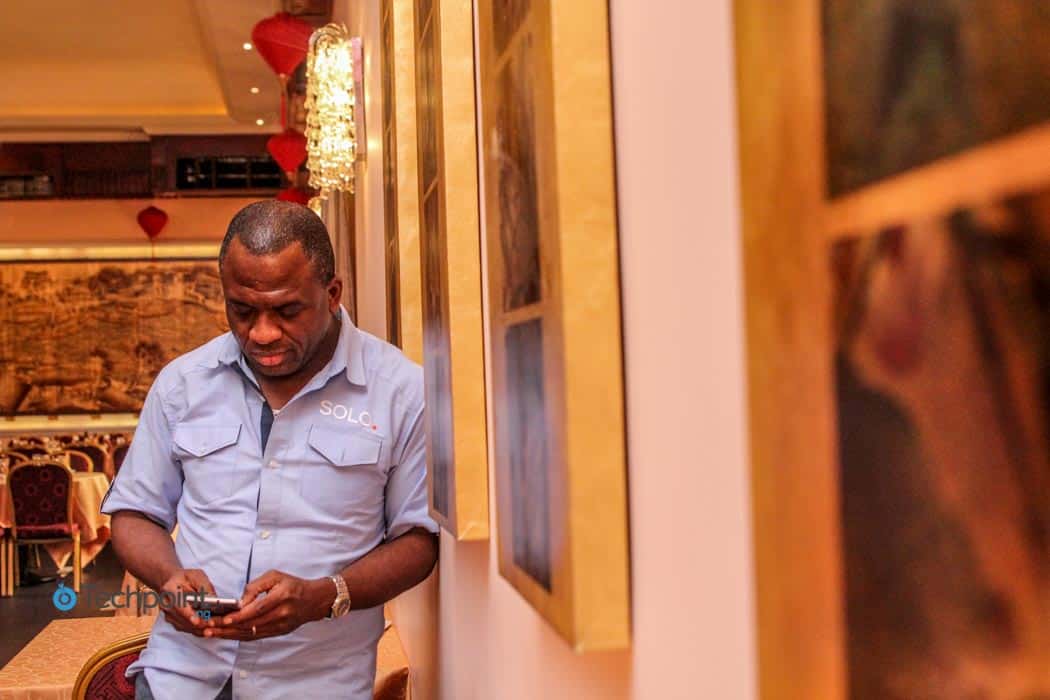 We were all bored and we thought, okay lets do an MBA. So we sat for an MBA test - nobody took it seriously - results came back and I was number one on that list. So I got into the MBA class, I wasn't a serious student, but I was passing everything until it was my final project and I didn't show up [laughs].
Before I left Arthur Andersen for The States in '95, my boss, Funmi Agusto, and I started a financial consulting company called IBFC (now Alliance Consulting). That was round '91/'92. Between Arthur and IBFC, I spent a few months at Citizen's Bank on the Credit Analysis side. In The States, I didn't go back to school, I just did professional exams. I did my CPA, I'm also a CFA Chartered holder. I'm really a finance guy but I just got lucky to stumble into technology, starting with Comcast Wireless in '98 and I've been in the industry since then.
But like you said, you were a finance guy so, how did end up on the telecoms side of things?
When I joined Comcast, I was actually in business development. I was more of a financial analyst in marketing so I did a lot of case studies. I once developed a business case for expanding Comcast Wireless, primarily in the central part Pennsylvania. As I was wrapping up that project, SBC acquired Comcast Wireless. They pulled me out of marketing, to go head financial analysis and planning for the entire region. I did that for a while, I mean it was a fun, great company to work for but, the SBC corporate function was in Texas. At that point in my career, I saw myself more as a corporate finance guy than an accountant. I liked working in corporate roles, because of the ability to influence decision making.
Interestingly, the former CEO of Comcast Wireless, following the SBC acquisition decided to go start his own business to start a company called Ubiquitel, which was an affiliate of Sprint. We operated under the name Sprint so customers did not even know that we existed. But we (Ubiquitel) were a fully fledged operating company. We had about 10 to 15 million of US population covered. I joined as the only finance guy on board, helping to coordinate with the senior management. We built the network from the ground up. That was back in 2000*. Tremendous exposure, I learnt a lot in the process. I loved living in the US, I can't lie to you. I'm glad to be back home now.
That was my second startup experience and one of the lessons I learnt from that is if you focus on fundamentals and with a little bit of luck, execution and discipline, you find ways to weather the storm as they come. It just works out. It's that staying power that is key.
Tell us about the SOLO story
In a very funny way, our go-to-market is the exact inverse of what the SOLO value chain is about. We are primarily about the digital content and services. That's really our end game. We are in the business of acquiring subscribers, not in the business of selling phones. But we're also of the view that, there's that necessary tension between the vision you have and where the market is. So you gotta meet people where they are, while at the same time trying to pull them towards the direction you want to go, otherwise, you're banging your head against the wall.
The reality of today's market is that nobody wants to pay for music. Because, the way the industry evolved, especially the digitization of music, it came a bit late through different people finding ways to partake in an industry that used to be control before. So you have all sorts of people are taking assets legally, and in most cases illegally, and putting it online for free. Because they look for other ways to monetise it, not by selling content, but by trying to push things like ads. They get paid through the ads while they're using other peoples' assets to make money. When you see the reality of the environment for what it is, the choice is between free and not free. Free wins.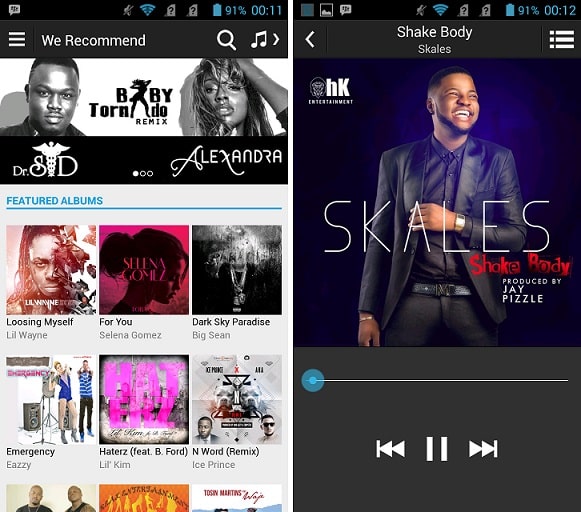 People are aspirational by nature so circumstances force them to consume music for free. But if they can get an iTunes experience, they would rather have that than this pirated site experience. The question is how do you bring an iTunes level experience to the table in an environment where people are extremely reluctant to pay for it? That's when we decided to work backwards and ask, what will people pay for today? A phone. Why? It's not just vanity, it's not just a lifestyle tool, it's a utilitarian tool. It's a survival tool. It's a productivity tool. So they're going to spend money on it anyway. So how do I then leverage that to deliver the experience they want, without coming across like I'm competing against free? So that's how we started building the ecosystem around it. That's where the hardware comes in.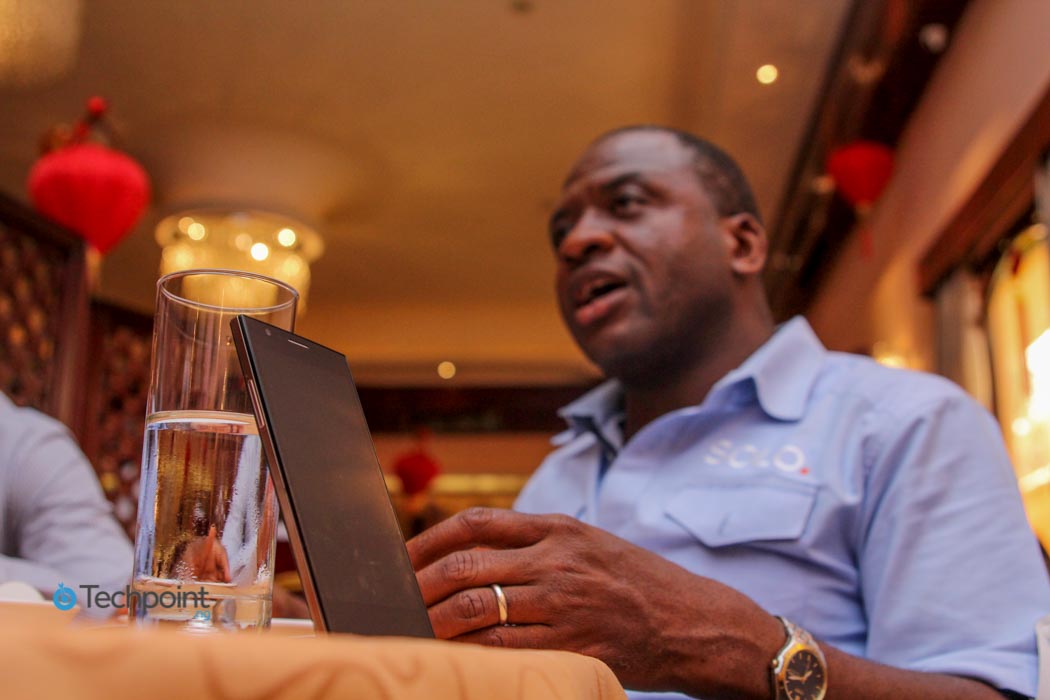 So for us when we say the hardware is a platform for content distribution, it's not a throwaway line. It's really what we believe. That's the SOLO story and we're very proud of that. The market understands that. We truly believe we are adding value and we believe this is just the beginning of what could be an amazing journey as technology evolves.
You obviously have massively relevant experience doing what you're doing at SOLO. But we can imagine things are a lot harder here than they were in the US, considering the peculiarity of the market. Could you share any of SOLO's challenges so far?
Honestly there have been more pleasant surprises than challenges. Keep in mind we are a content and services company that find ourselves in the hardware space because of the experience we want to deliver. One of the interesting dynamics of SOLO as a company is how do you stay true to your mission of content and still deliver on the hardware space, be effective at it, without suffocating your mission? Of course, when people hear hardware, they panic. Coming in, there had been all sort of talks - "distribution is a though thing", "it's almost a cartel, you can't break in". We were very successful walking into the SLOTs and all the big guys. They all carry our products, enthusiastically for that matter. It's a pleasant surprise, we are very excited about that.
However, the biggest challenges are less about Nigeria. They are about the environment of a developing economy and the structure of the business we do. There have been shocks along the way at the macro level. Obviously the most recent one and in fact the most pronounced one, because of the hardware side of what we do, will be the exchange rate situation. That's very disruptive to everybody including us. In our first year, we witnessed at least 2 major strikes at the ports that had significant impact on a startup like ours. But those kind of things are to be expected in this part of the world.
There's lots of interesting content on SOLO Music and SOLO View. I'm particularly impressed by how much the SOLO Music library has grown in the space of the past year. Obviously, considering the nature of the content delivery - download over streaming - even with the DRMs in place, there must have been a lot of convincing the big international labels like SONY and Universal to lease their content. How did SOLO manage to get them on board ?
That's one of the advantages SOLO brings to the the table. We are proudly Nigerian but we have international exposure. A lot of these relationships were built over the years, in the course of other stuff we've done. As I also said, we don't hesitate to bring in partners that will make our proposition richer. So our technical partner for example, with the DRM technology and everything, is a partner that these studios know and have worked with in the past. So that's what we do, we go look for the right kind of partners. It's about them believing in us and our go-to-market approach and looking in our partners and saying, okay we believe in them as well. So it's a combination.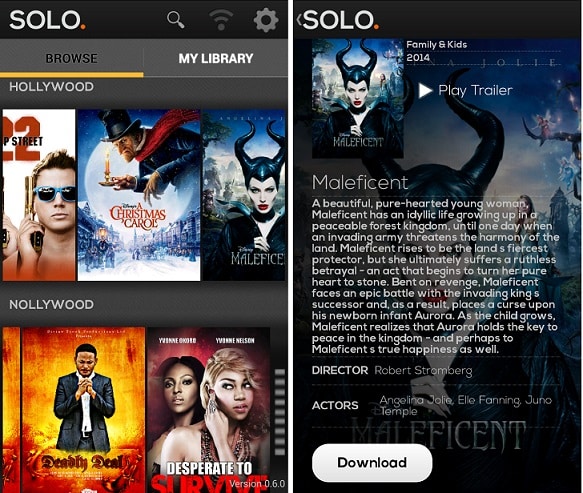 Solo View
SOLO has got an impressive value proposition, especially with SOLO Music. However, on the marketing side of things, it's not getting as much attention as it deserves. Is this intentional?
The reality is that it's a noisy place out there and brand awareness takes time. But again, if we go back to what I told about what SOLO is about - an experience company - our story was not really complete until we launched SOLO View. For the first time we think we have a story to tell about who we are as a company and the experience we're trying to push. Until you scale your distribution to a level that makes sense, spending a lot of money on marketing when people can't find your product is a waste of money. You gotta be smart when you're a startup, pick your battles.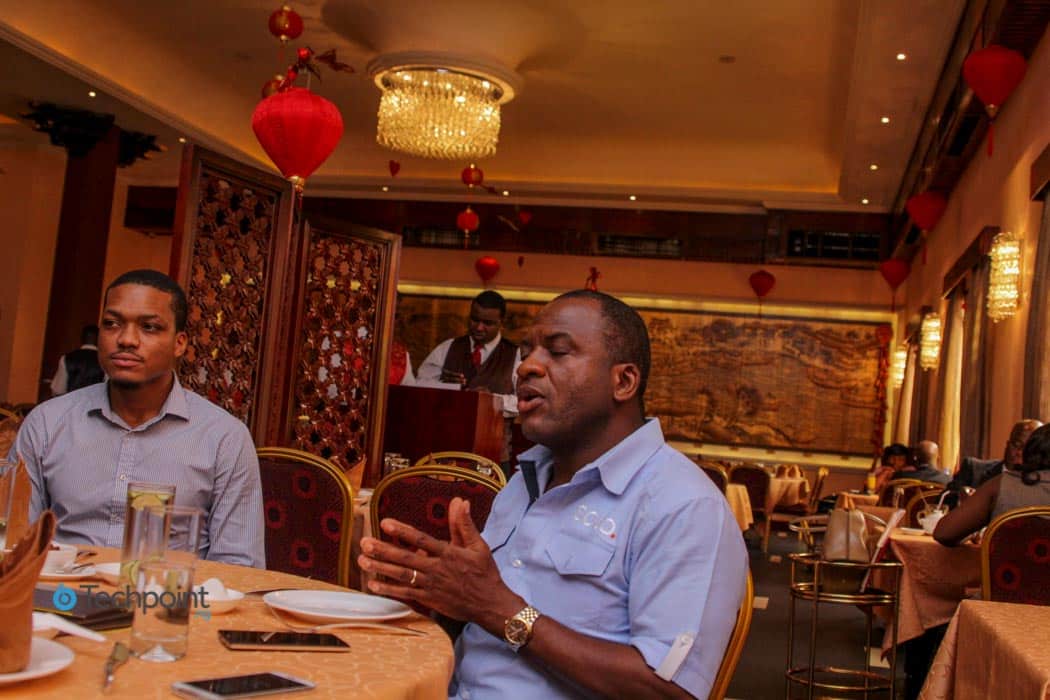 The Airtel deal was not an accident. Since we cut that deal, they've been marketing it heavily on multiple channels. Even if we had all the money in the world, we have to be very cautious in the first year, how much we spend on branding because, it's not about flash. We've seen brands that come, make a big splash, everybody knows the brand but nobody has ever seen their phone, and then they're gone. That's not the way it works. There is a sequence to this: you launch your product, you build distribution behind it, you complete the experience and then you make noise around it. So we know we're not well known enough but that's okay because we're just starting. This is not a sprint for us, it's a marathon. It doesn't mean that we have to wait forever to get these things done, but you need to get the critical pieces in place otherwise you're not really building brand equity. You're just making a little bit of noise and wasting funds.
Speaking of branding, you guys chose to make base right in the heart of the chaotic Computer Village. What informed this choice?
If we are going to do hardware, let's do it right. We didn't just sit in the states, put a business plan together and say we're going to go school people in Nigeria. No, we're not that stupid. Dolapo and I came here for at least 3 or 4 rounds of extensive consultation around Computer Village before we launched. Months before we launched, we talked to people and at the end of those consultations, some things became clear about the critical success factors that keep people around beyond the flash. For example, this issue of service centres is huge. Because if you're going to commit people to put their money and bet on a brand they never heard of, they have to know that should something go wrong, they can find you.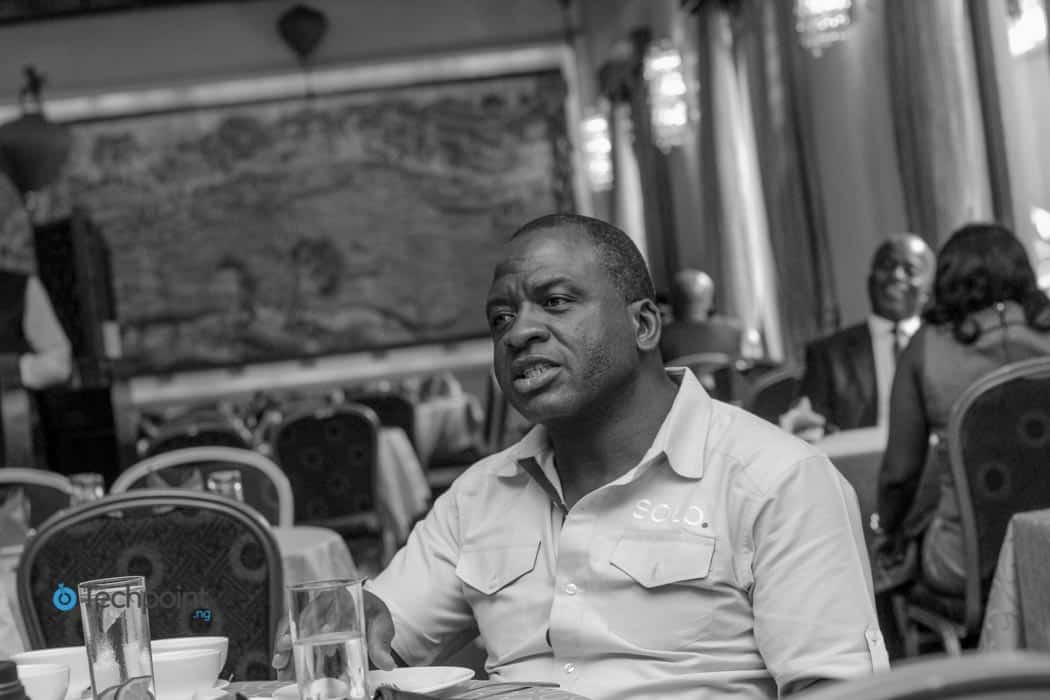 So the very first office SOLO had in Nigeria was the Service Centre in Computer Village. We didn't even have an office to work from at all, until we found out the space in the next building across was available, which we then took as our office.
The Service Centre in Computer Village was the starting point. The next step was distribution - people have to be able to find our products. There's a whole lot of brand equity you can build that are not as flashy, but they are enduring. I've been all over the country meeting with our dealers in the East, the South and in Abuja. I know all our dealers and have a good relationship with them. I've worked into stores in Port Harcourt, Enugu, Awka and the guys there tell me, "I've been wondering when you guys will come here. I saw your stuff at SLOT when I went there in Lagos". Brand equity is not just about TV splash. It's about these little ingredients you put together that add up to the totality of what you are.
Finally, what's the vision for SOLO in the next 3-5 years?
SOLO was setup, and is still committed, to be an emerging market play. We proudly started in Nigeria first because it's home. Also, more importantly, it just makes sense. The reality is that sentiments aside, if you look at the emerging markets globally, there are very few markets that offer the kind of opportunities that Nigeria offers. If you look at the mixture of the size, where we are in our development, the potential by default and the level of opportunities that exist, Nigeria stands apart because many of the other countries are farther ahead.
If you want to do an emerging market play, you look at the size of Nigeria, where we are and opportunities ahead. Nigeria is actually one of the most fertile markets you can choose. So even if I wasn't Nigerian and I was objectively looking at the opportunities, Nigeria would be a logical starting place. Coming from here obviously makes it an added advantage. However, we are not about just Nigeria , we are an emerging market play with Africa being our starting point.
So the vision is a SOLO that is at least Pan-African. Maybe even outside Africa into other emerging markets, with our content play as the defining story of SOLO. The dominant metrics for measuring our success is a very strong subscriber base, beyond the media content that we have today. Today we have music and movies but there's a lot more coming. Over the next five years there will be tons of content in all verticals - education, healthcare, etc. Our vision is to play a leading role in bringing those incredible experiences to the digital platform in emerging markets. staring in Africa.
*Ubiquitel ended up being sold back to Sprint about 3 years later, at over 10 times the original valuation*