Key takeaways:
Airtel Nigeria has recorded its biggest revenue decline in the past 22 quarters.
While MTN had a consistent rise in revenue, profit before tax (PBT) plunged by 71% in Q2 and 28% in Q3 2023.
The financial performance of these companies can be attributed to the economic situation of the country.
On the surface, MTN and Airtel's financials released on October 30, 2023, aren't anything out of the ordinary. Both companies reported an increase in data subscribers, mobile subscribers, and mobile money users.
They also highlighted losses. MTN, for example, reported a 42% decrease in profit before tax (PBT). For context, it made ₦400.6 billion ($500.7 million) PBT according to its nine-month financial result for 2022. In the 2023 results, PBT dropped by ₦168.2 billion ($208.3 million) to ₦232.4 billion ($287.7 million).
Airtel Africa's PBT result for the half-year 2023 was much worse, it dropped by a staggering 97.7% — from $516 million to $12 million —compared to the results from 2022.
Although data on its profit in Nigeria is not available, it's safe to say the country played a major role in its revenue drop as it is one of its largest markets.
While it's apparent that MTN and Airtel suffered a significant financial decline in 2023, a comparison with previous years puts the losses in perspective.
Airtel and MTN's financials in the past 18 quarters
Looking at Airtel's revenue in Nigeria since Q2 2018, the telco has consistently grown its revenue over the years.
The only time there was a drop in revenue between quarters was in 2020 when revenue dropped from $377 million in Q1 2020 to $341 million in Q2 2020. This $36 million drop in revenue is nothing compared to the decline seen in 2023.
Airtel's revenue dropped every quarter in 2023.
Its revenue for Q1 2023 was $543 million, a $2 million drop compared to the previous quarter — $545 million in Q4 2022. By Q2 2022, the drop in revenue increased by $15 million, from $543 million to $528 million.
Q3 2023, however, had the largest revenue decline of the year.
Airtel saw a $178 million drop in revenue to $350 million.
Interestingly, a year-on-year comparison of the quarters indicates revenue growth. Revenue of $543 million in Q1 2023 was a $36 million gain from $507 million in Q1 2022. $528 million in Q2 2023 is also an $11 million gain from $517 million in Q2 2022.
However, the same cannot be said for Q3 2023 which was a $173 million decrease — $523 million in Q2 2022 to $350 million in Q3 2023 — from Q2 2022.
In fact, Q3 2023 revenue is lower than all the revenue Airtel recorded in the past 12 quarters.
MTN's revenue, on the other hand, has seen growth throughout the years, its PBT, however, has been on a downward trend this year.
MTN's Q3 2023 PBT of ₦32 billion ($39.6 billion) is lower than its PBT in the past 19 quarters. This means its Q3 2023 PBT is lower than what it has been recording since 2019.
Why 2023 hasn't been a great year for MTN and Airtel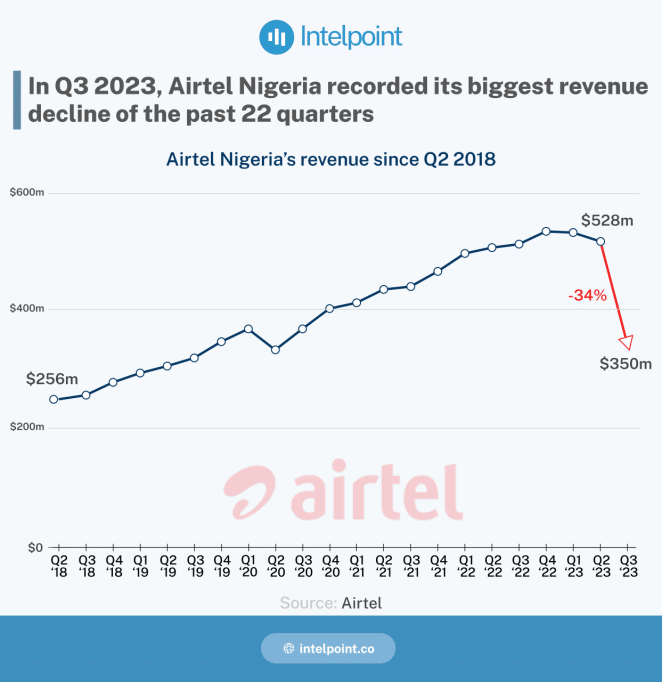 The year 2023 has been a tumultuous year for many businesses in Nigeria. Commenting on MTN Nigeria's financial performance, CEO Karl Toriola said the first nine months of the year have been a tough one for the telco.
He highlighted the devaluation of the naira and the high inflation rate as some of the reasons for the company's financial performance.
Devaluation of the naira
The devaluation of the naira had the biggest hit on Airtel and MTN's financial performance in Nigeria. MTN said the 68.5% upward movement in the exchange rate from ₦461/$1 in December 2022 to ₦777/$1 at the end of September resulted in a higher cost of doing business. Beyond increasing the cost of doing business, MTN recorded a forex loss of N232.8bn on its net foreign currency liabilities.
This is 157% higher than than the forex loss of ₦27.9 billion ($34.5 billion) that it had in the same period in 2022.
Airtel's forex loss also caused a significant decline in its PBT across all its markets in Africa. The $471 million finance cost caused its PBT to decrease —$ 516 million to $12 million — by 97.7% compared to its six-month result released in 2022.
High inflation
Inflation in the country is currently at an all-time high of 26.7% since 2005. This high inflation rate increased operating expenses for MTN by 34% — $427 million to $575 million — between 2022 and 2023.
Energy cost was one of the major drivers of MTN's operational expenses. While it didn't reveal how much, Business Day reported in 2022 that the telco spends ₦10 billion ($12.3 million) on electricity monthly.
Airtel, however, did not reveal any operational expense incurred in Nigeria.
Introduction of VAT on tower leases
Another reason for MTN's declined PBT is the introduction of value-added tax on tower leases in the Finance Act 2023.
MTN announced in September 2023 that its tower operations will be run by the Nigerian subsidiary of the American Towers Corp. (ATC) from 2025, taking over from IHS Towers.
From the VAT on tower leases to electricity expenses, MTN said, its balance sheet remains strong with sufficient headroom to withstand macro volatilities."
Airtel, however, said the devaluation of the naira will cost it $900 million to $950 million in annualised revenue.