Get ready to be wowed as the countdown to the Modern Workplace Africa Conference (MWAC) continues! Our speaker lineup is not just amazing; it's downright extraordinary. At MWAC, we're on a mission to cater to all facets of the workforce, whether you're an employer, recruiter, talented professional, or job seeker. Our goal is to drive positive progress in the future of work across the continent, leading to happier and more productive workplaces.
Meet some of the stellar speakers who will be at the forefront of transformative sessions during the conference.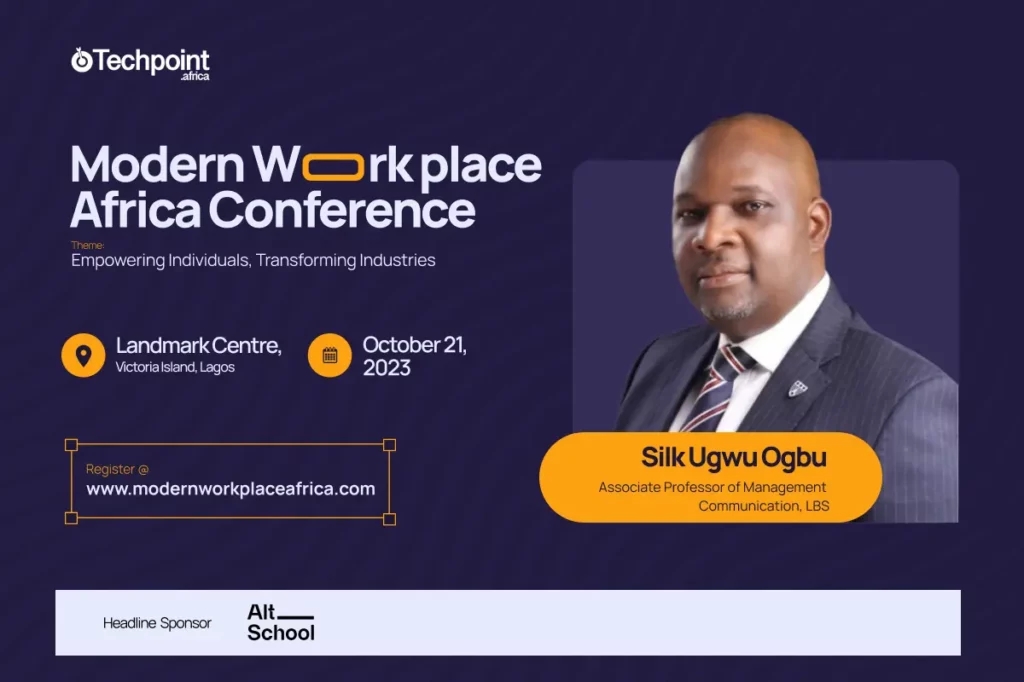 Silk Ugwu Ogbu
Associate Professor, Management Communication, Lagos Business School
Silk Ugwu Ogbu is an associate professor and consultant with extensive teaching and research interests in management and communication.
He obtained his first degree, a B.Sc. in Political Science, from the University of Calabar in Nigeria. Since then, he has earned three Master's degrees and three Doctorate degrees in the following fields and specialisations: political science (international relations), marketing (public relations), and public administration (human resources management).
His many research and consulting interests cover the areas of management communication, political communication, conflict resolution, negotiations, marketing strategies, leadership strategies, public communication, development communication, branding and brand management, stakeholder engagement, and relationship management.
Before joining academia, he was the managing director and CEO of five companies across Nigeria's private and public sectors. He has over 25 years of top managerial experience and consults extensively in the industry in his many areas of expertise. He teaches at the Lagos Business School, Pan Atlantic University, Lagos, Nigeria.
Silk will be speaking on the topic "Leading in the Age of Remote Work: Effective Leadership for Dispersed Teams" at a masterclass session in the executive lounge. Want to be part of that session? Get your executive masterclass tickets here.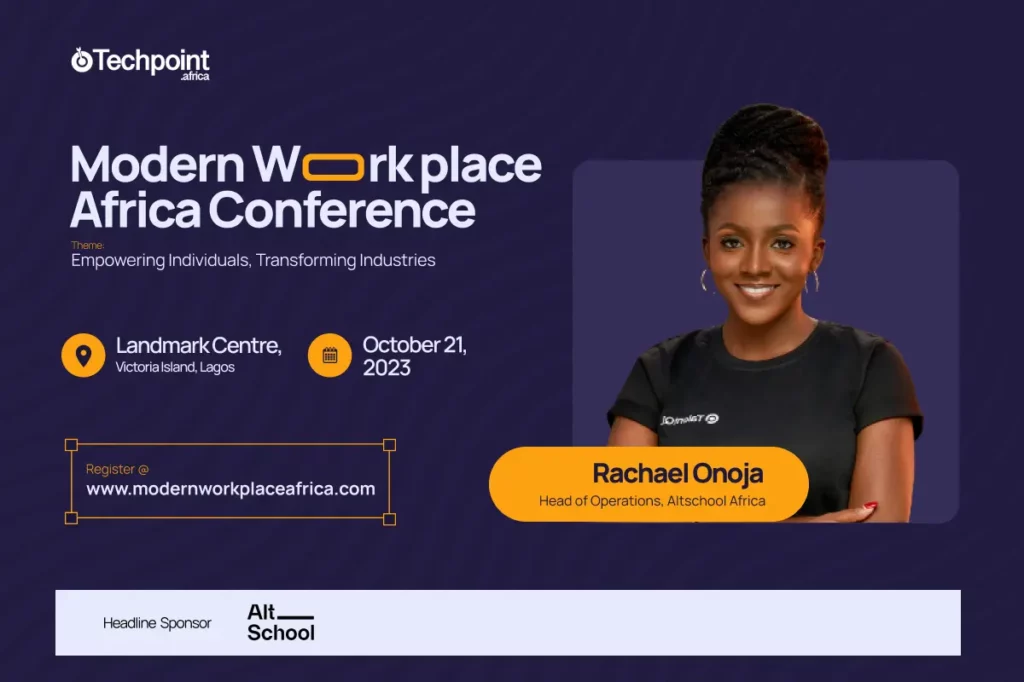 Rachael Onoja
Head of Operations, AltSchool Africa
Rachael Onoja is the Head of Operations at AltSchool Africa. Passionate about providing access to opportunities for people through learning and career management programmes, she advocates for equal, quality, and accessible education. She is driven by the need to ensure that every African has access to future-proof, marketable skills.
She has made great strides in her work with the Pipeline by TalentQL programme, empowering intermediate software engineers to become world-class engineers. Several graduates of the programme have received salaries that are 5-8 times higher than their previous salaries.
She successfully led the launch and execution of multiple cohorts of the diploma programmes at AltSchool Africa across three schools. In her previous role at Decagon, she led developer placement activities, and at the Andela Learning Community, she managed all of North-East Nigeria and some East African communities.
In addition to supporting businesses in delivering skills empowerment value to their stakeholders, she has volunteered for communities such as Women Techmakers, Google Developers Group, and Developer Circles from Meta.
Rachael will be speaking at the session tagged "Preparing Africa's youth for the jobs of tomorrow."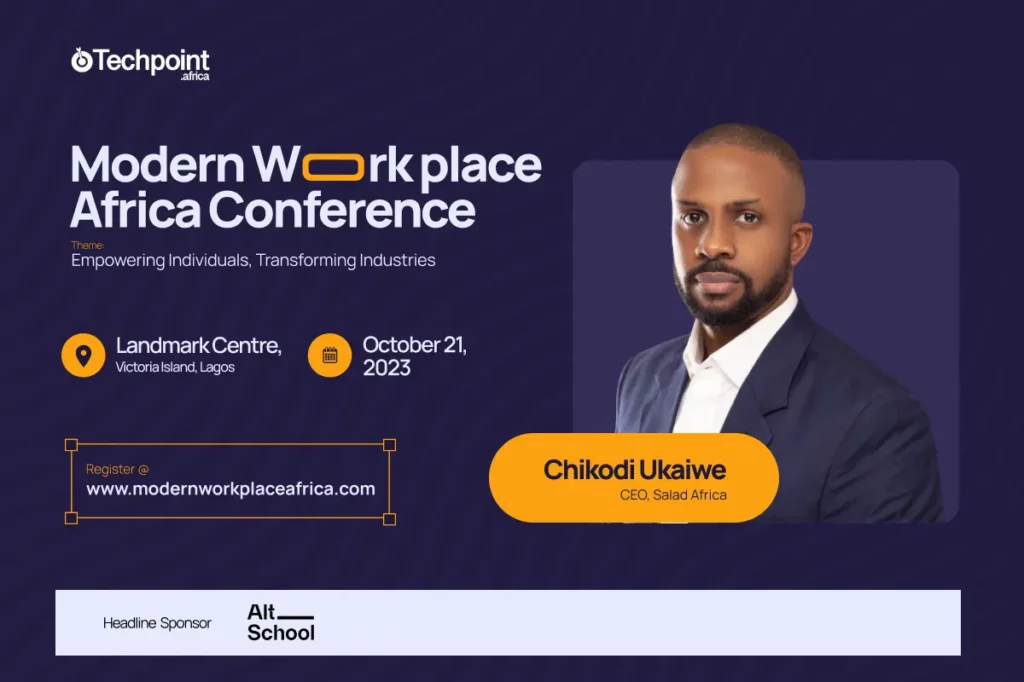 Chikodi Ukaiwe
CEO, Salad Africa
Chikodi Ukaiwe is an impact-focused entrepreneur looking to accelerate Africa's economic growth via technology and financial inclusion, with a particular focus on small and medium enterprises (SMEs) and their employees.
Chikodi began his career in banking, which served as his introduction to the world of finance and technology, but it wasn't until he delved into the world of e-commerce, where he was fortunate enough to work closely with merchants, startups, and other small businesses, playing pivotal roles in companies like Jumia and Konga, that he understood the glaring gap in access to financial services and productivity tools that burdened Nigerian businesses and the everyday Nigerians that work for them.
In response to this pressing demand, Chikodi founded Salad Africa in 2022, providing financial services and benefits to Africa's workforce. Salad empowers African workers with tools to access, save, and manage money and enables their SME employers with software to pay salaries and manage employees.
He will be speaking at the panel session on the HR Fest stage titled "Harnessing technology for a healthier workplace."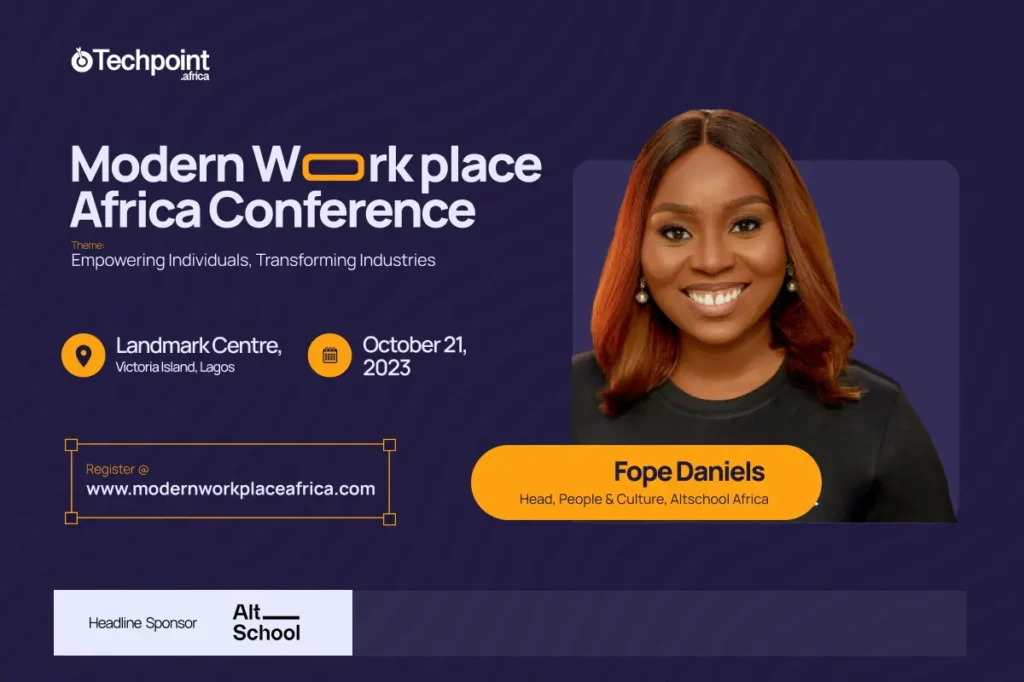 Fope Daniels
Head, People & Culture, Altschool Africa
Fope Daniels is a People Manager Extraordinaire with more than seven years of experience enabling people and businesses for growth and development across consulting, venture-backed start-ups, digital mobility, logistics, and e-commerce.
A global talent manager with demonstrated experience recruiting top tech and non-tech talents across industries, cultures, and experience levels; keen on aligning talent management strategies to the business strategy by leveraging data, digital technology, designing thinking, and employer branding concepts.
She has well-built HR strategy muscles and vast knowledge of people operations, with core expertise in organisation and culture design, talent management, performance management, and employee engagement, while leveraging design thinking, technology, and data for a people-centred and high-performing organisation.
An employability strategist and SDG 5 and 8 advocate who believes everyone has 'greatness potentials' that can be harnessed and refined given the right learning tool and growth environment. She is passionate about conversations around employer branding, candidate/employee experience, humane workplace practices, diversity, and workplace digital skills.
Fope will be joining other panellists at a panel session titled, "Harnessing technology for a healthier workplace."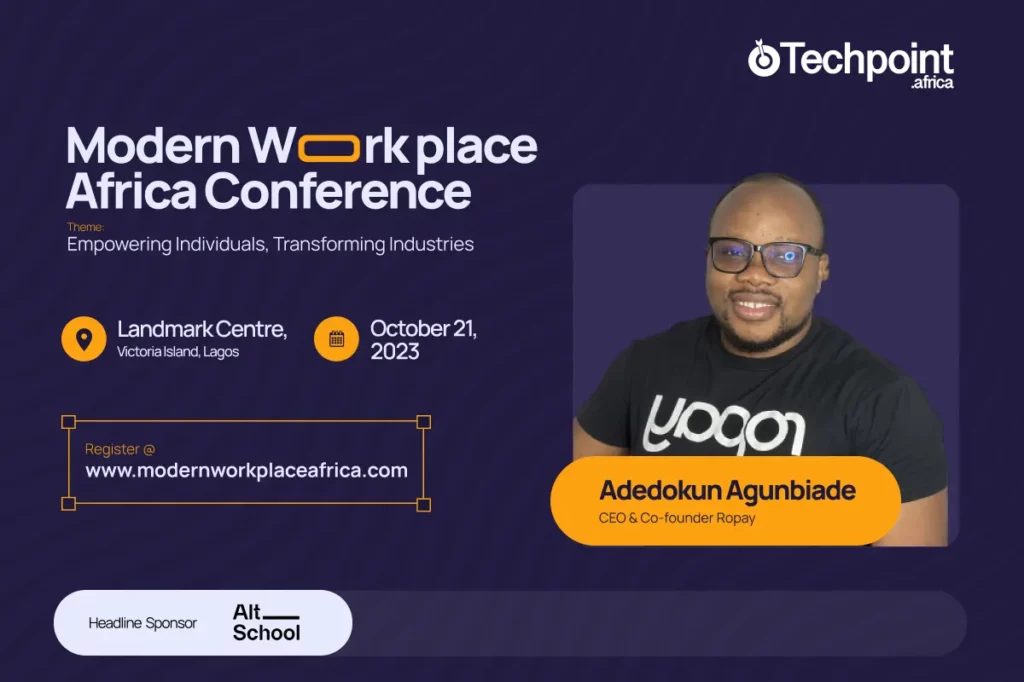 Adedokun Agunbiade
CEO & Co-founder ropay
Adedokun Agunbiade is a visionary entrepreneur, financial analyst, and tech whiz who is on a mission to revolutionise the way businesses operate in Africa. As the co-founder and CEO of ropay, a leading payroll and HR software company in Africa, Adedokun is helping thousands of businesses streamline their operations and save time and money.
Adedokun is a financial wizard with over 10 years of experience in the field. He is also a highly skilled accountant, financial modeller, data analyst, product manager, and software developer. Under his leadership, Ropay has become a leading payroll and HR software company in Nigeria, helping over 500 businesses save millions of naira in payroll costs!
Prior to starting ropay, Adedokun was the CFO of Whogohost Limited; he co-chaired the structuring of the company and formed part of the inaugural c-suite of the company.
He managed finance, accounting, billing, human resources, and other corporate functions. He developed financial technology tools that helped the operations of Whogohost Limited.
Adedokun is a passionate advocate for the African tech ecosystem. He believes that technology has the power to transform Africa, and he is committed to using his skills and experience to help African businesses succeed. He is often heard saying that he is "building the next African unicorn," and his vision for ropay is to create a one-stop shop for all HR and payroll needs for African businesses.
He will be joining other panellists at a panel session on the HR Fest stage to discuss the topic "Harnessing technology for a healthier workplace."
Chidi Odoemenam
Senior Legal Associate, Rendeavour Nigeria
Chidi Odoemenam is a Senior Legal Associate at Rendeavour Nigeria, where he is focused on projects and infrastructure, utilities (power, gas, water, and ICT), and general business and commercial law matters.
He specifically provides commercial law support to the infrastructure rollout plans at Alaro City, a mixed-use, integrated city being developed by Rendeavour in partnership with the Lagos State Government on 1,000 hectares of land in the Lekki Free Zone.
Prior to Rendeavour, Chidi worked with the corporate finance team at Aluko & Oyebode, where he advised on mergers and acquisitions, capital markets, and finance matters, and completed a secondment at Slaughter and May.
Chidi will be speaking on how to become a lifelong learner and guiding the audience on ways to separate themselves from the pack at a fireside chat on the general stage.
You can head over to modernworkplaceafrica.com to register and get the opportunity to learn and gain access to these speakers and others at the conference.
Also, we are offering a massive 63% discount on the Executive and HR Fest tickets in celebration of Nigeria's 63rd independence. Take advantage of this offer by applying the promo code NIGERIA63, as it ends soon.
See you at the conference!