After years of unemployment, Sola Nelson decided to become a LagosRide driver. But one month after getting his GAC SUV, Nelson decided to return the car. When I asked him why, he said, it was the biggest mistake he'd ever made.
I spoke to several LagosRide drivers who feel the same way. A recurring theme in my conversations with them is "modern slavery." They feel they are slaves on the ride-hailing platform and call desperately for the Lagos State Governor, Babajide Sanwo-Olu to come to their aid.
Governor Sanwo-Olu launched LagosRide officially in March 2021 as a way to improve mobility and create a multi-modal transportation system for Lagosians.
During the launch, Sanwo-Olu said, LagosRide is "one of the State Government's socio-economic intervention programmes, which will be professionally managed in line with global best practices."
However, many drivers believe LagosRide's management is far from professional.
LagosRide is run differently from other ride-hailing platforms like Bolt and Uber. If you live in Lagos, there's a good chance you have seen LagosRide-branded GAC SUVs and Saloons.
Unlike Bolt and Uber, LagosRide uses a lease-to-own model where drivers get one of these cars after a ₦700,000 ($933) down payment.
LagosRide's drivers' issue with the platform stems from its lease-to-own model. The down payment was initially ₦1.5 million ($2,000), 20% of ₦7.5 million ($10,000) — the total cost of the car — but according to Tumi Adeyemi, CEO of Zeno, LagosRide's technology service provider, the price was reduced to ₦700,000 after many interested drivers could not afford it.
Even at ₦700,000, the down payment was still too high for many. This led LagosRide to employ a partnership scheme.
Unfair partnerships?
Like many drivers, the partnership scheme was the only way Nelson could have gotten a vehicle because he could not afford the down payment.
The partnership arrangement is simple. A partner makes the ₦700,000 down payment on behalf of a driver. The driver works with the car, makes the ₦9,500 ($12.67) daily payments, buys fuel, and shares whatever is left with the partner, with the driver typically getting 60% and the partner getting 40%.
The worrying part of this arrangement, however, is that after paying ₦9,500 every day for four years (₦10,368,000 [$14,038]), the driver still doesn't own the car. The car is owned by the partner whose only investment is a ₦700,000 down payment.
"We have a ₦43,970 ($59.54) daily target to meet. From this target, we pay ₦9,500 for the car. We buy data and petrol, we make repairs, and still share money with partners. Sometimes I have to borrow money to make these payments. Then I wonder, what's really my gain," groaned a driver who pleaded anonymity.
Nelson was in the same situation and decided to return the SUV he was given. He was already in a mountain of debt over a job that was supposed to feed him.
But feeding wasn't his only worry. Many of the drivers I spoke to had families to support and meeting targets was hard.
Being a relatively new platform, some drivers said it was difficult to get requests. The increase in petrol prices also didn't help matters.
Nelson got his GAC SUV in May 2023. On his first day, he made ₦15,000 ($20.31) because he was still learning the ropes. But before he could hone his skills as a ride-hailing driver, the price of petrol rose to over ₦500 ($0.68) by the end of the month.
"It was like war, but I was still pushing it, trying my best to meet my target, but things got too difficult."
The signs were there
"LagosRide started the scheme when many drivers were unable to afford the down payment," Adeyemi recalls, "We allowed partners and drivers to agree on a revenue-sharing formula, which we think should be fair."
But it wasn't fair.
"The biggest mistake I made was getting LagosRide through IOS," Nelson groaned.
IOS Global Logistics Limited is a third-party logistics startup that connects vehicle owners to drivers. It also connects LagosRide partners with drivers.
A driver connected to a partner through IOS sent me a copy of the IOS-Driver agreement.
To get a LagosRide vehicle via IOS, interested drivers pay a non-refundable fee of ₦10,000 ($10.34) for the cost of driver nomination and a background check. The driver is entitled to "60% of daily sums net earnings (after deductions of all relevant expenses.) Whilst the company shall be entitled to 40% of daily net earnings to be remitted to the owner of the vehicle (after deductions of relevant expenses)."
The agreement also states that the vehicle given to the driver will remain the property of the company (IOS) "or that of the owner to which the company serves as a manager."
But why did the drivers sign an agreement that clearly says they will not own the cars after they complete payment?
Desperation! Desperation that partners conveniently exploit.
However, exploitation was not part of the plan when LagosRide created the partnership scheme.
Adeyemi explained that LagosRide was only taking advantage of a similar existing arrangement between Professional E-hailing Drivers and Private Owners Association of Nigeria (PEDPAN) and IOS.
"That association already had a thriving community of partner-driver relationships coming from Uber and Bolt."
This reassured LagosRide of fair partnerships between partners and drivers. Adeyemi, however, admitted that the partnership scheme has resulted in "unwanted outcomes."
Fun fact: The CEO of IOS, Idris Shonuga, is also the President of PEDPAN. Although a report from ICIR shows Shonuga was removed as president in 2022, he was recognised as the president of PEDPAN and CEO of IOS in a CNBC Africa interview in July 2023.
LagosRide is not privy to arrangements between partners and drivers, but Adeyemi said the platform is "now working behind the scenes to ensure that we review our entire product system." This review will lead to what he calls LagosRide version 2 — a way to ensure that "stakeholders get fair representation and fair compensation."
Why drivers are angry with LagosRide
While LagosRide drivers believe they should be protected by LagosRide from unfair partnerships, some also believe LagosRide is making it easy for partners like IOS to exploit their desperation.
"Corruption has taken over the place," one driver said.
Most of the drivers that spoke to Techpoint Africa, said that getting a vehicle directly from LagosRide is difficult even when you have your ₦700,000 down payment.
They believe the partners have a better chance of getting a vehicle because they pay up to ₦1 million ($1,333); an extra ₦300,000 some drivers would describe as a bribe.
"I went to LagosRide with my ₦700,000, they told me there was no car, but a partner I know personally got a car from LagosRide with ₦1.2 million ($1,624)."
We reached out to the partner in question but he denied the driver's claims, insisting he did not pay more than the ₦700,000 down payment.
So why aren't drivers getting vehicles?
"It is not completely true that the scheme is skewed in favour of the partners. There's a context with which things have happened," Adeyemi explained.
Post-launch, it approached PEDPAN in a bid to onboard its members as drivers. However, many complained that they could not afford the down payment.
Before the partnership scheme, LagosRide partnered with Polaris Bank to provide financing for the down payment which was initially ₦1.5 million. All the drivers needed to do was pay a 20% — ₦300,000 ($406) — deposit on the down payment.
"They were supposed to be direct beneficiaries, they had walked away or they didn't have money. The people that now had money had come into play."
The play was for 1,000 cars which he didn't say had all been paid for. He, however, said it was unlikely that there were any more cars available.
But many drivers believe the cars are still available. One of them showed a video of several LagosRide vehicles parked in one of the company's garages in Lagos.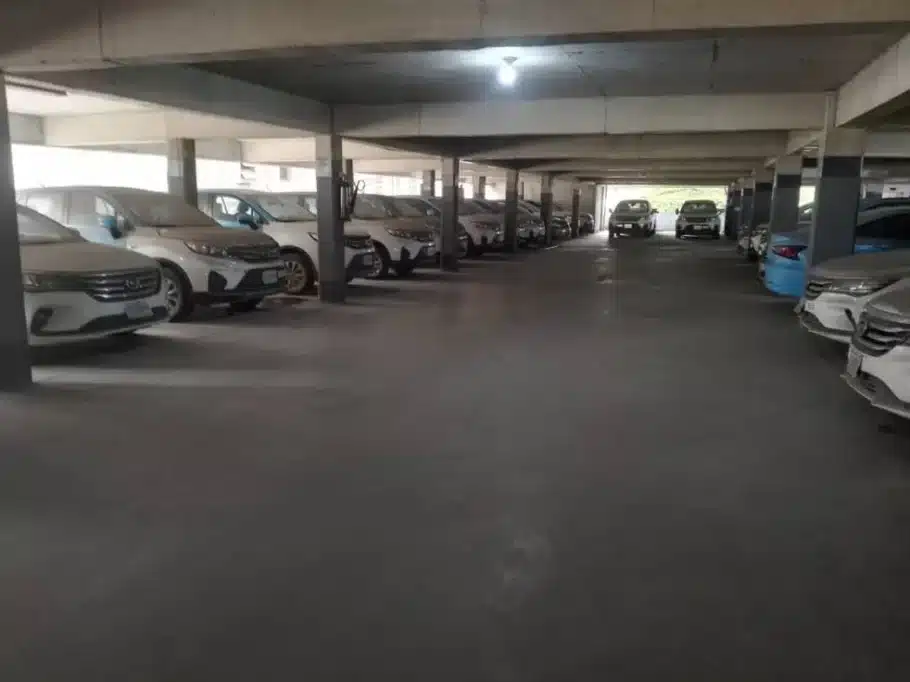 Responding, Adeyemi said those were most likely repossessed cars. But concerning partners paying a little extra to increase their chances of getting a vehicle, Adeyemi reiterated that he is primarily responsible for LagosRide's technology; Ibile Holdings — the investment company of the Lagos State Government — is concerned with LagosRide's operations and allotting vehicles.
Pricing falls within his purview and that is a subject that compounds the already difficult arrangements drivers have with riders.
Like Bolt and Uber drivers, LagosRide drivers want a significant increase in the price of rides. While LagosRide has already reviewed prices, many drivers remain unsatisfied.
According to a message sent to LagosRide drivers, fare prices per kilometre (km) went from, ₦121.5 (0.16) to ₦137.41 ($0.19)/km, about ₦7 higher than Bolt's.
Adeyemi said a ride-sharing feature will be coming to the app that will allow riders to carpool, reduce overhead costs, and increase the earnings of the drivers. But most drivers aren't just looking to earn more, they want to own the cars they've financed for four years.** Dollar equivalent is from exchange rate as of September 11, 2023.