Nigeria's home service industry is hard. Companies like VConnect, KeyaHelp, and Findworka, have tried to proffer tech solutions but have either failed or pivoted to something else.
However, Clickafix, backed by venture studio, Fast Forward, is taking another stab at the market with a different business model.
The model is a ₦24,000 ($31.65) subscription that covers repairs for a year.
It addresses three problems that come with getting the right person to provide home services.
"One, is how do you find dependable artisans. Second, getting down to negotiate the price. The third is the convenience and ease with which you can get an artisan," said Pawan Bhandari, who co-founded the company alongside Arusha Goswami.
Bhandari explained that the ₦24,000 subscription, only covers workmanship and in cases where materials are needed, a separate payment is made. The company gives you two options: buying the materials yourself or requesting a ballpark figure of what it should cost.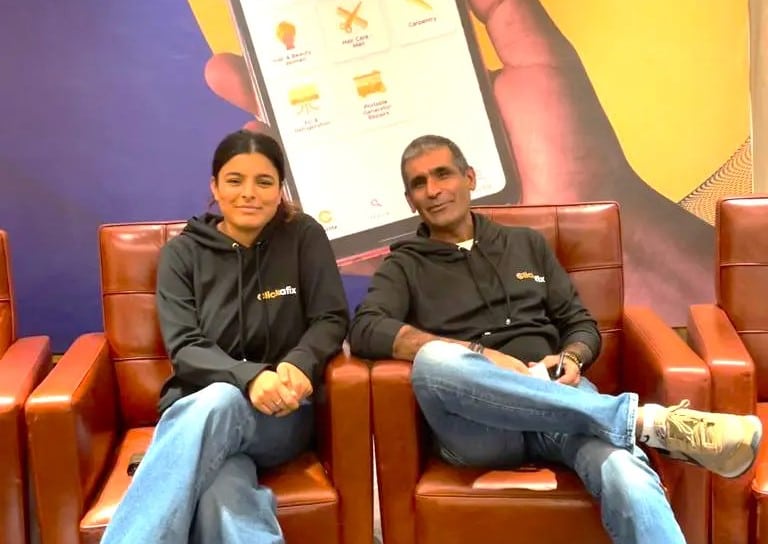 Marketplaces are not sustainable
Early tech solutions in Nigeria's home service industry were either an online directory for artisans or a marketplace that connected customers and artisans.
While these solutions provide you with potential service providers, vetting them and reaching a reasonable price is a herculean task.
However, emerging players like Eden Life and Clickafix have come up with new solutions. Eden Life, which launched in 2019 to digitise home services, also uses a subscription-based model but with less diverse services (Clickafix offers plumbing, electrical work, HVAC services, carpentry, and fixing kitchen appliances) and an average monthly fee of ₦42,000.
Clickafix's lower price is a competitive advantage, however, this subscription-based model does not eliminate the challenges that come with formalising Africa's informal home service industry.
One of them is verifying that the service providers on Clickafix are qualified.
Clickafix has what you can describe as a three-factor authentication model to ensure that service providers on the platform are up to standard.
The startup has a partnership with eight technical colleges in Lagos, chosen based on the quality of the college and the trainers. Selected service providers move to the second stage of authentication — background checks.
These checks involve verifying the service provider's identity and the provision of a guarantor — whose details would also be vetted by Clickafix — by the service provider.
The third stage is a 10-hour soft skill training by Clickafix Academy. This session trains the service provider on dealing with customers appropriately and general workplace ethics.
So far, the three-factor authentication system has worked well for the company as Bhandari reveals that service providers barely have issues with customers.
Beyond that, however, he believes how service providers are treated has a significant effect on their performance.
"We treat them as partners rather than looking at them as a vendor," he said. "If you treat people with respect, they will remain within your ecosystem."
While mutual respect keeps service providers happy, Clickafix still has its hands full trying to win the trust of Nigerian customers.
"It takes time for a customer to do two things: trust a company and change their buying behaviour. This is not a service bought on impulse. It is not like going on Jumia to buy one shoe and you see three other shoes and end up buying three pairs of shoes. It is a very need-based service."
When it's a need-based service, customer acquisition takes longer, Bhandari reveals. He said constant communication with the customer is required when running a need-based service.
How does Clickafix make money from a ₦24,000 yearly subscription?
From lengthy customer acquisition time to constant communication, how does Clickafix make money on a ₦24,000 annual subscription?
Although Bhandari says it's a trade secret, he only revealed that Clickafix's business model is using economies of scale to ensure that it makes money and the service providers are duly compensated.
The startup's unique business model is one of the reasons why Fast Forward — a venture studio with the likes of Bumpa, Chimoney, and Dojah on its portfolio — is backing it.
"We've seen many companies try and fail to crack the home services space in Nigeria. What makes Clickafix truly unique is the strength of the team and their deep understanding of the challenge," said Opeyemi Awoyemi, General Partner at Fast Forward Venture Studio.
Bhandari also added that beyond the investment Fast Forward brings to the startup, the venture studio also understands its challenges and shares the passion of bringing some structure to an otherwise informal market.
Launched in 2022, Bhandari's dream for the startup is to scale outside Africa and outlive the founding team. While he did not share traction figures on account that the company is in its early stages, the Clickafix app currently has over 10,000 downloads on the Google Play Store.
This number could soar as Clickafix is also adding a B2B2C model that'll see it onboard companies that need its solution. These businesses can in turn provide it as a benefit to their employees.
While the new players in Nigeria's home service market are looking to disrupt the space with unique business models, a true sign of success is yet to be seen.
Clickafix's success is dependent on its economies of scale, but if we assume that all 10,000 people who downloaded the app on Google Play Store are subscribed — which is highly improbable — that's a ₦240 million ($316,452) yearly revenue, but will it cover operational costs?