One day in 2015, Uche Ukonu's final year at Covenant University, he had a strong craving for small chops.
He wanted it for himself, but most people who sold small chops around him only took large orders, which would be fulfilled if the order was placed a day in advance.
Wondering why it was so difficult to get small chops, he started asking people if they had trouble satisfying their cravings too.
He found out that if there isn't an owambe or small gathering, getting small chops for yourself was almost impossible. And like that, the idea for Smallchopsng began to form in his mind.
Today, that idea has generated ₦100 million in revenue over the past seven years.
"What started as me craving small chops on demand, turned into me owning a small market share in Nigeria's Quick Service Restaurant (QSR) industry," Ukonu, Founder and CEO of Smallchopsng recalls.
Nigeria's small chops culture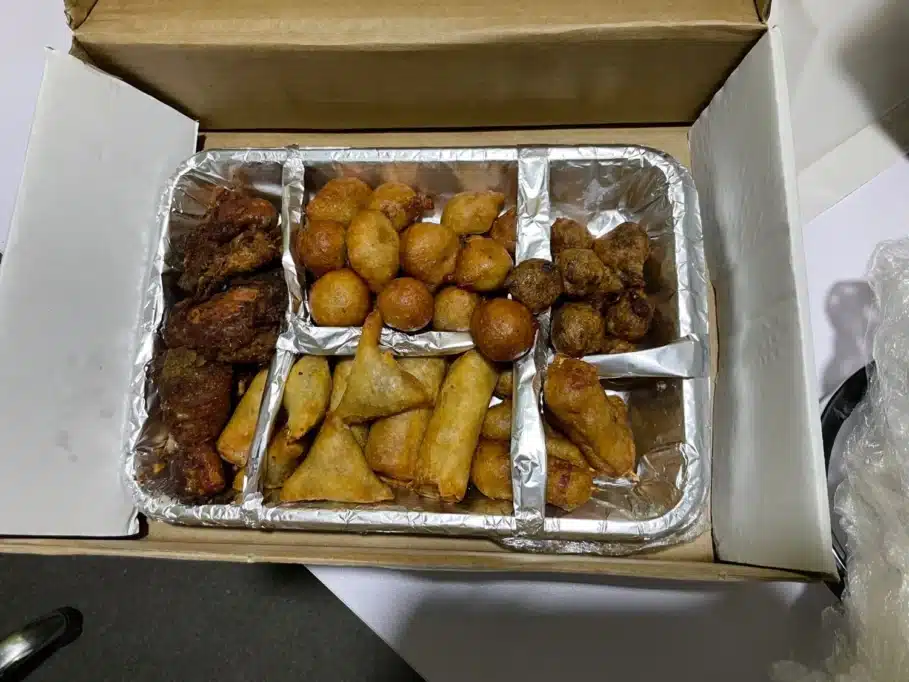 I'm not one to assume, but I'm confident many Nigerians know what small chops are. If for some reason you don't know what small chops are, here's a definition.
Small chops are bite-sized Nigerian snacks usually served at social events like weddings, graduations, or Techpoint Pitch Friday.
Depending on the gathering or who the caterer is, a pack of small chops usually consists of puff puff, samosas, chicken, and spring rolls.
On their own, some of these items are not Nigerian — spring rolls, for example, are from Asia — which makes me wonder if small chops are even a Nigerian snack.
There's a dearth of resources on how the small chops culture in Nigeria began, but this article by Kitchen Butterfly might be on to something.
It traces the origin of small chops to British colonialism in the 1950s. Back then it was anchovies on toast and devilled eggs, but over the years it began to evolve, influenced largely by Indians and Chinese professionals who came to the country for various reasons.
Small chops are essentially a fusion of British, Indian, Chinese, and Nigerian cuisines that have become an essential part of what Ukonu describes as the Nigerian party culture.
It is within this party culture that Smallchopsng's main competitive advantage lies.
"If you want rice, for example, you could go to Glovo or Chowdeck. If the cost of the rice and the cost of delivering it is too high, chances are that you'll just go to the kitchen and boil the rice yourself.
"But then if you're craving small chops or you have an event that requires small chops, it is unlikely that you'll pop into your kitchen and start rolling out [the] packages."
Again, I'm not one to assume, but I'd say most Nigerians only get to eat small chops when there's a social event. I only get to eat it once a month at the Techpoint Pitch Friday event.
We could say, therefore, that Smallchopsng is democratising access to small chops, modifying that part of the culture where we have to wait for gatherings before we eat small chops.
However, offering small chops in small units, for as low as ₦700 per unit is where Ukonu's tech and business acumen shines.
A bootstrapped process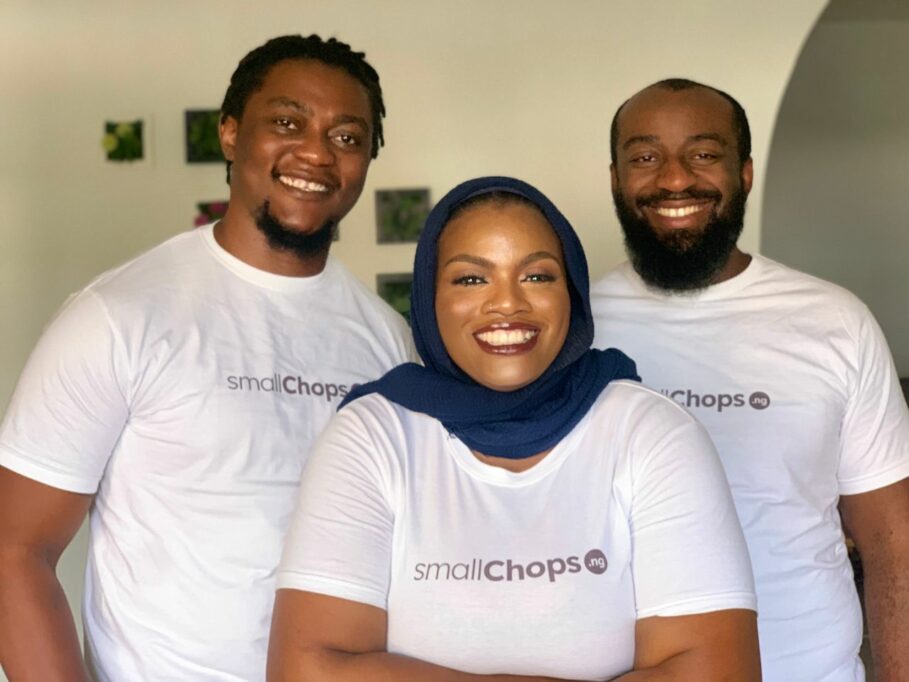 Smallchopsng launched officially in Lagos in 2016 and has been bootstrapped since.
The capital required was Ukonu's brain and time, which has been and continues to be a critical component of the business' survival for the past seven years.
When he does not have to wear his business hat, he takes on technical roles and writes code. During times when he has to be a businessman, he'll trade his other skills for the services of a developer.
However, bootstrapping the company all these years required careful planning. His information and communications engineering degree definitely came in handy in engineering a process that requires a very lean team, so much so that there are only two people at the heart of the company's operations.
"We had a target of how much it would take to stay alive at the very beginning and I had an estimate of how much it would cost to get that revenue in terms of marketing and advertising.
"You could say that Facebook gave us our first funding, because back then, you didn't have to pay for ads upfront. So we committed $150. We took a bet that by the end of the month, we would reach our target to cover our bills and marketing spend."
They met their target that month, and they've been doing that every year since.
No small chops were made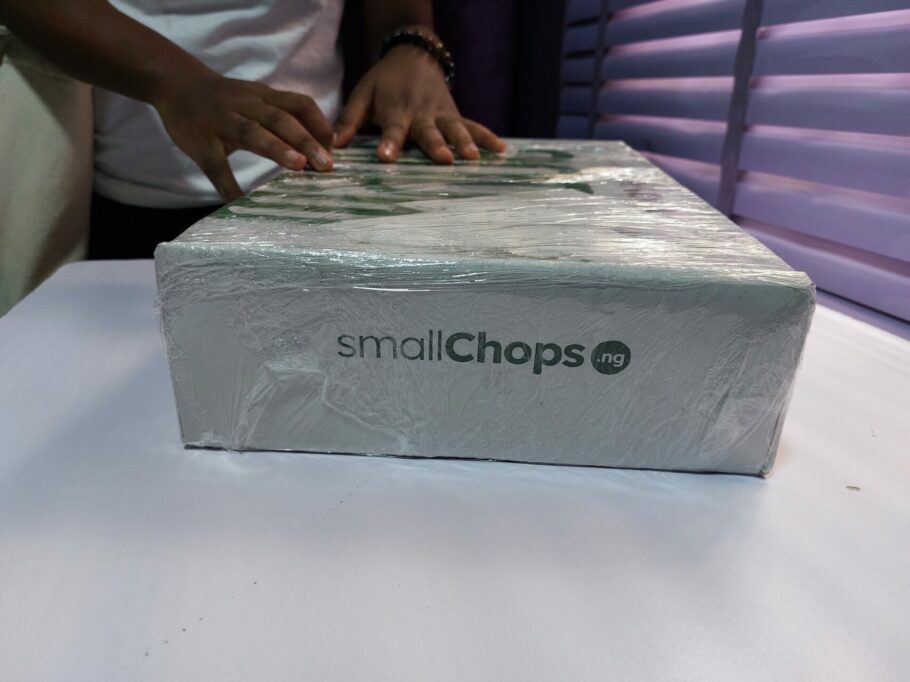 Ukonu's planning was meticulous. He was always in search of the most efficient way to operate without compromising on quality. This is why Smallchopsng does not make the small chops it delivers.
Smallchopsng onboards local production partners also known as caterers, creating a caterer network across Lagos State. This means that there's a caterer within a certain radius of where an order originates.
But before this mode of operations, Smallchopsng made its small chops in-house between 2018 band 2020. The goal was to understand the business of making good small chops, and thus, determine what their standard would be.
Today, Ukonu is confident that the caterers who use Smallchopsng branding and packaging maintain the required quality.
Those two years birthed the Rating Index, a way to identify caterers (or vendors) whose culinary skills are worthy of Smallchopsng. The Index rates them on many things, including hygiene, experience, education, and technical capability.
"Everybody's producing the same thing, but they produce our menus and our packages. We own all of the IP rights on the packages that are sold on the platform, but we don't produce any of them. We handle technology, product and marketing, branding and operations, while vendors handle production. "Ukonu explained.
The initial business model — a 20% commission on each package — was tweaked after two years of making small chops.
"So instead of a commission, we negotiate production costs with our partners. We know how much it costs because we've produced it. And then we set the price based on our market research on user behaviour, value perception, and also affordability.
"Our revenue is the difference between what people are willing to pay and the best price we can get for producing quality small chops. Now, that margin could be anywhere from 20% to 30% on certain products."
Staying profitable
Smallchopsng has carved out a 15% profit margin from its ₦100 million revenue. A great way to sum up the startup's path to profitability is through these three key pillars:
Automation
Lean workforce
Impeccable customer experience
Ukonu is a stickler for automation, this is why the startup's core operations only require two people.
Besides Ukonu's Co-founders, Farida Ahmed and Michael Chukwu, and interns, the entire workforce totals nine.
The operations team manages thousands of deliveries monthly, but Smallchopsng makes this easy for them with technology.
"We built our operation software from scratch. It runs all of our internal operations, routes orders, and informs the riders of where they need to pick up and deliver with very minimal human involvement.
"As we grow, we scale up the ability of that software, so we've never had a core operations team of more than two people."
Customer experience, however, is the only team in the company that is scaled up ever so often. This is because "we do not want to automate customer experience, everybody needs that human interaction."
Smallchopsng has over 10,000 registered users. However, you can order on the platform without registering. On average, the platform completes 100,000 orders annually. On bad years, it sees 80,000 orders, while a 200,000 deliveries are done in a good year.
There have mostly been good years. The company has been meeting targets that ensure its survival. In the words of Ukonu, "We've been coasting." There's a solid customer base, operation costs are low, and now the business is just "making sure there isn't a significant level of churn."
However, in an economy like Nigeria's, it isn't always smooth sailing. "The core challenge we face is what I will unofficially call the Nigerian factor."
It is that part of operations that cannot be automated, the side of the business where your lines of code end, and your best bet at controlling them is perhaps a prayer.
The Nigerian factor ranges from economic instability to partners that aren't technologically savvy.
Smallchopsng works with independent riders responsible for fuelling and maintaining their bikes. Expectedly, they hit a snag after the recent increase in the cost of fuel.
"One of our logistics partners [a rider] delayed delivering a package by almost an hour because he was looking for fuel. There are very minimal ways you can mitigate against things like that."
Funding and the future
Smallchopsng is open to venture capital funding, but after being in operations for nearly a decade, Ukonu and his team will be very selective when it comes to choosing who to raise from.
"The raise has to go beyond the cash to include strategic partnerships both for operations and scale to hit our ten-year goal."
That goal is making small chops available to everyone within and outside Nigeria. Yes, Smallchopsng wants to go global but before that, it plans to take its first step outside Lagos next year and hopefully in the next three years, people in other parts of the world will get access to its services.