The news:
Kenya's Ministry of Interior and National Administration has suspended the activities of Worldcoin, a crypto project scanning people's eyes to create a global financial database for humans.
The East-African nation has commenced an investigation into the project to know its authenticity and legality.
Worldcoin's activities will remain suspended in Kenya until relevant public agencies can certify that it poses no risk to Kenyans.
Worldcoin, the cryptocurrency project that aims to establish universal access to the global economy, has been suspended by the Kenyan government.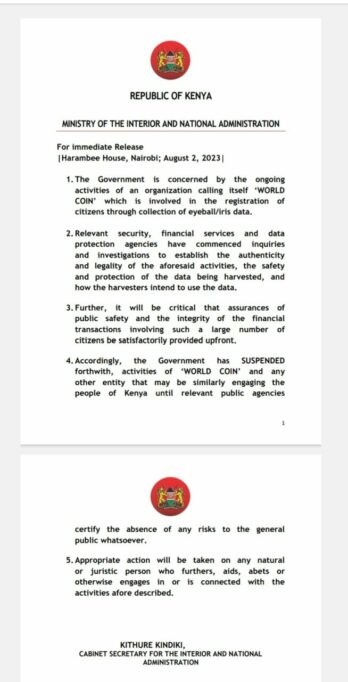 Launched on July 24, 2023, the project scans people's iris for a $54 sign-up bonus. It has gotten over 2 million signups. since it started registering users about two years ago.
The project which was founded by Sam Altman, one of the brains behind OpenAI (ChatGPT), was launched to create a global financial database for everyone in the world.
The project uses a device called an orb to scan people's eyes and give them a World ID, also known as "proof of personhood." This World ID helps people verify their identity on online platforms without having to reveal their names or other personal data.
Worldcoin's World ID will also help differentiate between humans and artificial intelligence (AI) because it collects biometric data. WorldCoin says the iris scan is "the only secure way of reliably determining uniqueness and personhood while also preserving privacy."
Worldcoin's controversies
Before issuing a suspension on the crypto project, the Kenyan government warned citizens on July 28, 2023, about signing up to get $54 worth of Worldcoin tokens (WLD).
The Kenyan data regulator said it was imperative to conduct assessments and make sure Worldcoin is operating within the data protection Act of the country. 
There are also several controversies surrounding the project such as its affiliation with FTX Founder, Sam Bankman-Fried who is currently facing fraud charges in the US and Bahamas. It is also interesting that Worldcoin has exempted US citizens from being scanned or getting the signup bonus. 
Kenya is not the only country concerned about Worldcoin's activities. France's data regulator said, "Worldcoin has begun to collect data in France... which seems questionable as does the conservation of biometric data."