In December 2021, still reeling from the effects of a business decision that had gone bad, Joshua Firima decided to visit a friend. He got to the house to find his friend's girlfriend neck-deep in paperwork for her wig store. That was not his first time seeing her that way, but he decided to speak to her about it.
With more than ₦500,000 in monthly revenue, he discovered that she struggled to track orders that came in through WhatsApp, and often relied on a spreadsheet. Even then, the process took days and left her feeling drained. Moreso, whatever time spent on this process took her away from other aspects of the business.
After he left the house, he spoke with some friends who sold products using WhatsApp and discovered that they all had the same experience. Sensing an opportunity to provide a service, he called up Godgift Egims, a software engineer he once worked with.
Four weeks later, they had the first version of a product — an online store builder that let users receive orders directly on WhatsApp.
"We built the first version of Moosbu, gave it to these business owners and they started using it. Once we solved that problem, they realised that they had other problems," recounts Firima.
As their early users requested more features, they built more, and evolved to its current version, what Firima calls the operating system for small businesses. In its present iteration, Moosbu provides an online store builder, cash flow financing, and logistics for its users. This year, it added AI-powered marketing tools to its product suite.
Entrepreneurship journey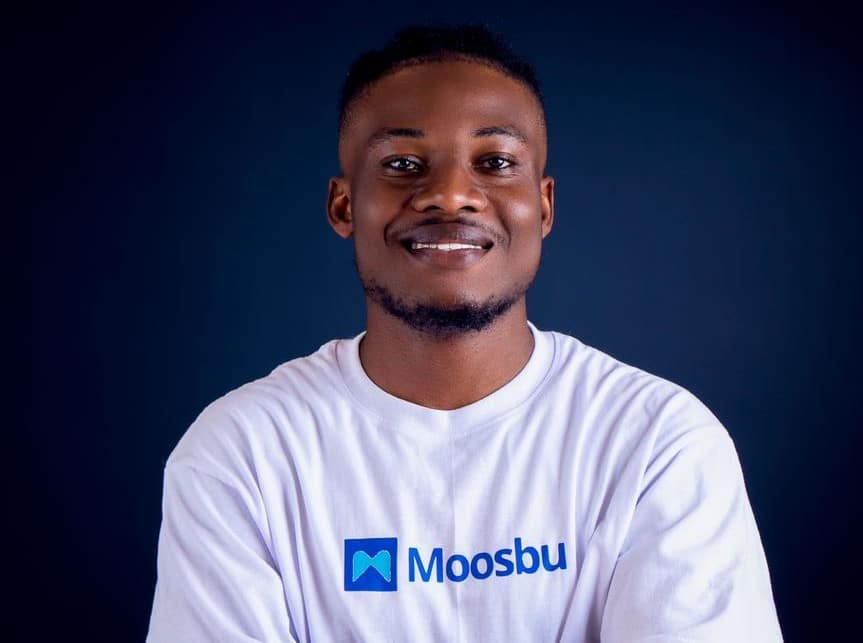 Approximately 200 million phones are shipped to Africa annually, with less than half being smartphones. Through its brands, Tecno, Infinix, and Itel, Transsion Holdings owns a 43% market share in Africa, and it was these brands that gave Firima his first taste of entrepreneurship.
"I started my overall entrepreneurship journey when I was 16 and had just finished high school. And my first business then was to pimp devices for people, giving them music, and putting apps on their phone."
For a year, he also worked as a Jumia sales consultant under the JForce program before starting a freelancing career on Fiverr.
"I consulted for brands all over the world and also designed hundreds of websites for other people. From then, I moved on to affiliate marketing and selling software as an affiliate on global marketplaces like JVZoo, ClickBank, and WarriorPlus."
In 2019, he and his team built a drag-and-drop website builder for small businesses. The following year, he sold it for $12,000 after running into technical issues with the product. But in the one year that he ran the operation, 4,000 businesses created 6,000 websites with it.
Moosbu's competitive environment
Small businesses account for most of Africa's businesses and provide about 80% of the continent's jobs. But despite growing smartphone penetration and the potential of improving business performance, only 7% of these businesses use some form of technology in their operations.
On the other hand, despite the struggles of traditional eCommerce in Nigeria, the social commerce sector has experienced steady growth. By 2028, the gross merchandise value for the sector is expected to reach $23.8 billion.
Despite an obvious growth in online buyers on the continent, many small businesses see no need for an Internet-enabled device. Others consider the cost of acquisition too high.
Against this backdrop, startups have sprung up to provide a range of solutions for this group. Bumpa provides a business website for SMEs in addition to invoicing and financial tools. In 2022, the company raised $4 million in a seed round and unveiled an integration with Meta that enables merchants to process orders and requests from Instagram and Facebook Messenger.
Moosbu joins Kippa, Oze, and Pastel — three other startups providing services to SMEs in Africa — but Firima believes they offer their users a different service.
"Majority of our competitors are generally focused on eCommerce enablement and social commerce. But while we are also doing eCommerce enablement, we realise that it's not just about enabling them. We need to supercharge them for growth."
With his sales experience, Firima is keen to ensure that businesses that sign up on Moosbu grow their customer base and subsequently, revenues. This position influences the features the startup builds.
Take its decision to add an AI-powered marketing suite for example. The startup holds sessions for its social media community members, where experts take them through subjects such as sales, marketing, and branding. But while he acknowledges that this has been helpful, he points out that some customers need some extra help to get started with marketing. And now with its AI tool, they can generate marketing or sales copy.
Although there are many startups building products for small businesses in Africa, Firima believes that Moosbu's path to scale lies in providing a holistic tool for business owners.
"We don't want a situation where they have to juggle through different apps and have that data scattered around. We're building that one inclusive platform where they have everything they need in one place.
"At the end of the day, what empowers these small businesses is their ability to know their numbers across the board and have proprietary insights to improve their operations."
Business model and challenges
Like many software-as-a-service startups, Moosbu operates a freemium model. Merchants can sign up to the platform without any financial commitments, but the startup makes money in different ways.
For starters, merchants can pay a monthly subscription fee to access Moosbu's services without restrictions. It also charges a fee for every transaction and withdrawal done on the platform in addition to facilitating business incorporation.
"A lot of people prior to now have done eCommerce enablement, but very few of them, if any, have been able to educate the users on how to really do this marketing thing," Firima says about the less than one-year-old startup, "that's why we have taken it upon ourselves to educate our audience first."
Before the end of 2023, Moosbu intends to roll out more features to help merchants with their marketing. It also plans to get a licence to enable it to run its cash flow financing service. Currently focused on businesses with physical products, Moosbu plans to open it up to digital businesses by December 2023.
"We are positioning to be the one partner anyone can use to start, grow, and scale their small business across all fronts."
While the startup continues plans to raise a pre-seed round, it has been accepted into venture-building programmes like Bezi and Aidi Ventures.
"Being a part of these programs has helped us greatly. We have a community that's always active [and ready] to help us through any hurdle we face. They also help us [with] intros to bigger founders whom we want to work with."