Apart from the full-scale exhibition of products and services at the Lagos Startup Expo, there will be workshop sessions. The workshops will be facilitated by some of the leading startups exhibiting at the expo.
The workshops allow the facilitators to share in-depth knowledge with attendees by discussing the problems their solutions are solving and explaining how attendees can use these solutions to boost their various businesses.
Here are the workshops that will be held at the Lagos Startup Expo:
The Future of ArtTech in Africa: Exploring the revolution of art and technology
Facilitating startup: Raknida
This workshop draws people from technology and art together as it looks to explore the transformative impact of technology on Africa's art scene and creative economy. The session will explore the growth potential of the arttech space and also discuss the opportunities for collaboration between art and tech industries. If you have a thing for tech and art, make it a date at this workshop. The workshop will start with a panel discussion.
Anthony 'Anth' Ezeokoye, CEO and founder of Raknida, will be facilitating this workshop at the Lagos Startup Expo. He will be joined by two other panellists: Saze Ibraheem, a senior marketing executive, and Ukeme Okuku, co-founder and head hypeman at Gamic.
Unleashing the power of forex trading: Insights and strategies for tech enthusiasts
Facilitating startup: OctaFX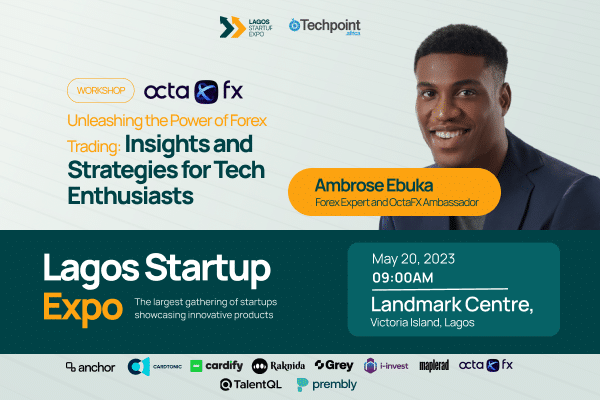 This workshop is tailored for entrepreneurs, investors, and tech enthusiasts who aspire to unlock financial prosperity by harnessing the potential of the forex market. During this workshop, participants will gain an understanding of forex markets, equipping them with the knowledge to navigate this dynamic landscape. The participants will delve into the intricacies of currency trading, explore the factors that influence exchange rates, and take a look at the significance of exchange rate fluctuations for global businesses.
The workshop will be led by Ambrose Ebuka, a professional forex trader with over 3 years of trading experience. He is the main analyst and trade idea provider for The Amber Academy, a fast-growing trading community with over 7,000 students online.
Beyond borders: Easing global payments for Africa's digital economy
Facilitating startup: Grey Finance
This workshop will explore the challenges that entrepreneurs and digital workers face with cross-border payments. The workshop will also take a look at industry innovations that are revolutionising cross-border payments in this part of the world. If you work remotely and take foreign payments for services rendered or have a business that requires cross-border payments, you shouldn't miss this workshop. The session will feature a live demo, interactive discussions, and a Q&A session that allows attendees to ask questions and get clarity on them.
Femi Aghedo, the co-founder of Grey Finance, will be leading this workshop.
Overcoming challenges in digital transactions: Discovering seamless solutions with Cardtonic
Facilitating Startup: Cardtonic
Being able to perform digital transactions with ease isn't much spoken about until that ability is gone or impeded. Cardtonic will be helping to identify some of the common challenges that are associated with digital transactions. Finally, they will be providing pointers on how to navigate these challenges through their solution. Vivian Mbene, the Chief Operating Officer at Cardtonic, will be facilitating this workshop.
The power of spare cash: how investing on Sprout by Cowrywise can help your business thrive
Facilitating startup: Cowrywise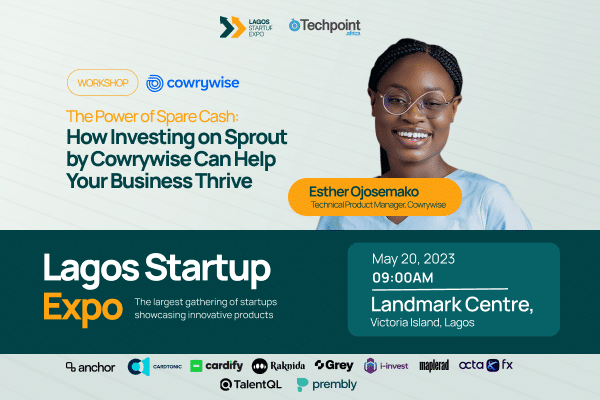 Cowrywise will be showing businesses how to invest spare cash in using their product called Sprout. They will be showing businesses how to thrive using this SEC-regulated solution. It allows businesses to manage their investments and eliminate the need for middlemen. To learn more about this, join Esther Ojosemako, Technical Product Manager at Cowrywise, who will be leading this workshop at the Expo.
To experience the workshops at the Lagos Startup Expo, hurry up and get your ticket to attend the expo at lagosstartupexpo.com. The expo is just a few days away and the team can't wait to have you join us.