Key Takeaways
Healthlane was a Cameroonian healthtech startup that assisted people in obtaining quality and affordable healthcare services.
Alain Nteff, the company's CEO, claims in an email to subscribers that Healthlane will be unable to continue its physical locations in April 2023. However, sources say that the company ceased operations in 2022. We confirmed that the company closed its Nigerian office in the same year and its Cameroonian office in February 2023.
According to Nteff, the company's business model is changing. Yet, people familiar with the matter say Nteff is raising new funds to start a new company despite allegedly owing some vendors and employees since 2022.
In November 2022, Techpoint Africa published an article detailing the misappropriation of funds, unpaid salaries, and staff layoffs at the Cameroonian healthtech startup, HEALTHLANE BY GIFTEDMOM LIMITED (Healthlane).
The company announced a $2.4 million investment in 2020. Digital Horizon led the round, with participation from other investors, including CRE Africa, Sequoia Capital, Silicon Valley Bank, TSVC, Supernode Ventures, and Capitoria.
The official story is that Healthlane debuted in 2019. Several sources, however, claim that it did not launch in Cameroon or Nigeria until 2021, a year after raising a $2.4 million seed investment in 2020.
Alain Nteff said he co-founded a mobile health platform, GiftedMom Limited (GiftedMom), in 2012, which later pivoted to Healthlane in March 2019. But our sources indicate that Healthlane was founded as GiftedMom in 2015, not 2012. A GSMA article listing GiftedMom as a portfolio startup corroborates this claim.
Healthlane had a great workplace culture at the start of 2021 but sources claimed it had no structure and direction, which resulted in mismanagement of funds, resignations, salary delays, and layoffs.
So, what has changed since our report in 2022?
1. State of the company
On April 11, 2023, Nteff sent an email to several Healthlane subscribers informing them that the company was modifying its business model. He also stated that there would be a partial refund to those that signed up for the startup's annual health plan.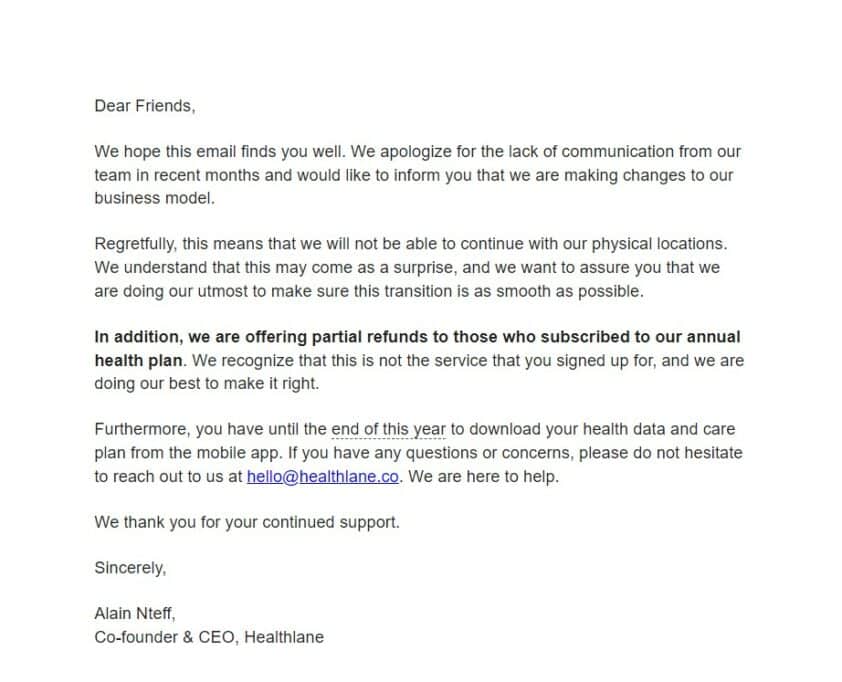 While the startup has been operating in Nigeria and Cameroon since 2021, our sources informed us that the company shut down its Lagos office in 2022. In the same year, Nteff reportedly banned employees from showing up at its Cameroonian office.
According to Nteff's email to customers, due to changes in its business model, it will be unable to continue with its physical locations.
A part of the email reads, "We understand that this may come as a surprise, and we want to assure you that we are doing our utmost to make sure this transition is as smooth as possible."
Why would the announcement be surprising to subscribers? Although we confirmed that the Nigerian office shut down, in 2022, Healthlane cited "ongoing renovations" for customers who couldn't book an office appointment in Lagos.
For Cameroon, company activities merely dragged on till there was no activity.
Also, Freedom Stephen*, a former employee, says, "Healthlane office in Douala closed in February 2023. Alain sold all the office equipment at a giveaway price. He emptied them overnight, leaving rent, electricity, Internet bills, and security guards unpaid with several pending court cases.
"The extent of his debt includes rent, travel agencies, legal services, unpaid taxes and pensions to Cameroonian and Nigerian staff."
From November 2022 until the beginning of February 2023, when the office was closed, Healthlane was reportedly run solely by a driver who also served as the receptionist and cleaner, and performed logistic roles.
2. Healthlane still owes salaries
Recall that Healthlane reportedly owed its Nigerian employees four months' salaries as of November 2022.
Before that, the company delayed its employees' December 2021 salaries until between January and February 2022. It also repeated the process for January's salaries, and by May, the Nigerian arm had begun delaying salary payments again.
People familiar with the matter claimed Healthlane laid off its Nigerian workers after paying three months salaries the day before we published our story in November 2022. At the time, the company allegedly owed some employees five months' salaries.
A Nigerian employee who spoke to the media and gave details about what happened at the company in 2022 was not paid.
In Cameroon, sources say Healthlane did not pay all its employees except one, allegedly because the employee filed a lawsuit against Nteff.
Nteff still owes unpaid salaries since May 2022 to his Cameroonian staff, including his managers, to whom he has stopped responding. Stephen says Nteff didn't pay his employees because he believed they spoke to the media.
Also, the company is reportedly owing taxes and unremitted pensions.
3. The company is yet to pay its vendors
As of November 2022, we reported that Healthlane also failed to pay its vendors, including Intel IOS, Chicago Security, and Miles Travels. In Cameroon, the company reportedly owed several vendors while struggling to pay its electric bills. The situation remains unchanged.
Naresh Pandit, Regional Director of Miles Travels, confirmed this.
"We gave him tickets on credit, and he did not pay for those tickets since March 2022."
Miles Travels claims it has been requesting payments via email and calls since then, but it has got no response. Pandit and some employees also went to the office in Douala, but Nteff was never there.
Pandit says Healthlane owes Miles Travel Fcfa 8,871,000 million ($15,000), part of which was never paid.
When Healthlane restricted its Cameroonian employees from its office in November 2022, Stephen says Nteff passed the keys to Reevy, a nutrition agency.
Remember that there were rumours that Nteff planned to sell the office to Reevy in November 2022. Doing so would allow Reevy to conduct business in Cameroon under the name Healthlane for six months before changing the name.
However, Reevy was reportedly forced to leave when they discovered Nteff hadn't paid the rent.
When we spoke with Patrice Henri Nkake, Healthlane's landlord in Cameroon, he stated, "Alain Nteff took the lease with us and stopped paying since August 2022 and started subletting said lease to Reevy without our consent. We discovered this scheme when we came to serve him a summons to pay the lease."
The landlord claims that Nteff lied by promising to make settlements as soon as possible, but it was all in vain. He also left the company without informing them.
Consequently, they were surprised to discover that the building was empty and that he had left with his keys.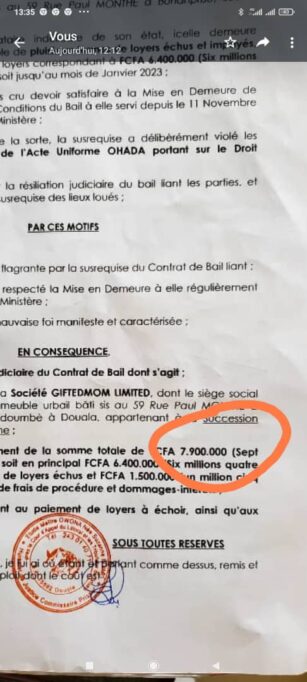 Nkake adds, "A hearing was held on March 31, 2023. The keys are in his possession, but he promised me in a message that he would return them to me by the end of February, which he never did.
"The court will rule for three procedures — forced opening of doors, eviction and payment of rent against Healthlane, and rent fraud against Alain Nteff."
Reportedly, Nteff did not pay the lease registration fee in 2022, which is now taxable to the company. He also left unpaid bills for electricity and water.
Per Nkake, Healthlane still owes 2022 rent worth CFA Franc 7,900,000 million ($13,300). It also owes CFA Franc 2,4000,000 million ($4,042.61) of the rent for February, March, and April 2023.  
As of press time, we found out that Nteff had returned the key to the landlord.
"The keys were handed over to the bailiff in Yaoundé. He did not pay his debt and did not complete the inventory. He should have returned the house to its original state, but he did nothing," Nkake explains.
Founder might be looking to start another company
To make sense of everything, on November 9, 2022, I reached out to some of Healthlane's investors, including TSVC and Capitoria, before publishing my story. Interestingly, the app's functionality on Android devices was suddenly restored the following day.
It also became available on the App Store. However, it wasn't possible to schedule appointments.
Will we see another pivot or a different company? Some of our sources seem to think so, but this is purely speculative. For now at least.
We contacted Alain Nteff and a few investors to verify these claims but had not received a response as of press time.