Per TechCabal, the primary data centre for Zenith Bank witnessed a fire outbreak in the early hours of Wednesday, May 3, 2023, and was responsible for a total infrastructure downtime. According to sources that spoke to TechCabal, a backup power system caught fire, causing a power cut to the data centre.
However, a statement by the bank says that the fire incident occurred at a storage facility. It also disclosed that banking services were being restored.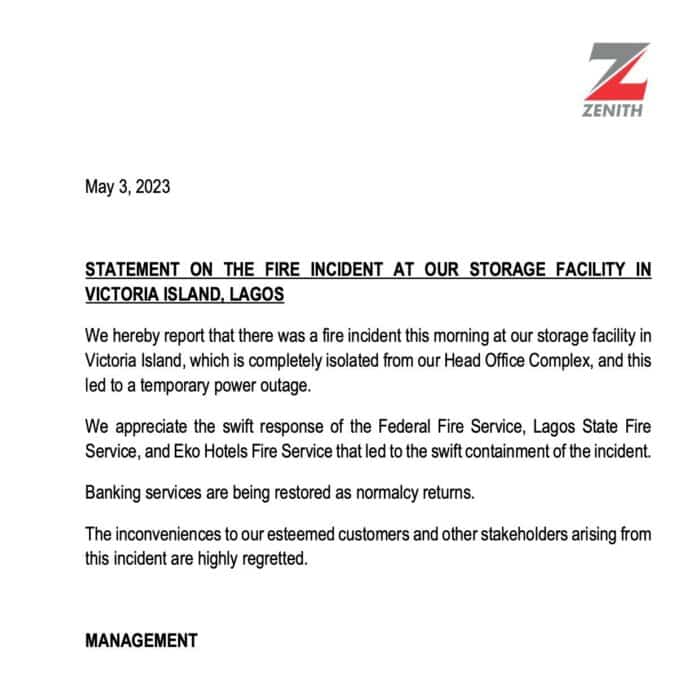 While the bank has not confirmed that the fire indeed occurred at its data centre, we look at some of the implications of the fire outbreak.
Why is this important?
Large organizations store vital business data for their daily operations in data centres. As one of the largest financial institutions, Zenith Bank's work is aided by tonnes of data and they would struggle to perform most of their tasks without access to the data. Fortunately, most organizations have a disaster recovery which ensures that not all information is lost.
Is my money safe?
We know how important your money is to you, but yes, your money is safe. While a data centre fire could disrupt business operations, it is less likely to affect customer deposits beyond difficulties in accessing banking channels.
What about my data?
Earlier, we mentioned that large organizations like Zenith Bank would have disaster recovery protocols to ensure they do not lose large amounts of data. According to an expert who spoke with Techpoint Africa, most organizations do not house their main data centres and disaster recovery in the same location. This ensures that the organization does not lose all their data at once.
Essentially, customer data held by Zenith Bank is most likely secure and the bank should resume its operations in no time. However, it is possible that there is a difference between the information held by the main data centre and the disaster recovery ranging from a few seconds to a few hours. At this point, it is unclear which is the case.