Fope Davies loves tech, but that's not why he started building personal computers (PCs) — he began because he studied architecture at the Federal University of Technology Akure (FUTA) in Ondo State.
Architecture students and practitioners probably know where this story is going because modern architects need computing power.
Speaking with Davies helped me understand why a friend bought an Alienware Gaming PC with great specs when we were undergraduates. It did not make sense because, for the life of me, I could not figure out why he needed a PC that could probably pay his tuition for four sessions.
Architects do a lot of modelling and rendering requiring graphics-heavy applications, so they need high-spec graphic cards and computer processing units (CPUs).
Many computer terms like ray tracing, GTX 1660 TI, and RTX 2060 will fly over your head if you are not a computer nerd. And this was where Davies came in at FUTA; he was the go-to PC guy when people needed to make purchases. It was as easy as ABC — they told him what they did, he told them what they needed, and he sourced and delivered.
In 2014, when Davies was studying architecture, only a few people in the class had laptops capable of handling class projects.
"So we'd have to queue to use people's systems to do our work," he said. "Just imagine how that would be when you have a deadline or a defence coming up in a few days."
To solve this shortage problem, he started a side hustle in school importing personal computers (PCs).
According to him, 50% of what it took to get PCs into Nigeria came from clients, most of whom were architecture students-cum-part-time designers.
"We architects always made money from school. In fact, most students got expensive PCs because of the gigs here and there."
Having learnt how to repair laptops on YouTube, he also doubled as a repair man if the PCs developed faults.
Post-graduation, Davies worked as an architect but continued his laptop importation and repair business on the side, eventually founding LifeMachines PC Build — a company that builds custom PCs — in 2020.
Looking to get ahead as an architect, he interviewed for a job at Baron Architecture — a prominent architectural firm. However, he did not get the job.
Interestingly, three months after his interview, Baron Architecture found LifeMachines PC Build Lab's Instagram page and reached out to buy some PCs. But Davies suggested they build them instead, and Baron Architecture agreed.
The firm he'd walked into looking for a job paid him ₦3 million ($4,054) — his biggest PC gig at the time — to supply PCs.
"A ₦3 million deal in 2017 as just a young graduate was something for me then."
This deal signalled the end of Davies' job hunt and employee status, as he quit his job to focus on running his business.
The transition to building PCs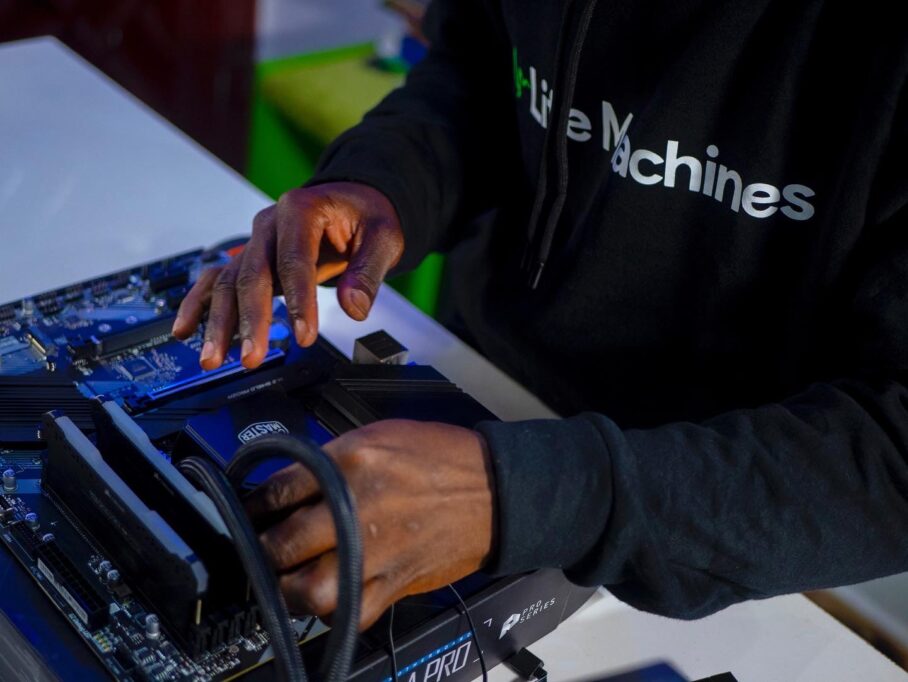 Davies' ₦3 million deal was for four PCs to be built within a tight deadline.
Being his first major PC building gig, Davies didn't meet the deadline; he could only complete three of the four computers. However, he got the firm a temporal PC until he finished the fourth.
His transition from consulting/importing to building was informed by the need to be more than just a PC trader.
"I realised that anybody can just sell laptops, and anybody can source laptops, but I knew that was not going to be sustainable for me because I came from a design-oriented background where I design and build stuff."
If you have the time and money, building a PC yourself is a couple of YouTube videos away, and that was how Davies learnt, by watching videos and practising.
Already an experienced PC importer, he brought in the parts he needed to build a setup for himself, which he experimented with before building for others.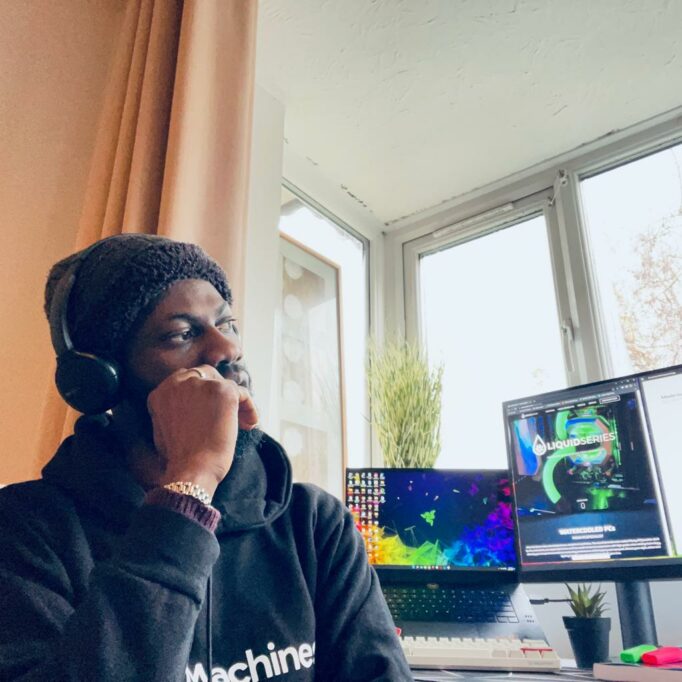 However, there is more to PC building than knowing where to put your graphics card and cooling unit. According to Davies, you need a good supply chain because when you ship components from the US or China, you might receive a wrong or defective item. And with some parts costing upwards of $3,000, occasionally buying the wrong component can hurt your PC building business.
"The pain there is buying or shipping the wrong item. Aside from the amount of time it will take to get to Nigeria, it is expensive to return."
Over the years, Davies has forged strong relationships with partners who help him coordinate the importation process. Also, with bulk buying, he pays considerably less to import items.
Essentially, PC building is just one of the services he offers. He also takes on the risk of sourcing PC parts.
Who are Davies' customers?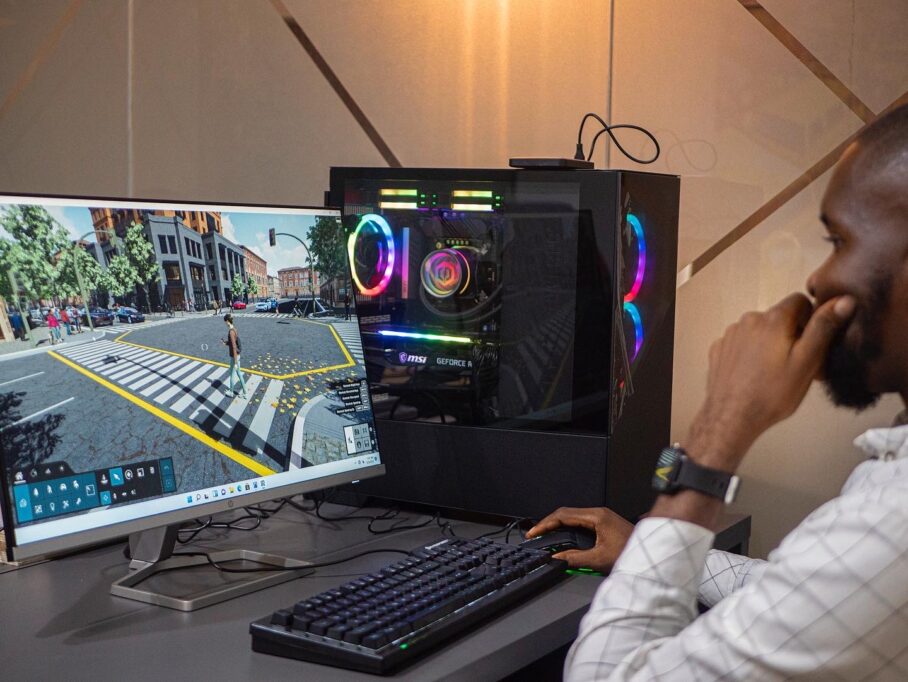 Davies' clients range from students to freelancers, gamers, animators, and corporate bodies such as design agencies, animation studios, and churches. Davies mentioned that he built PCs for two big Nigerian churches in 2022.
His clients have different needs when it comes to computing power. Some need a basic laptop, while others need high-performance laptops or desktops. For example, the churches he built PCs for needed high-performing desktops as they had robust media teams running power-hungry software.
Davies advises his clients on what to get based on their needs and budget. He recommends building customs PCs for clients that do work requiring much power. According to him, custom-built PCs are good because they have great specs and can be upgraded easily.
These users usually work with frequently updated software. Instead of getting a new PC whenever there is an upgrade, they buy parts to make it compatible with the latest software.
LifeMachines PC Build Lab's clients have primarily come through referrals.
"When people hear what we do, they're always interested. People feel like you have to import them from the US, but when they realise they can get it in Nigeria, they're usually surprised."
While PC building is not commonplace in Nigeria, it is not new. However, Davies' competitive edge is his company's after-sales service.
His clients are from West Africa, mainly Nigeria. Davies said his most significant competitors are Amazon and eBay, but he admits that he also has competitors in Nigeria who are not yet on his level.
"Nobody builds them the way we build them. Yes, there might be a few guys in computer village, but looking at the kind of support we give and the tests we go through, the kind of optimisation techniques we go through, we make the standard. There may be one or two people building PCs here and there, but nobody stands us right now."
Prices, revenue, and expansion plans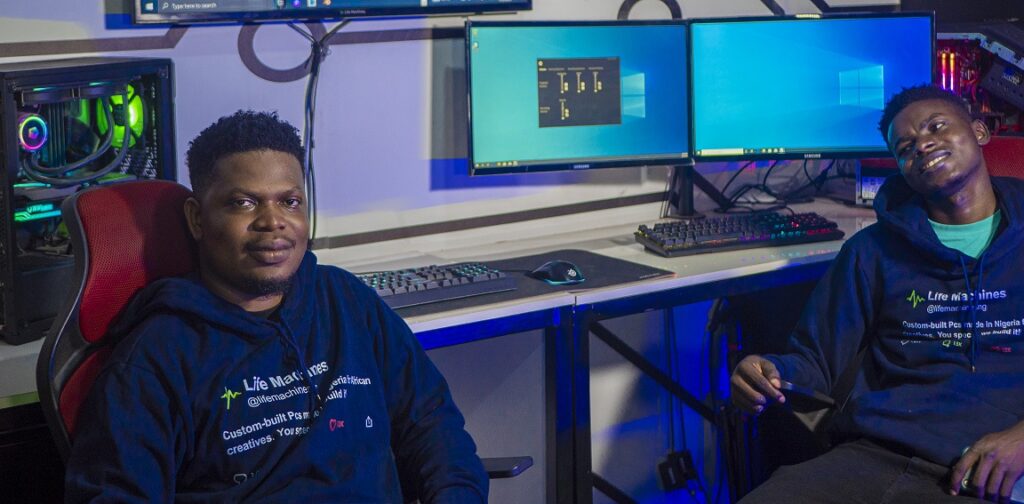 In 2022, Davies and his team made ₦252 million ($340,540) selling custom PCs. It was their best year yet.
"We had very good numbers in 2022; three years ago, when we started, we were still trying to convince people that you can actually have your PC built in Nigeria. But now people have realised that they can depend on us."
Davies' custom-built PCs have a base price of ₦1.2 million ($1,621) and can go as high as ₦6 million ($8,000).
While he admits that building PCs with less than ₦1.2 million is possible, he argues that one would find a laptop that would do the job just as well.
"The smallest graphics card we use in terms of specification and price is the 12 gig Nvidia RTX 3060. It is what we start with, and we don't go less than that. The graphics card alone cost more than ₦550,000 ($743)."
The team builds at least four PCs a month, with some builds taking as much as five days, depending on the sophistication level.
For high-performance laptops, Davies' minimum price is ₦550,000, and he sells an average of ten weekly.
"Sometimes, it is not a single purchase; it might be a bulk order. An office might request five or six at once."
The same goes for custom builds. Davies recalls when one company requested eight custom-built high-performance PCs in 2022.
That was also the year they built their most expensive PC.
"It cost about $8,500 (₦6.29 million), and we did two for a design company. The owner of the company just called and was like, 'Davies, I want the most powerful PC ever.' So we needed to come up with a specification. Not the specification you would see in any place in Lagos. So we imported all the components and gave them a timeline."
The powerful PC had a fitting name — the Threadripper. According to Davies, it is a processor used by big visual studios that make animated movies and cartoons.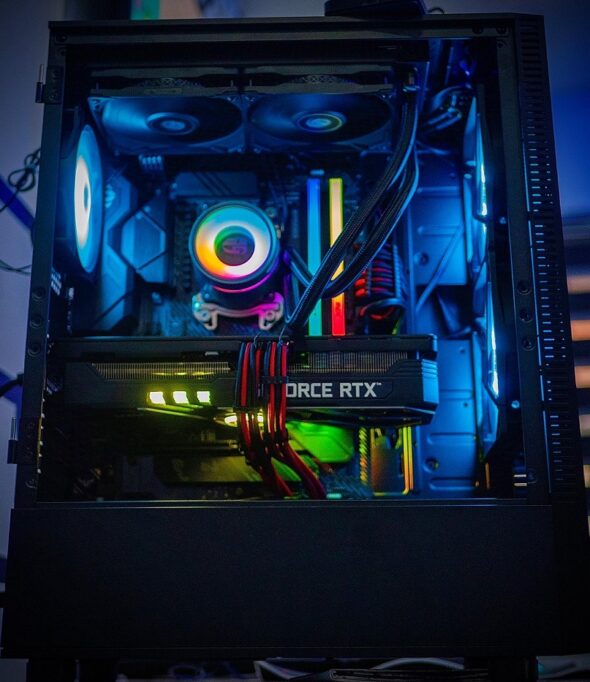 "We did a 32-core Threadripper; we maxed everything out. The RAM was 128 gig. The storage size; we maxed it out, about eight terabytes."
Davies excitedly listed several components that made the PC "the most powerful ever."
He's looking to increase his team this year so that his company can take on more jobs; 2022 made him realise that the high-performance PC market in Nigeria might have matured more than he thought.
"We didn't see it coming. The high-performance PC market was something we were not really sure people would delve into. But with the increase in working from home and everybody upskilling and trying to upgrade themselves, people have started moving towards having their own custom-made PCs."
Having relocated to the UK to build connections and a robust supply chain, Davies has big plans for LifeMachines PC Build Labs. He's even nursing the idea that an African Apple or Dell could emerge from their small lab in Ogba, Lagos.
NB: Dollar equivalents in this article are black market rates