The Nigerian tech scene has evolved rapidly in recent years, attracting attention from local and international investors. The emergence of new startups and the rapid growth of existing ones has made Nigeria a hub for tech innovation in Africa.
The country's tech ecosystem, famously clustered in Lagos State, is thriving, and there is a growing appetite for innovative solutions to tackle the challenges faced by the country's growing population.
Fortunately, many startups are rising to the occasion by providing innovative solutions to address these challenges. All these developments birthed the Lagos Startup Expo, one of the highly anticipated events in the tech industry.
Lagos Startup Expo provides a platform for startups to showcase their innovative solutions and connect with investors, customers, and other stakeholders.
With the event's first edition scheduled for May 20, 2023, this is the time to take advantage of the unique opportunity to showcase your startup. Here are a few reasons exhibiting at Lagos Startup Expo can help you stand out in Nigeria's competitive tech market:
Increase brand awareness: Exhibiting at Lagos Startup Expo will put your startup in front of thousands of attendees, including investors, potential customers, and industry influencers. This visibility can help increase your brand awareness and attract the attention of potential customers, partners, or investors.
Connect with prospective customers: The event provides a unique opportunity to connect with prospective customers face-to-face, allowing you to showcase your products and services and get immediate feedback. You'll also engage with potential customers, generate leads, and address their concerns while showcasing your unique value proposition.
Network with industry leaders: Lagos Startup Expo allows you to network with some of the industry's top leaders, including fellow startup founders, investors, and mentors. Such networking can help you build meaningful relationships that can benefit your startup in the long run.
Gain valuable feedback: Exhibiting at Lagos Startup Expo allows startups to gather valuable market insights. You can receive feedback from existing and potential customers and industry experts, helping them to improve their products or services and stay ahead of the competition. This can also help to strengthen your relationship with your customers.
Branding: Lagos Startup Expo makes it possible for startups to establish themselves as industry leaders by showcasing their products and services to a diverse audience.
Lagos Startup Expo is an excellent opportunity for startups to showcase their products, connect with customers and investors, and stand out in a competitive market.
Don't worry about the exhibition costs because we've ensured that Lagos Startup Expo is accessible to startups of all sizes. Our pricing is affordable, and we offer a range of packages to suit your needs and budget.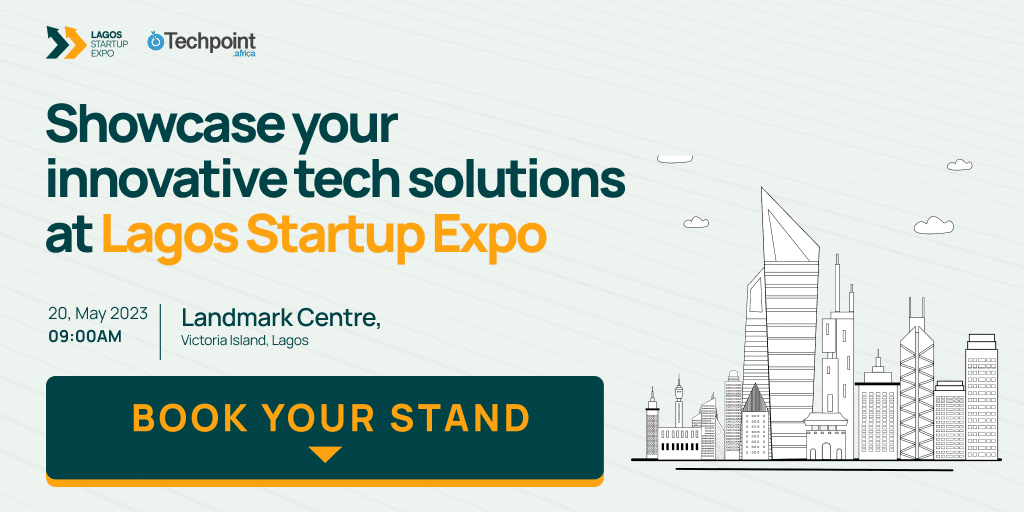 To book your exhibition stand, visit our website now and register using the 'Exhibit/sponsor' button. Upon registration, you'll get an email with more information on how to proceed.
Alternatively, contact bu[email protected] or call +234 802 513 9906 for enquiries.