In 2022, startups in Kenya raised $608 million from 15 debt funding rounds in 2022, according to a report by Partech Africa. The East African country is followed by Egypt, where startups raised $350 million, while Nigeria and South Africa round up the top four with $252 million and $77 million, respectively. 
Venture capital witnessed a correction of sorts in 2022 as VC activity fell from the highs experienced in 2021. Every part of the globe was affected by the reluctance of VCs to write cheques, although Africa was not significantly affected. In fact, funding to Africa grew 8% year-on-year, according to Partech Africa. On the other hand, funding to Latin America fell 79% from the highs of 2021 and 39% in Asia, while European startups received 25% less money.
Many startups willing to raise funds saw their valuations slashed as VCs became more reluctant to accept high valuations. With equity funding becoming harder to come by, more African startups turned to debt funding, the result being $1.55 billion, a higher figure than Nigerian startups ($1.2 billion) raised in 2022.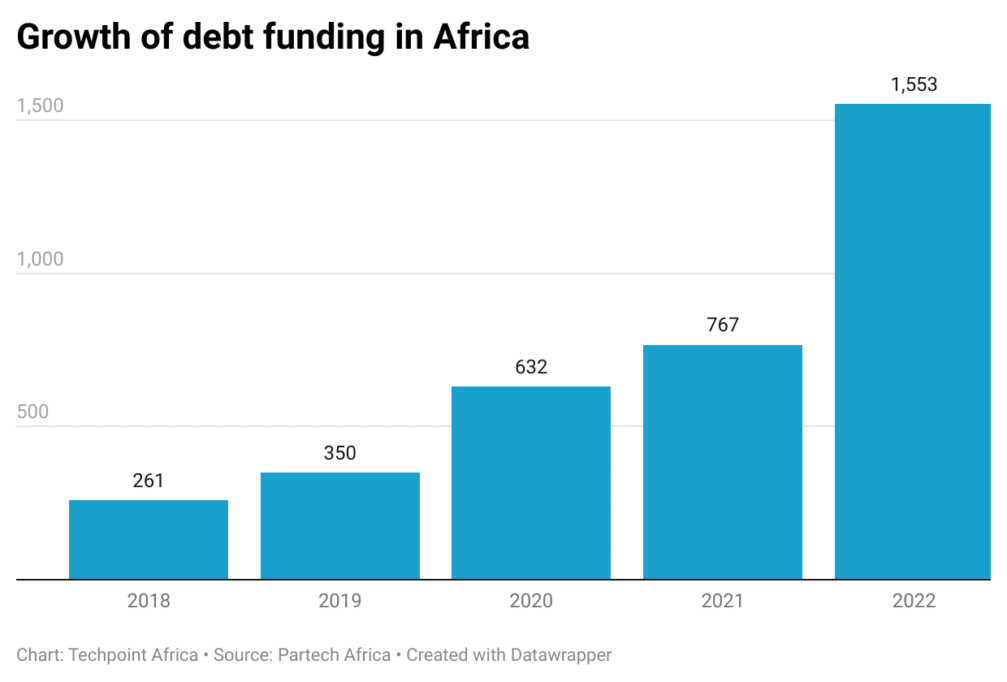 At least nine sectors were represented in Partech's report, but two sectors – fintech (45%) and cleantech (39%) – were responsible for 84% of debt funding across the continent. Similarly, nine companies were responsible for 66% of debt funding. The most active sources of debt funding for the year with at least three deals were Lendable (7+), Symbiotics (7+), Cauris (3+), Contact Financial (3+), FMO (3+), Oikocredit (3+), and Verdant Capital (3+)
Who were the most active investors in 2022?
Funding was not all that increased in 2022, as the number of unique investors on the continent grew 29% year-on-year. At least 335 of these investors participated in two or more deals, while eight investors did more than 15 deals. The report notes that of the 10 investors that participated in at least 15 deals in 2021, only two – Y Combinator and Launch Africa – maintained their level of activity. 
The most active seed-stage investors were involved in more than 10 deals, while the most active venture stage (Series A and B) completed over 6 deals. Impressively, there was a good representation of local investors across early-stage and later-stage deals with Future Africa, Ingressive Capital, LoftyInc Capital Management, and Voltron Capital, some of the most prolific local investors.
Other sectors still have a long way to catch up with fintech
A broken financial system and a huge number of Africans being cut off from the financial system ensure that financial technology will continue to be the darling of the investor community. Despite a strong showing from other sectors (51% year-on-year growth) and a -41% drop in fintech funding, the sector remained the most funded sector taking in $1.9 billion from investors. The second most funded sector – cleantech – raised $863 million. Commerce (electronic, mobile, and social) also saw growth at 124% YoY. 
Startups with at least one female co-founder grew 12% YoY, with Kenya and Nigeria seeing the most number of deals and the most amounts raised. Startups founded by women in Kenya raised $146 million, while startups founded by women in Nigeria raised $127 million. Seed stage saw the highest allocation of funding ($212 million), with growth stage funding recording only $69 million.