Telecel Group has received approval from the National Communications Authority (NCA) to purchase Vodafone Group's operations in Ghana. The acquisition will transfer Vodafone's 70% stake in Ghana Telecommunications Co to Telecel.
Founded in 1986 by late Congolese entrepreneur. Miko Rwayitare, the company went through several highs and lows until its rebranding in 2017. It now has a presence in over 15 African countries across telecoms, e-commerce, and startup initiatives and boasts names like Hugues Mulliez, a tycoon from one of France's most powerful families, on its board.
This move marks Telecel's telecom expansion into West Africa after actively playing in countries like Guinea Conakry, Gabon, Equatorial Guinea, Central African Republic, DR Congo, and Chad. It, however, comes at a trying time for Ghana and Vodafone.
You see, in 2008, UK's Vodafone paid $900 million to the Ghanaian government to acquire a 70% stake in the state-owned Ghana Telecommunication Co. However, publicly available data shows the company has not made a significant impact.
Compared to South Africa, where it controls the market at 41%, Vodafone plays second fiddle to MTN in Ghana at a distant 13.9%. Though the acquisition amount was not disclosed, it's likely that the sale will be at a lower valuation than the amount Vodafone paid in 2008.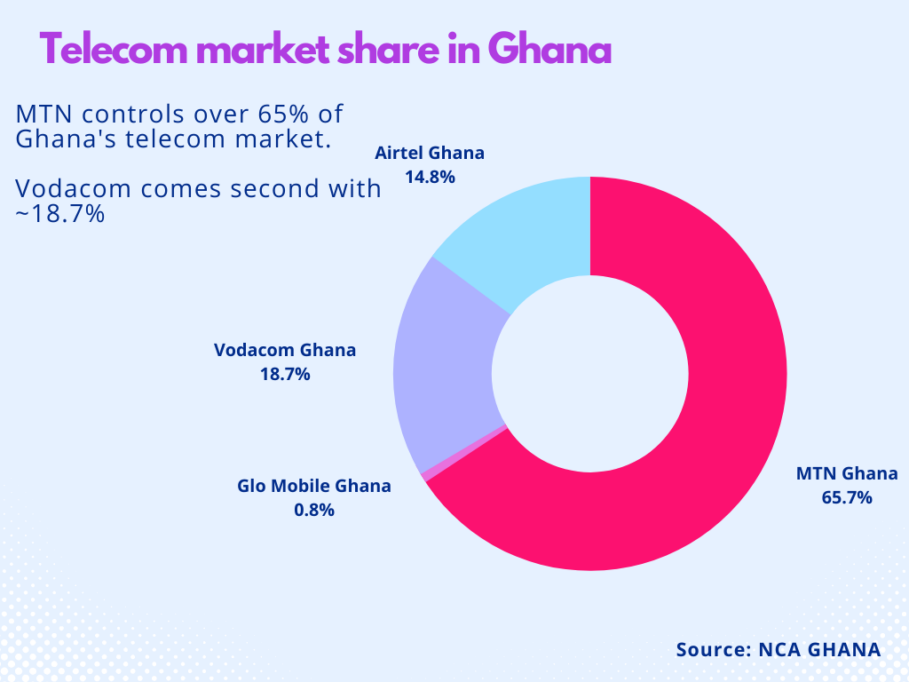 Besides this lack of growth, Vodafone recently announced that it would be laying off hundreds of employees in the UK, showing an especially trying time for the telecom giant.
Moreover, this acquisition comes at a trying time for Ghana, which is facing a debt crisis and difficulties with securing loans from international bodies.
Telecel's acquisition will be significant for Ghana's telecommunications industry, as new players often come with aggressive strategies to challenge the status quo. Given Telecel's resurgence in 2017, it's safe to bet that they will present a challenge to the MTN behemoth.
In addition, the Ghanaian government recently issued a $773 million back-tax bill to MTN Ghana. A bill the operator has strongly disputed and would make for an interesting spectacle in the coming months.