Oluwatomi Solanke is one of the judges for The Fintech Summit 2022 Hackathon. He will join other industry experts to select the hackathon's winner and set the tone for the next generation of innovators in the Africa Fintech space.
Oluwatomi is a technology entrepreneur with vast experience working in Africa's largest economic market. His prior entrepreneurial experience spans several sectors, including technology, logistics, media, and real estate. He is the Co-Founder and CEO of Trove Finance, a mobile and web platform that allows Africans "own the globe" by investing in stocks on multiple exchanges globally, such as the NASDAQ, NYSE, and NSE, to mention a few.
At Trove Finance, Oluwatomi is responsible for all major corporate decisions, handles multiple operational strategies, and is the company liaison between the Board of Directors and investors. He has led the company to become one of the fastest-growing fintechs in Nigeria, processing significant volumes in monthly transactions and growing the reach of the product to a community of over 200,000 Nigerians in about two years.
Oluwatomi has a bachelor's degree in Chemical Engineering from The University of Lagos, Nigeria. He is an alumnus of the inaugural class of 1000 Entrepreneurs in the $100m Tony Elumelu Foundation Entrepreneurship Programme (TEEP). Oluwatomi is also a Young African Leaders Initiative fellow, an Ecobank Fintech fellow, as well as a LEAP Africa 2018 Social Innovator.
Oluwatomi has a decade's worth of experience in building, growing, grooming and advising technology startups. Additionally, he is extremely passionate about youth and philanthropy. He actively serves in multiple dimensions across his community, such as the Red Cross, Lagos food bank, and other NGOs.
Oluwatomi is a technology enthusiast who loves talking about new technologies and gadgets and is passionate about startups.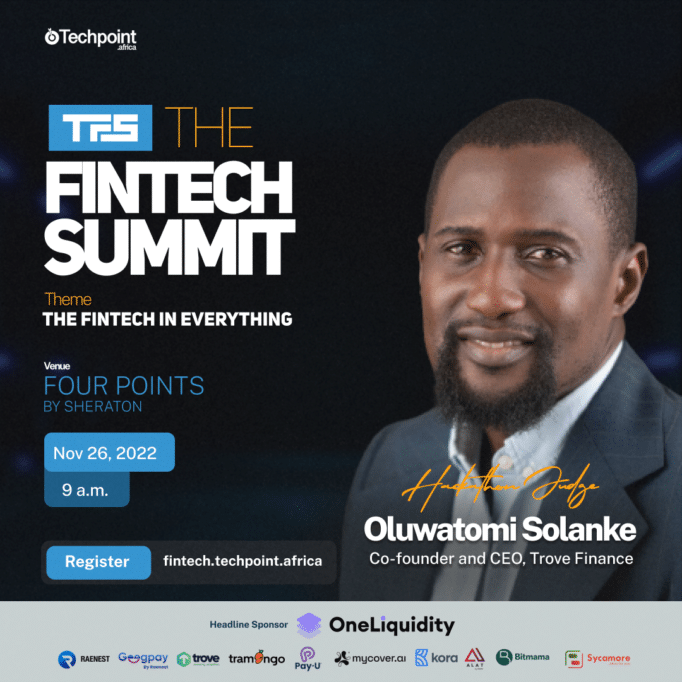 The Fintech Summit 2022 Hackathon, sponsored by Oneliquidity, requires the participants to build fintech solutions using Oneliquidity's tech stack to stand a chance to win $5,000 with the potential of additional perks coming their way.
The Fintech Summit 2022, themed "the fintech in everything," will be held on Saturday, November 26, 2022, at Four Points by Sheraton, Victoria Island, Lagos.
The Summit aims to drive conversations on the boom of Fintech over the years in this part of the world and what this means for us as providers and users of fintech products and services.
Join industry conversations, get insights, witness exhibitions, and network with players in the fintech space by registering now for The Fintech Summit 2022.