When I first talked to Damilola Kadiri, Wura Founder, early this year, my first thought was, "unusual."
Wura is an item-sharing mobile app that enables you to give and receive used items from people either close to or far from you in Nigeria. These items could be clothes, books, shoes, jewellery, headphones, etc. Anything that is still useful and has value can be given out on the app.
Early last week, very late on Tuesday night, I talked to Victor Boyle-Komolafe, GIVO Founder, after several scheduling mishaps.
Using a community-based model, GIVO uses technology to collect recyclable material from individuals, families, and businesses, which it turns into valuable goods. In 2020, the company produced personal protective equipment (PPE) in response to the COVID-19 pandemic, although this is only one aspect of what the company does.
So, why did I talk to these two founders?
The global problem
For many people travelling by road into Lagos State, Nigeria, the first sight that greets them is the massive waste landfill at Ojota. The site has become quite iconic, and not in a good way; it stinks to high heaven and probably constitutes some sort of biohazard.
It serves as one of the dumping grounds for all waste trucks in the state. However, despite the government's best efforts, Lagos still has a waste problem, as evidenced by the informal dumping grounds — also known as gutters and canals — that constitute the waste disposal mechanism for many residents.
But this is not just a Lagos or a Nigerian problem. It is not even an African problem. It is way bigger; it is a global issue.
Every year, the earth's inhabitants produce 2.1 billion tonnes of waste, only 16% of which is recycled. On a positive note, 700 million metric tonnes of CO2 emissions are prevented from entering the atmosphere.
But, one little — more like humongous — challenge exists: the world's population keeps growing at an alarming rate. Africa is expected to reach nearly 2.5 billion people by 2050. At the moment, the continent is reportedly home to 1.3 billion people.
Here's the kicker: as the population grows, waste grows, and global waste is expected to grow by 70% by 2050.
Essentially, a 16% recycling rate doesn't begin to cut it; there's still a lot of work to be done.
Wura's value proposition
Kadiri launched Wura — meaning gold in the Yoruba language — in November 2021. Available on Google Play Store and the Apple App store, it enables users to give and receive used items for free. Wura is a product of Kadiri's increasing interest in sustainability and saving the environment, but also his need to help people by changing their behaviour towards the planet.
Since launch, the app has seen 354 users sign up and 47 items given out.
The cycle of giving and receiving involves signing up as a user on the platform. So, while a person can view all the different items available on the app, they won't be able to give or receive anything without signing up and creating an account.
One interesting bit about the app is that a person looking to receive does not pay any money for the item. There is a set of Golden Rules to prevent anything untoward from happening. Users are urged to only receive items from people with a profile picture and report a giver who insists on collecting money from them.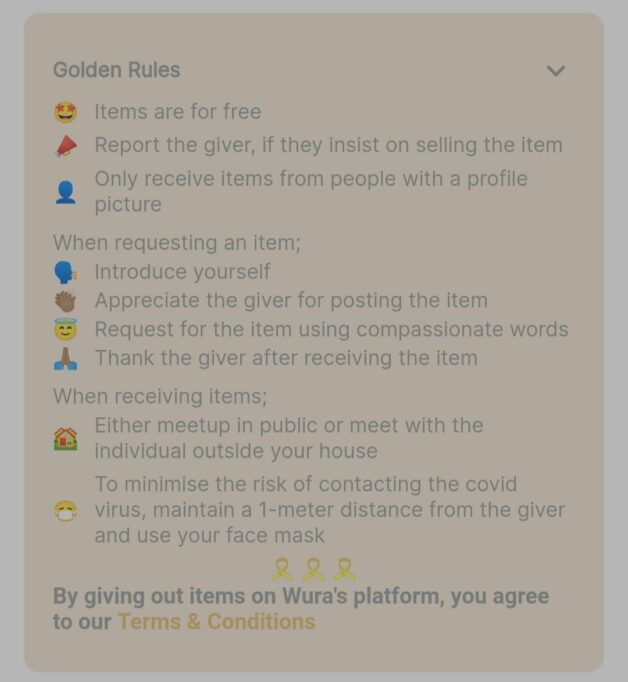 The idea is to prevent people from throwing out perfectly good items with good reusable value, thereby reducing generated waste. There are also plans to introduce the option of giving away food, but cultural issues surrounding receiving food from strangers stand as a barrier to that.
The app also shows you how your actions affect the environment whenever you give or receive.
As Kadiri told me, there are no plans to commercialise the app for the next three to four years. A surprising decision if you ask me, but he has his reasons.
"For now, we are looking at increasing the number of transactions on the app and sign-ups, then over time, what we intend to do is promote sustainability businesses. So I feel that would be an avenue for us to generate profit. As I said, the idea is to change people's behaviour to be eco-friendly.
"Anyone who comes around the app most likely has that attitude already. With that now, we know that the adverts or the promos on our platform are strictly eco-friendly products."
Essentially, as people use Wura and begin to see how their actions help protect the planet by reducing CO2 emissions when they don't just throw things away, their attitudes should change.
Changing attitudes lead to more interest in protecting the environment and, in turn, more interest in businesses that promote sustainability.
Ambitious? Definitely. Doable? Maybe. It would be interesting to see how this works eventually.
GIVO's circular economy
GIVO or Garbage In, Value Out was birthed from Victor Boyle-Komolafe and the Capture Solution's team's participation in the Entrepreneurs Plastics Innovation Challenge (EPIC) sponsored by Coca-Cola and the HYBR Group in 2018.
EPIC is an innovation challenge aimed at identifying solutions to eliminate plastic waste in Nigeria by sourcing sustainable solutions to identify, develop, and scale potential circular innovations from entrepreneurs, wherever they may be.
Boyle-Komolafe describes GIVO as a technology company and not particularly a recycling company.
"We came into this space as techies. We want to save the environment, but we also want to scale."
Nothing typifies the company's decision more than its partnership with the University of Warwick, UK, De Montfort University, and Chatham House as they research the best way to scale sustainability businesses.
What does GIVO do?
As a business, GIVO has two main value propositions: manufacturer and collector. As a manufacturer, the company makes plastic sheets from recyclables that they can then sell to people in the construction and furniture industry. But, Boyle-Komolafe believes it is not as scalable as other aspects of the business.
As a collector, GIVO establishes women/youth-led community centres that collect waste within a 2-3 kilometre radius; a deliberate decision, he explains.
"In a 2-kilometre radius, there will always be recyclables. So you know that you have a consistent market share."
From collection to sorting to shredding, the entire process is digitised using the Internet of Things (IoT), mobile apps, and 2D scanners. Currently, there are two GIVO centres in Nigeria, with plans to launch three more before the end of the first quarter of 2022. According to Boyle-Komolafe, each centre collects 90 tonnes a year. There are also plans to franchise the centres next year, with GIVO collecting a percentage of the revenue.
But he also mentions that collection is incentive-driven.
From the GIVO centres, the company also collates a lot of data which it can then sell as aggregate data to the government or companies for several uses.
"For example, the government has limited resources, and you're trying to plan for the next cancer centre or a liver care centre. All that needs to be done is to go through our database and see the GIVO centre collecting the most alcoholic drink or receiving the most alcoholic drinks with no bar or a restaurant as a major client."
Data like that would provide information about where there might be an outbreak of liver-related diseases and inform government decisions. He also says companies can use it to determine the success of advertising campaigns in specific areas.
Celebrating recycling heroes
Both Kadiri and Boyle-Komolafe see the recycling game as a long-term business. It requires careful planning and execution to ensure the initial goal of sustainability is not lost.
The process starts with educating people and, in GIVO's case, incentivising them to understand the circular economy of buy-reuse/recycle-buy.
The work ahead is still very tedious and long but also rewarding.